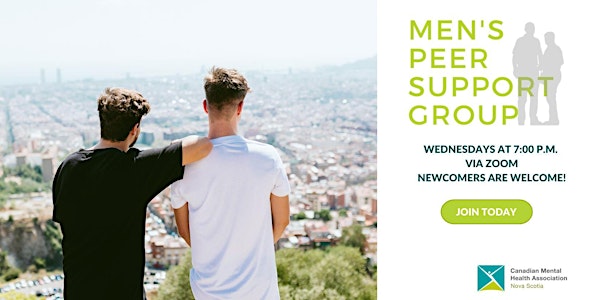 Men's Peer Support Group
A safe, confidential space for those who identify as male to share, connect and gain insight without judgement.
About this event
Unrealistic expectations based on gender and a lack of suitable mental health options can prevent those who identify as men from honouring their mental health and reaching out for support when they need it.
The Canadian Mental Health Association Nova Scotia Division is here to help.
Our virtual Men's Peer Support group provides a safe, confidential space for those who identify as male to connect without judgement. Sessions are weekly. Newcomers are welcome!
Topics of discussion can include, but are not limited to:
Relationships
Family challenges
Employment challenges
Housing challenges
Food and music
DETAILS:
This program combines emotional support as well as practical information.
Schedule: Weekly | Wednesdays at 7:00 p.m. AST
Where: This is a virtual program held over Zoom.
Eligibility: This program is open to adults 19 years and older who identify as male.
Fee: No fee.
Facilitators: The program is led by experienced CMHA NS peer support facilitators.
This group is:
Confidential
Held virtually
Non-Judgemental
Non-clinical
What does non-clinical mean? Non-clinical services are therapeutic, but relate to providing resource information, education, screening, and support until a professional health care provider can make appropriate referrals (if necessary) to primary care providers.
About the Facilitators:
Keith Anderson, Provincial Lead, CMHA NS Peer Support and Suicide Prevention
As the Provincial Peer Support Lead, Keith Anderson facilitates several peer support groups, including the Men's Peer Support Group. Keith has 13 years of experience working in the mental health field.
He sits on numerous committees and working groups, including the CBRM Diversity Committee and the Commonwealth Lawyers Association. Through his peer support work, Keith dedicates himself to making support systems available to others.
Keith has also spoke openly about his own mental health journey and depression. He first went public with his story in an Op-Ed published by the National Post called "How I Returned to a Life Worth Living" (February 20,2008).
Since then, Keith has spoken at national and international mental health conferences, legal conferences, universities, and fundraisers.
He has also served on numerous Boards of Directors and Committees for mental health non-profit groups. 
His articles have appeared in publications of the Nova Scotia Barristers' Society, the Canadian Bar Association, and the American Bar Association. Keith was a volunteer with Glenn Close's mental health advocacy group, Bring Change to Mind, for many years. In the fall of 2015, Keith launched Worth Living Mental Health Consulting, which offers a blog, podcasts, consulting, and conferences.
In July 2021, he published the book, Life Worth Living: A Mental Health Anthology.
Contact Keith: keith.anderson@novascotia.cmha.ca
About the Facilitators:
Glenn Rodgers, Education and Training Coordinator
As the Education and Training Coordinator, Glenn Rodgers works to develop, adapt, and deliver workshops dealing with mental health issues. In addition to his day-to-day work, he co-facilitates a Men's Peer Support group once a week alongside Keith Anderson.  
With ten plus years in the mental health field, Glenn is very passionate about the work he does. Glenn enjoys educating people and raising awareness around the issues and stigmas surrounding mental illness. 
If the secret to a good life is to find a career that you enjoy, Glenn has found it. When not working Glenn can be found spending time with family and friends, woodworking, reading, and watching soccer. 
Contact Glenn: glenn.rodgers@novascotia.cmha.ca