Description
Hey all you dapper dudes, vintage gents and well-dressed fellas (and of course you ladies!), we're hosting our first-ever
Men's Night!
Friday, March 15th, 7-10pm: it's going to be legend- wait for it -dary!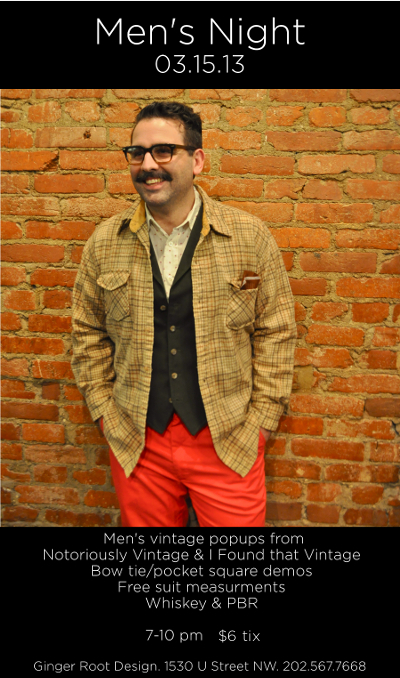 Inspired by the *ahem* few men we've seen out and about at fashion events, absentmindedly sipping a drink, working that thousand yard stare, perhaps holding a lady's coat/purse/drink. They don't even EXPECT to be inspired or have anything of interest featured. We've felt your pain, boys, and are here with the fix! For one month, everything in the Back Room at Ginger Root is 100% dude friendly.

We've got your bow ties by local artists, 2 different vintage vendors hocking their carefully curated menswear, an influx of new designs from our in-house line, AND THAT'S NOT ENOUGH. We're kicking off the man-love with a whole night devoted to the fashionably aware guy. There'll be bow tie tutorials by Eliot from Accoutre, free suit measurements, pocket square folding demos, tons of men's vintage and accessories, whiskey & PBR, and pork rinds/pretzels/peanuts. Everything necessary for a dude on the town (or maybe just one who dabbles) will be available.

Knowledgeable people will be present for anyone wanting to branch out, but perhaps needing a wee bit of guidance. A $6 ticket on Eventbrite will get you into our evening of everything man, as well as drinks and munchies. And BONUS: If you buy something that night, we'll credit your $6 ticket towards your purchase. So take a breath, put down that tiny dog with the pink rhinestone encrusted collar, and come hang out with the Gingers at an event created with you in mind!


And ladies, fret not! We've still got a ton of women's vintage from
Mimilah
and
Quarter Life
to shop too!
Ginger Root Design opened its doors on September 18th, 2010. The clothing and neck-wear in the shop is designed and sewn by the 2 owners, who love to repurpose and show people how eco-friendly can be classy. The art and accessories at Ginger Root are created by local artists, with the one exception of Metal Musings–the jeweler out of Wisconsin, who is also the mother of Ginger Root owner, Erin Derge