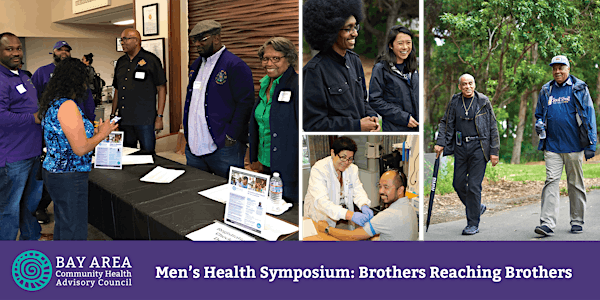 Men's Health Symposium: Brothers Reaching Brothers
Come to this Men's Health Symposium for a panel discussion, free screenings, and health related information.
When and where
Location
Sequoia Hospital Health & Wellness 749 Brewster Avenue Redwood City, CA 94063
About this event
Get connected with your health at our Men's Health Symposium! This free program includes a moderated panel of experts, no cost lab screenings and exam, free breakfast & lunch, and resource tables with health-related information.
(Información del Evento en Español Abajo)
If you cannot attend this event in person and would like to watch the panel discussion on Zoom, please click here to register on Zoom.
Si no puede asistir a este evento en persona y le gustaría ver el panel de discusión en Zoom, por favor haga clic aquí para registrarse en Zoom.
Moderated Panel of Experts
Moderator: Armand Carr, Founder and CEO of All Tied Up
Dr. Dieter Bruno, Chief Medical Officer, Sequoia Hospital
Rolando Bonilla, Chief Strategy Officer, Voler Strategic Advisors
Larry Santiago, LMFT
Overview
Screenings begin at 7:30 am
Free Boxed Meal, Goodie Bag with PPE, Gift Card for all attendees at in-person event
Resource tables with health-related information
Schedule
7:00am - Registration/Check In
7:30am - Screenings/Exams/Vaccines begin (continued throughout the day)
8:00am - Box Breakfast served/Resource Tables open
9:00am - Welcome/Kick Off
9:25am -10:25am - Panel discussion - Men talking to Men about their Health
10:25am - 11:25am - Panel discussion - Life Balance, Not Just a Women's Issue
11:30am -12:15pm - The State of Men's Health and "Ask the Doc" Session with Dr. Bruno
12:15pm - Pick up boxed lunches, program evaluations, and Raffle! (Must be present to win raffle.)
------
INFORMACIÓN DEL EVENTO EN ESPAÑOL
HERMANOS ayudando a HERMANOS: Simposio de Salud para hombres
Sábado, 24 de septiembre 7:30am to 12:30pm
Moderated Panel of Experts
Moderator: Armand Carr, Fundador y CEO "All Tied Up" "de todos atados"
Dr. Dieter Bruno, Director Médico, Hospital Secoya
Rolando Bonilla, Director de Estrategia, Asesores Estratégicos de Voler
Larry Santiago, LMFT
Anthony Lopez, Propietario de un Pequeño Negocio
Tasi Teu, Esposo y Padre
Overview
Las proyecciones comienzan a las 7:30 am
Comida en caja gratis, bolsa de obsequios con equipo de protección personal, Tarjeta de regalo para todos los asistentes al evento presencial
Mesas de recursos con información relacionada con la salud