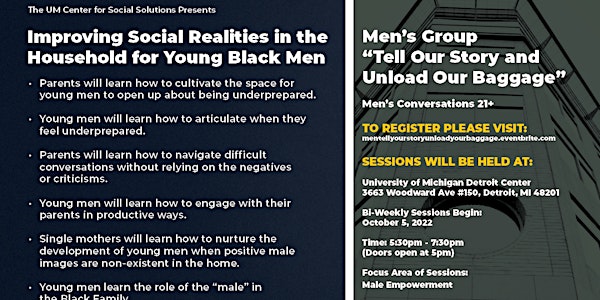 Men's Conversation - Tell Our Story & Unloading Our Baggage
Men, 21 years of age and older will gather to share stories that will ignite conversation resulting in the release of baggage.
When and where
Location
University of Michigan Detroit Center 3663 Woodward Avenue #150 Detroit, MI 48201
About this event
History has shown the African American family and community have faced many obstacles and atrocities since its arrival to the North American continent. Slavery and all slavery encompassed, share cropping, Jim Crow laws, housing, education, and public transportation segregation are just a few. After seemingly some progress African American families were hit with a second wave of obstacles in the form of drugs including the crippling effects of "crack cocaine", that were the stimulus of community and neighborhood drugs wars, increased and intense violence, and murder. Somehow African American families and communities have endured and had a sense of hope, common value systems, and a general sense of family remained intact. It was seemingly the case with some hiccups until the early 2000's. Since the early 2000's, the African American family has reached a level of endangerment. A sense of endangerment that has broken many families core, the family backbone, and the hearts of parents and caregivers, attempting to hold family together. Unparallel violence and homicides now threaten the sanity of families, neighborhoods, and communities. Too often the voice of parents especially mothers, grandmothers, and aunties, as well as some fathers and grandfathers aren't heard until "yellow tape" adorns a community street corner or block, when a local news reporters' microphone is thrust into the face of a grieving mom, grandmother, aunt, or caring parent, or loved one.
U of M (University of Michigan) Center for Social Solutions "Improving Social Realities in the Households for Young Black Men" is designed as an effort to move upstream versus waiting downstream for bodies fall. Through a series of bi-weekly listening, feedback and solution framed workshops sessions coordinated by Professor Alford Young, Jr., of the University of Michigan's Departments of Sociology and Afroamerican and African Studies, along with a few partners, including Honorable Judge Kennedy King, Wayne County Third Circuit Court, Keith L. Bennett, and Gregory Anderson. The University of Michigan's Detroit Center will host and facilitate intimate workshops with local families, primarily parents, and caregivers to assess the struggles, stress level, views, and perceptions surrounding issues head of household face in raising families, primarily young black males. We believe this effort will be the catalysis of further intervention efforts and strategies, versus waiting until lives have been destroyed.