Menopause, Your Skin Health, Your Well-being
Join us for a must-attend, live expert panel discussion about menopause, the impact on skin health and your well-being.
About this event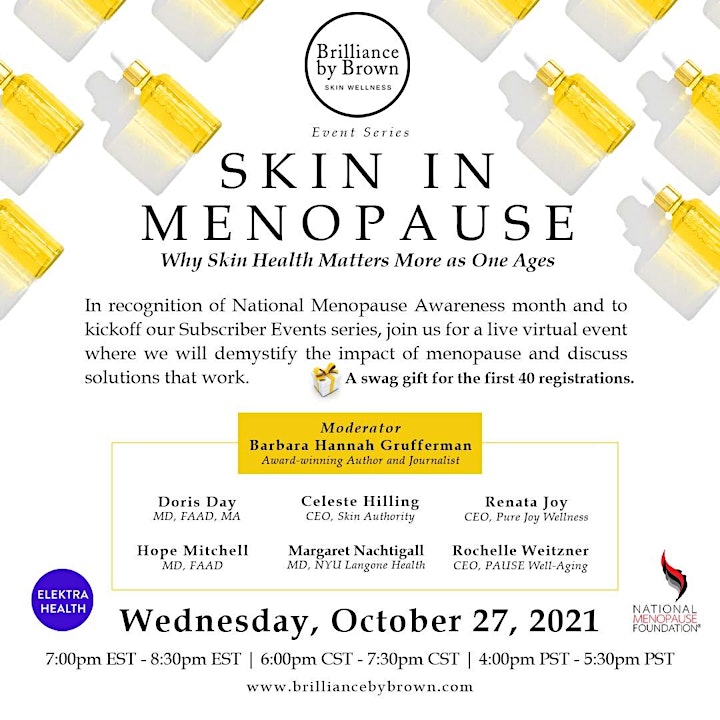 Virtual seats are limited. Register today. A swag gift for the first 40 registrations.
$10 of the $20 registration fee will be donated to the National Menopause Foundation.
Two days before the event we'll email reserved seat holders the Zoom link login information and event program. If you do not receive the access information, email us at hello@brilliancebybrown.com.
Skin In Menopause: Why Skin Health Matters More as You Age
In recognition of National Menopause Awareness month and to kickoff our Subscriber Events series, join us Wednesday, October 27, 2021, at 7:00pm EST for a live virtual event where we will demystify the impact of menopause.
Be inspired and empowered by six renowned thought leaders who will discuss the different phases of menopause, its affects to our skin from head to toe, and what solutions to apply that work.
Moderator - Barbara Hannah Grufferman, Award-winning Author and Journalist
Doris Day, MD, FAAD, MA
Celeste Hilling, CEO, Skin Authority
Renata Joy, CEO, Pure Joy Wellness
Hope Mitchell, MD, FAAD
Margaret Nachtigall, MD
Rochelle Weitzner, CEO, PAUSE Well-Aging
Wednesday, October 27, 2021
7:00pm EST - 8:30pm EST
6:00pm CST - 7:30pm CST
4:00pm PST - 5:30pm PST
Join us online to learn:
What happens to your skin as you age?
Is skin health more important over the age of forty, and why?
How do we deal with changing hormones and the impact on our skin?
What are some common skin issues and treatments at any stage in menopause?
What are the top 5 ingredients necessary for better skin function?
How does the food we consume impact the health of our skin?
Are there specific foods we need to pay more attention to and why?
Do we need to change our diet and exercise routine as we age?
What is menopause? How and why does it affect our body's largest organ?
What is estrogen and how do we counter its loss as we age?
Are there supplements we should be taking to offset the impact of menopause?
Why does hyperpigmentation become more of an issue as we age? Does it vary based upon one's ethnicity?
Are there new technologies/innovations in caring for one's skin as it ages?
What is collagen and how do you increase collagen production to benefit your skin's health?
Why and how is Vitamin D important to your skin health?
What are the 3 best skin care ingredients for you skin from head to toe?
Date and time
Location
Refund policy
Organizer of Menopause, Your Skin Health, Your Well-being