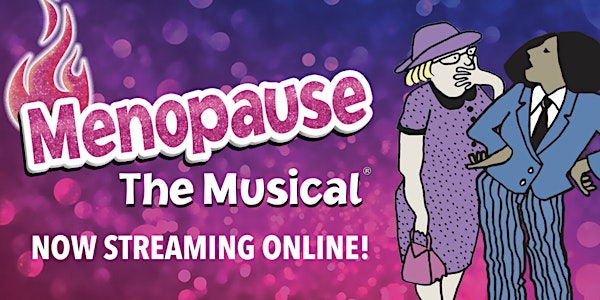 Menopause The Musical® Online Streaming
Last week to purchase! For all purchases on or after June 14, fans will have until June 28, 2020 to watch the show online one time.
About this event

It's the Hilarious Celebration of Women and The Change®, now playing from the comfort of your home! The smash-hit sensation is streaming online. For all purchases on or after June 14, fans will have until June 28, 2020 to watch the show online one time.
Come join our DIGITAL sisterhood! See what more than 17 million women and fans worldwide have been laughing about for 19 years! Four women at a lingerie sale have nothing in common but a black lace bra AND memory loss, hot flashes, night sweats, not enough sex, too much sex and more! This hilarious musical parody set to classic tunes from the '60s, '70s and '80s will have you cheering and dancing in your living room!
A note about the filming: This footage was recorded in Aurora, IL in 2015 as part of our Survivor Tour, in partnership with the Susan G. Komen Foundation. All featured cast members are breast cancer survivors or co-survivors. We never expected to share this footage, which was originally filmed for internal archival purposes only, but through the support of Actor's Equity Association, in an effort to bring you some much needed fun and support, we are able to share this with you — our Sisterhood! Because this is a recording of a live theatrical performance, and was not originally intended for broadcast, please enjoy all the quirks of live theatre!
We will donate 10% of all sales to organizations working in the racial justice space, including Campaign Zero, the Center for Transformative Change, Color of Change, Greyston, Minnesota Freedom Fund, and Showing Up for Racial JusticeThe Actor's Fund. The Menopause The Musical® family is proud to support these efforts. Over the past 19 years, we have donated more than $1 million to womens' charities through our fundraising efforts.

Purchasing a ticket gives you access to view Menopause The Musical® one time. For all purchases on or after June 14, you will have until June 28, 2020 to watch the show online one time. Within 6 hours of your purchase, you will receive a custom link via e-mail to view the stream. Each ticket purchase equals one link to view.
Here's how it works:
1. Click the green "Tickets" button to purchase your ticket(s).
2. Within 6 hours, you will receive an email from info@gfourproductions.com with your unique link to watch Menopause The Musical® online.
That's it!
-----------
Give the gift of Menopause: Purchase multiple tickets to share the Sisterhood with friends! If you purchase multiple tickets, we'll send you login information for each ticket you purchase. For example, if you want to send MTM to four friends, purchase four tickets.
Can't find your e-mail confirmation? Be sure to check your junk/spam folder! Contact us at info@gfourproductions.com for help or questions.
----------
This streaming operates under an agreement with Actors' Equity Association, the Union of Professional Actors and Stage Managers. All Actors and Stage Managers are members of Actors' Equity.