In preparation for World Menopause Awareness Day on 18th October, we're hosting a special event on menopause in the workplace.
About this event
Menopause in the workplace is a hot topic. It's being talked about in the media, in Parliament and many employers are now taking action to put the right awareness, education and support in place.
Understandably with the many compelling reasons for doing so, we're living for longer - working for longer with more of us working through and beyond their menopause than ever before. It's good for employees and good for employers too.
How menopause friendly is your organisation? Whether you're starting from scratch or already begun, join us on Wednesday 15th September where we'll help you understand what you can do and how.
We'll be covering the latest developments and news plus:
Why employers need to take menopause in the workplace seriously plus the benefits.
How menopause could affect someone at work
What employers can do to become menopause friendly
What you can do on an individual level
Our Speaker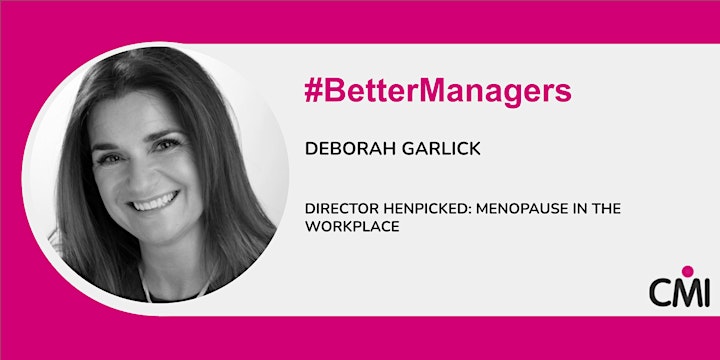 Deborah Garlick
Director, Henpicked: Menopause in the Workplace
Deborah is passionate about helping people live better lives by raising awareness and understanding of the menopause, changing perceptions and getting everyone talking about it. She is a Director of Henpicked: Menopause in the Workplace. Deborah and her team have been working with UK-wide and international organisations to make it easy for them to introduce the right training, policies and practices to raise awareness and education of this critical area.
Our Host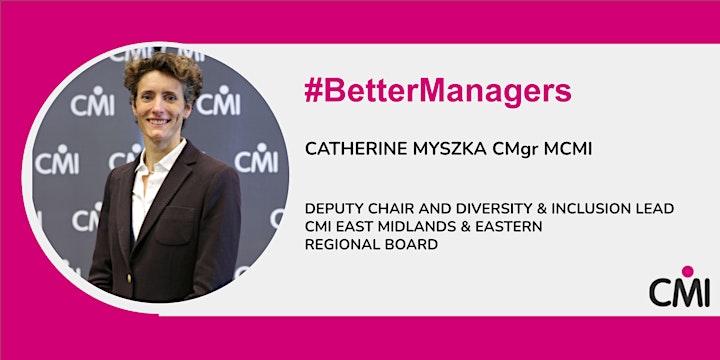 Catherine Myszka CMgr MCMI
Deputy Chair and Diversity & Inclusion Lead, CMI East Midlands & Eastern Regional Board
With an early career as a practicing Chartered Accountant, followed by a variety of corporate governance, risk management and project change roles, I have spent the last decade as an independent transformation consultant, helping clients to transform their Finance functions. Focussing on process excellence, efficiency, human-centred design, and delivery at pace, I help clients to unlock the potential in their organisations. I have a strong appreciation for the value that diversity and inclusivity bring to an organisation; not only in financial performance, but equally as importantly in employee engagement, mental health and wellbeing, and the design and delivery of robust, effective, innovative and disruptive design solutions.
For more information about the CMI East Midlands & Eastern Regional Board you can visit the Board's webpage:
https://www.managers.org.uk/community/regional-networks/east-midlands-and-eastern/
Or you can connect via social media:
Twitter: @CMIEME
LinkedIn: https://www.linkedin.com/groups/5187723/
In the meantime...
If you're a member of CMI, or subscribe to our content, you can find thousands of exclusive, practical development resources in ManagementDirect. Log in here and search for a topic to get started!
Not yet subscribed?
From free newsletters packed with the latest trends, insights and tips for managers and leaders, to the full suite of invaluable tools and benefits that come with being a CMI member, we've got something for everyone. Visit our website to find out more.