Description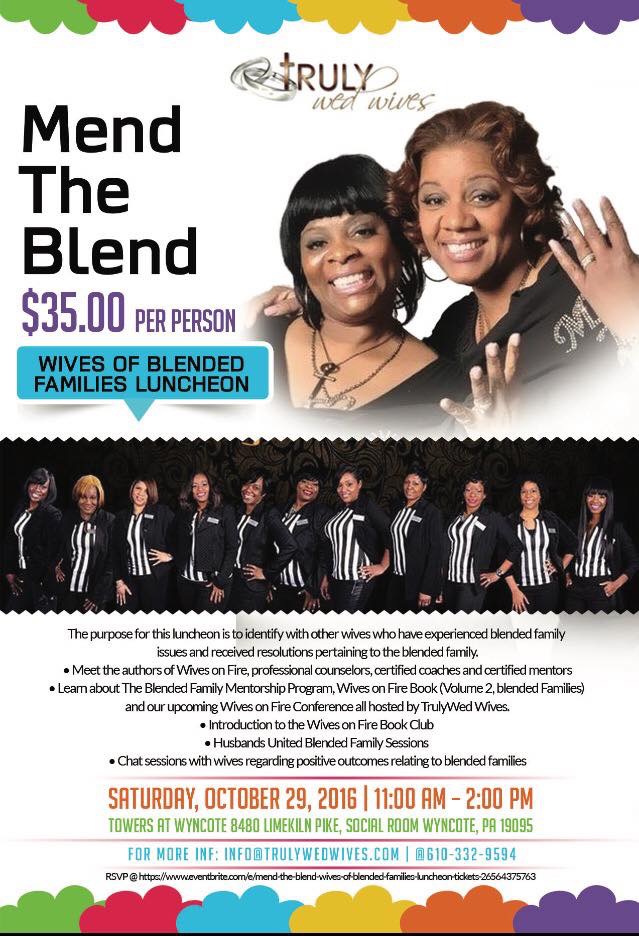 Mend the Blend
Wives of Blended Families Luncheon
Please Join TrulyWed Wives for a Wives on Fire Blended Family luncheon. Come learn how to interact with bonus children and how to create interactions with spouses of bonus children.
When: Saturday, October 29, 2016 from 11:00 AM – 2:00 PM
Where: Towers at Wyncote
8480 Limekiln Pike, Social Room
Wyncote, PA 19095
Cost: $35.00 per person until October 1, 2016
$40.00 per person after October 1, 2016
The purpose for this luncheon is to identify with other wives who are also experiencing issues or received resolutions pertaining to the blended family.
Meet the authors of Wives on Fire, professional counselors, certified coaches and certified mentors

Learn about The Blended Family Mentorship Program, Wives on Fire Book (Volume 2, blended Families) and The upcoming Wives on Fire Conference all hosted by TrulyWed Wives.

Introduction to the Wives on Fire Book Club

Husbands United Blended Family Sessions

Chat sessions with wives regarding positive outcomes relating to blended families
For additional information please contact TrulyWed Wives at info@trulywedwives.com or @610-332-9594
Space is very limited!
Blended Family - A family consisting of a married couple and their children from a previous marriage or relationship.