Description


Join relationship experts Esther Boykin and Erica Turner, for an evening dinner and discussion about intimacy and love.
Cultivating intimacy and vulnerability is the cornerstone of lasting love, but how do we do it? As we indulge in gourmet dinner, we will discuss the many barriers to intimacy including busy schedules, past hurts, and misunderstandings.
Enjoy delicious food and drink while learning how to move past these blocks to build the deep, soulful connection you've always longed for.
We'll discuss:
Why vulnerability matters for your relationship

How vulernability can help deepen intimacy and connection

How to help your partner get you and your needs

How to actually listen to your partner and be present for them
Join us as we talk about these topics and more!
---
Tell me About Dinner...
Just like your relationship, we believe that if you want to full enjoy a meal you have to start by putting your best into it. Each event menu is carefully crafted from organic, natural ingredients for a meal that is decadent and incredibly good for you.
---


Want to know what others think about Therapy is Not a Dirty Word events?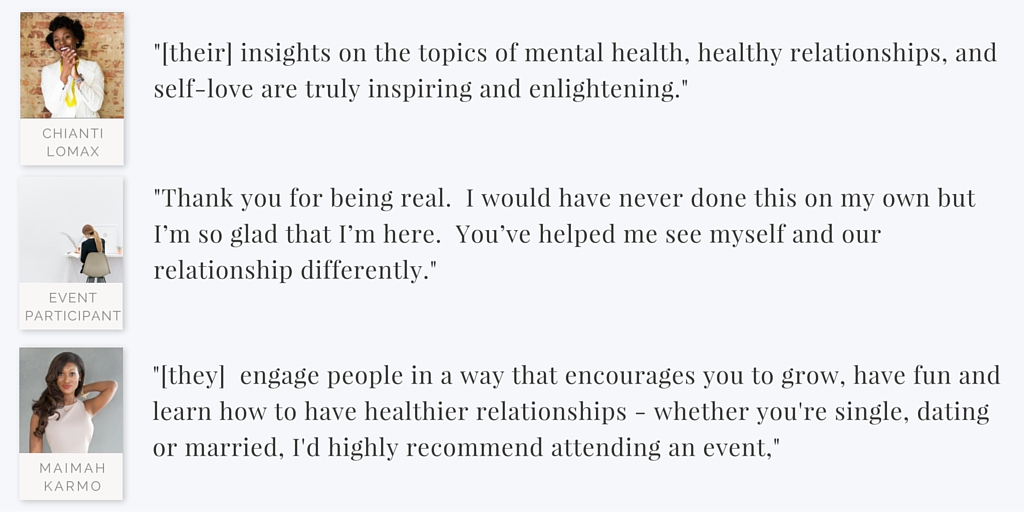 ---
FAQ's
Is this going to be like therapy?
Therapy is Not a Dirty Word events are not therapy. Rather, we take tools that we use in our therapy practice to help individual and couples learn tools to help their relationship in a fun, relaxed setting. We know that sometimes folks need just a little help to get their relationships back on track, and are not looking for the longer term commitment (and investment) of therapeutic work.
Are you going to ask me to share personal information in front of strangers?(!)
Participants are invited to share as much information as they feel comfortable with. We don't push anyone to reveal sensitive info unless they choose to do so. That said, we find that as participants relax in the intimate, personal setting, they often feel a camaderie with couples and individuals who are facing some of the same challenges they are.
Who are you people?
We're so glad you asked! Esther, Boykin, LMFT is the CEO and owner of Group Therapy Associates (the mother to this super cool kid we like to call TINDW).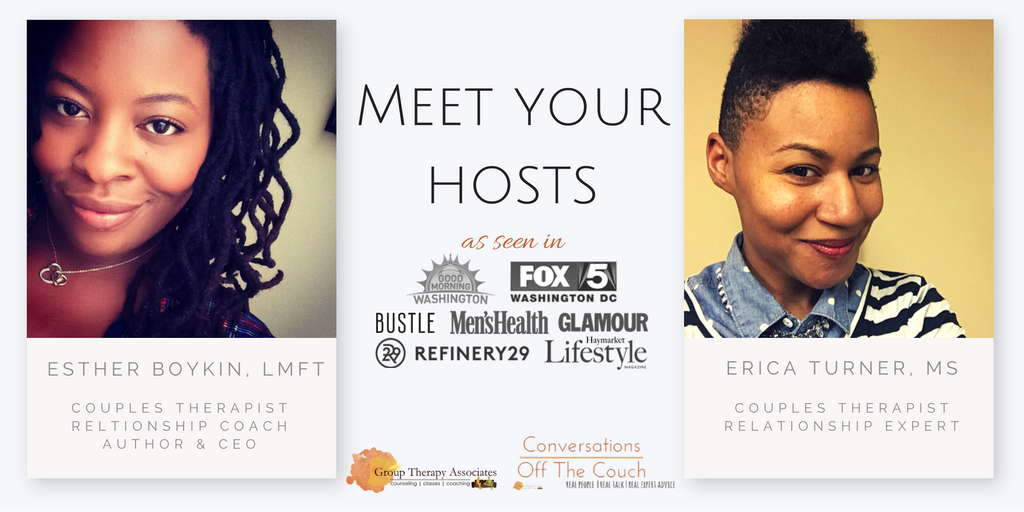 Esther is a licensed marriage & family therapist, author, and sought after relationship expert, with appearances on Let's Talk Live, Fox5DC, and Good Morning Washington. Erica Turner, MS is a Resident in Marriage and Family Therapy and Director of Marketing at Group Therapy Associates. Erica works with couples each day, and is an avid writer and contributor to outlets such as Fox5DC and the DC Ladies. Combined, Esther and Erica have more than 15 years of experience of working with couples, and over 30 years of being married themselves. So really, we get it!
Read some of our articles here and here, check out our podcast, or visit us at Therapy is Not a Dirty Word!
Have questions? Email Erica Turner at erica@grouptherapyassociates.com :)