About this Event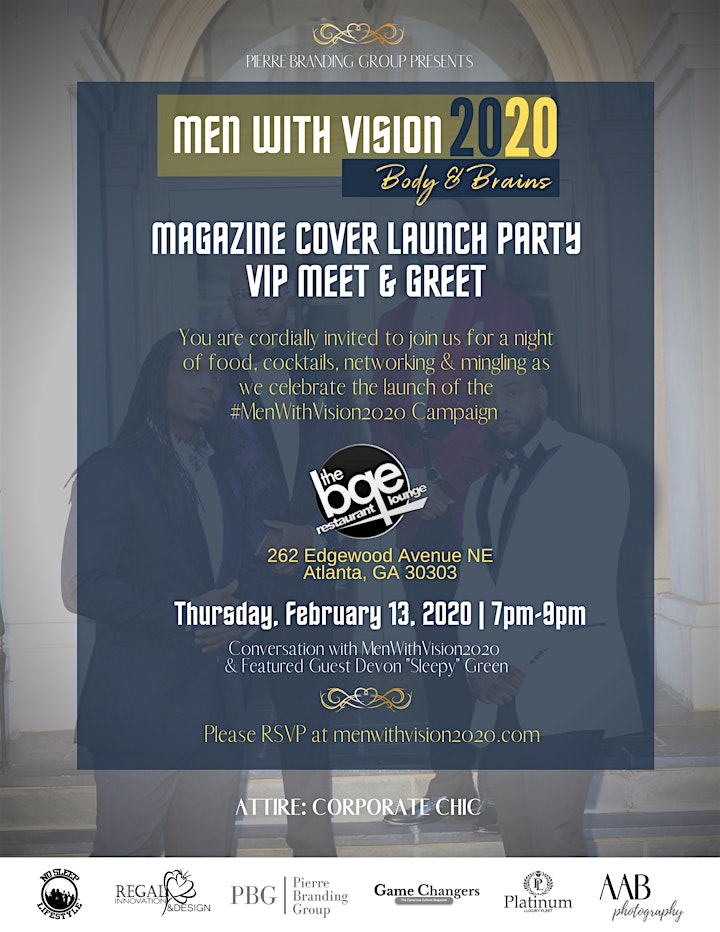 Pierre Branding Group teams up with Game Changers Magazine™ to present the Magazine Launch of the year... "The Men With Vision Issue" which features the gentlemen of the Men With Vision 2020: Body and Brains Campaign on the Cover!!
Game Changers magazine welcomes these Successful Businessmen on the Cover for their Men With Vision issue set to be released in February. This issue includes stories highlighting Men who are visionaries and have influenced their community, impacted their culture and changed the game. These 4 Cover Stars are doing just that with their Men With Vision 2020 Body & Brains Campaign. A campaign aimed at empowering Women to have success in love, life & business while benefiting victims of domestic violence & financial abuse. "Men With Vision (Body & Brains) the 2020 campaign, is the first of its kind to bring together corporate networking, dating and an experience for the professional woman to one forum."
Also get your Men With Vision Wall Calendar just in time for Valentine's Day! Similar to the fireman Calendars that raise funds for a cause, Pierre Branding Group is producing a "Men With Vision" Calendar and we are proud to be donating a portion of the proceeds to help support victims of domestic violence and financial abuse. This 12 month "2020 Men With Vision" Wall Calendar will serve as a keepsake for those who purchase and support this amazing cause . Get it as an add-on and Save $5 off the shipping cost by purchasing and picking up at the MenWithVision VIP Meet & Greet on February 13th (RSVP today!)
Learn more at menwithvision2020.com.