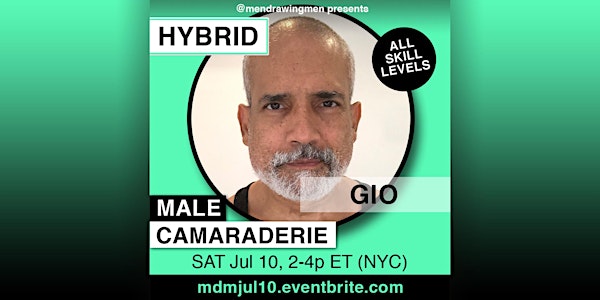 Men Drawing Men (ONLINE)SAT Jul 10, 2-4p ET (NYC)
Men Drawing Men (Virtual + In-Person) SAT Jul 10, 2-4p ET (NYC) (In-Person 2-6p)
Refund Policy
Refunds up to 1 day before event
About this event

THIS IS A HYBRID (Virtual + In-Person) SESSION
VIRTUAL: 2-4p ET (NYC) per your feedback, a FULL virtual session
IN-PERSON: 2-6p ET (NYC) you may join late and leave early
Eventbrite/PayPal/Zoom help: https://www.mendrawingmen.com/faq-tech-support
Check your time zone. (https://www.timeanddate.com/worldclock/).
US #Canada #Mexico #SouthAmerica (11a PT,11a MST, 12p MT, 1p CT, 2p ET)
San Francisco / Inland Empire 11a PT
Phoenix 11a MST
Denver 12p MT
Austin 1p CT
New York 2p ET
#UK #EU #London #Paris #Berlin #Rome #Australia #Sydney #Melbourne
UK 7p
EU Paris/Berlin/Rome 8p
Sydney/Melbourne 4a AEST(July 11)
For male camaraderie, all our sessions are for male-identified persons only. Our models never wear clothes. We are a friendly group; we are not judgmental about bodies or artwork.
VIRTUAL. The session will be the same length as our regular zoom sessions. See pose times below. The Zoom session will be recorded. Everyone except the models will be edited out. Wear whatever is comfortable for you. Your Zoom link is in your Eventbrite confirmation email. Virtual tickets do NOT give you access to the In-Person session. The address is not included in the confirmation.
You can always use the PayWhatYouCan ticket (Virtual only) if funds are tight.
GIO
https://www.instagram.com/fitartmodel/
Log in (free) to mendrawingmen.com to see additional photos of GIO:
https://www.mendrawingmen.com/products/men-drawing-men-free-site/categories/4108579/posts/2150285864
Pose times for the Zoom portion:
Pose 1 - 2m
Pose 2 - 2m
Pose 3 - 2m
Pose 4 - 5m
Pose 5 - 5m
Pose 6 - 10m
Pose 7 - 15m
Short break
Pose 8 - 20m
Pose 9 - 20m
Time to share drawings (optional)
IN-PERSON - NYC. The session will be 4 hrs. The first half will be a paid model, in the room and broadcast over Zoom. We will share our drawings together with our virtual brothers at the end of the Zoom portion. The second half will be our usual artists-draw-artists. There will be a sign up sheet for artists who want to volunteer to pose. All attendees must be fully UNclothed for the entire session. We would love to take photos of your drawings (optional).
We have a very limited number (8) of in-person tickets. Because it will be a smaller group than before, the fee is $25, advance ticket only. If you are struggling financially, you can click "contact the Organizer" to request a scholarship. Include your name, contact information, and an explanation of your situation. We will review requests on a case by case basis. Do not wait until the last minute.
THE ADDRESS will be in your Eventbrite confirmation email. This session will be held at a private residence.
VACCINATION REQUIRED: For in-person, you must have completed your second/final dose of the Covid vaccine at least 2 weeks before the session. You MUST bring proof. No refunds if you show up without proof.
MASKS are optional per the governor's May 19 announcement.
ADDITIONAL VIRTUAL DETAILS:
ZOOM. Write your Zoom username in your Eventbrite answers. We will use this to admit you to the call. We have a "waiting room." The host will manually admit you to the call. Your Zoom username is visible to other attendees. You can change your username in SETTINGS. (Does not apply to in-person tickets.)
The entire session will be RECORDED by Shungaboy, but all attendees will be edited out.
DO NOT TAKE SCREENSHOTS OR RECORDINGS. Official screenshots will be emailed to regular ticket holders.
YOU CONTROL HOW YOU PARTICIPATE. You never need to turn on your camera.
Wear WHATEVER is comfortable for you. Please be aware that most of our members prefer not to wear clothes.
Questions?
shungaboy@mendrawingmen.com (please include your name in your email)
Follow us on Eventbrite to get notified first:
https://mendrawingmen.eventbrite.com/
*Become a Core Member and get FREE access to our online drawing sessions for only $15/mo paid annually.