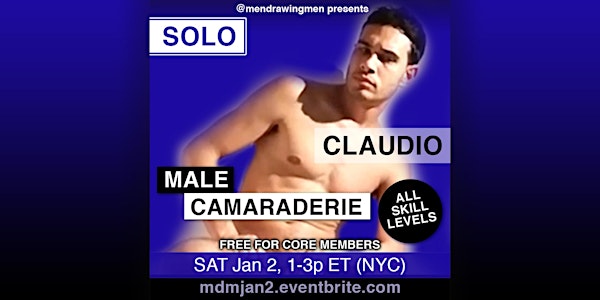 Men Drawing Men (ONLINE) SAT Jan 2, 2021, 1-3p ET (NYC)
Men Drawing Men (ONLINE) SAT Jan 2, 2021,1-3p ET (NYC)
Refund Policy
Refunds up to 1 day before event
About this event

Check your time zone. (https://www.timeanddate.com/worldclock/).
US #Canada #Mexico #SouthAmerica (10a PT, 11a MT, 12p CT, 1p ET)
#UK #EU #London #Paris #Berlin #Australia #Sydney #Melbourne
(Jan 2: 6p UK, 7p EU, 5a AEST)
MDM CORE MEMBERS ARE FREE (does not include the replay)*. Login to your member's page. For male camaraderie, this session is for male-identified persons only. The session will be recorded. Everyone except the models will be edited out. Wear whatever is comfortable for you.
By popular request CLAUDIO!
This will be a SOLO session - ONE MODEL for the entire session.
TICKETS VIA EVENTBRITE: https://mdmjan2.eventbrite.com
EARLY BIRD TICKETS $5, Donation ticket available.
Regular ticket $15 (screenshots will be emailed to you by the Shungaboy)
(Processing by PayPal. PayPal account not required - if you want to pay by credit card, choose "buy as guest.") NOTE: if this doesn't work, email me and you can pay via Venmo.
You will have to answer some questions to complete your ticket order.
Men Drawing Men (ONLINE) SAT Jan 2, 2021,1-3p ET (NYC)
Join the zoom 5 minutes early to see part of Claudio's interview!
We don't believe in clothes so our models never wear any either.
Please tag your drawings on Instagram!
@mendrawingmen
@giuseppeclaudio_themodel
Pose times:
Classic theme:
5m BREAK
Saturnalia theme:
There will be time to share your drawings at the end.
THE ZOOM LINK IS INSIDE THE EVENTBRITE CONFIRMATION EMAIL!
Scroll all the way down to Additional Information). It's also in the PDF TICKET. -- CHECK YOUR JUNK/SP_M FOLDERS!
-Use a tablet or computer for the screen to be large enough to see the pose for drawing. Use gallery view to see all participants and speaker view when the model is posing. Use full screen to maximize the pose view.
-ZOOM. Write your Zoom username in your Eventbrite answers. We will use this to admit you to the call. We have a "waiting room." The host will manually admit you to the call.
- We will kick out anyone who violates any of our rules.
-Everyone will be muted when joining the call and during the poses. Please unmute yourself to speak.
-Listen to your own music. Everyone will be muted.
**IMPORTANT - PRIVACY**
The entire session will be recorded by Shungaboy, but all attendees will be edited out. We have no control over attendees' actions.
DO NOT TAKE SCREENSHOTS OR RECORDINGS. If you buy a regular ticket ($15) or higher, official screenshots will be emailed to you.
YOU CONTROL HOW YOU PARTICIPATE. You never need to turn on your camera. Turn your camera on/off by clicking on the camera icon on the bottom of your screen.
Wear WHATEVER is comfortable for you. Please be aware that most of our members prefer not to wear clothes.
Your Zoom username is visible to other attendees. You can change your username in SETTINGS.
Questions?
shungaboy@mendrawingmen.com (please include your name in your email)
Follow us on Eventbrite to get notified first:
https://mendrawingmen.eventbrite.com/
*Become a Core Member and get FREE access to our online drawing sessions for only $12/mo.