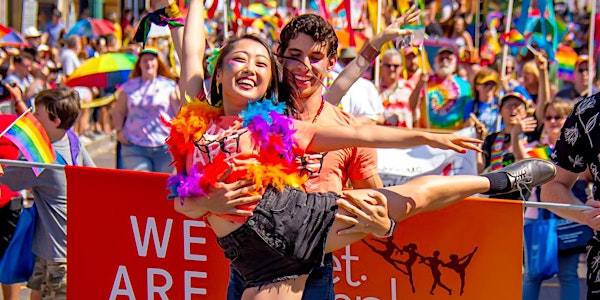 Memphis Pride Fest Live and in Color 2020
Join us for a grand celebration with the Memphis LGBTQ+ community and our families, friends and allies.
About this event
Memphis Pride Fest is the single largest gathering for the LGBTQ+ community and our allies in the Mid-South. While the Festival and Pride Parade are the cornerstone of Memphis Pride Fest, the entire celebration (known as Memphis Pride Fest Weekend) spans 3 days beginning with a dance party or concert on Friday Night, the signature festival and parade on Saturday, and winding down with a Brunch Crawl on Sunday.
The Festival and Parade are open to all ages and free to attend. Pets are also welcomed, but please take the recommended precautions to be sure they don't overheat. (See the ASPCA Hot Weather Safety Tips for Pets) Also, be mindful of other festival-goers and ensure they are on a leash and you clean up behind them.
SCHEDULE FOR MEMPHIS PRIDE FEST LIVE AND IN COLOR WEEK
Sunday Sept 20th 2pm Pride on Wheels
Wednesday Sept 23rd 630pm Drag N Drive at The Summer Drive-in
Thursday Sept 24th 7pm Meet Your Community Stream
Friday Sept 25th 7pm Recognize Your Community Stream
Saturday Sept 26th 8am-8pm Virtual Festival Memphis Pride Live and in Color
Sunday Sept 27th 10am Virtual Multi Faith Service & 1130am Virtual Drag Brunch
THE VIRTUAL FESTIVAL "Live and in Color"
8AM to 8PM on our website, facebook live, twitch, and YouTube
The Pride Festival is a diverse, inclusive, and community-friendly festival that includes entertainment like bands and drag queens, vendors, non profits, Doggie Drag Show, Drag Queen Story Time, food trucks, free and discreet HIV screenings, and so much more! With the support of our generous sponsors and community partners, we work to keep this celebration free and accessible to everyone.
THE PRIDE PARADE - "Pride on Wheels"
Sunday Sept 20th -Starts at 2PM Tiger Lane on East Parkway
With Covid-19 we have had to change the way we host our parade. To help with social distance and maintaining safety for all. We have decided to host a caravan! We will all meet up at Tiger Lane. People should stay in the vehicles. Everyone should line up by parking in the spaces. We will start at 2pm and follow the caravan route. There will be camera's all along the way capturing all these great moments so make sure you are smiling and waving! Once we get to Beale St we are almost to the end. Once we hit Front St the caravan is over.
Remember to watch the parade on Saturday Sept 26th as part of Virtual Pride, Memphis Pride Live and in Color on our website or Facebook, YouTube, and Twitch
The procession usually features over 100 units with 2000+ participants of all ages and backgrounds including church groups, performing arts groups, museums, high school & college groups, non-profit organizations, city & county leaders, local businesses, and corporate brands including St. Jude, Nike, New York Life, T-Mobile, Ikea, Fedex, International Paper, AutoZone, First Tennessee Bank, Kroger, Lowes, Gold Strike Casino, and many more. It will be back in 2021!