Sales Have Ended
Ticket sales have ended
Thanks for your interest! Check my profile for other class dates. Check out mandygreer.org for more info!
Sales Have Ended
Ticket sales have ended
Thanks for your interest! Check my profile for other class dates. Check out mandygreer.org for more info!
In this on-line live class, we will be making coiled baskets from reclaimed fiber as a way to explore craft as a container for memory.
About this event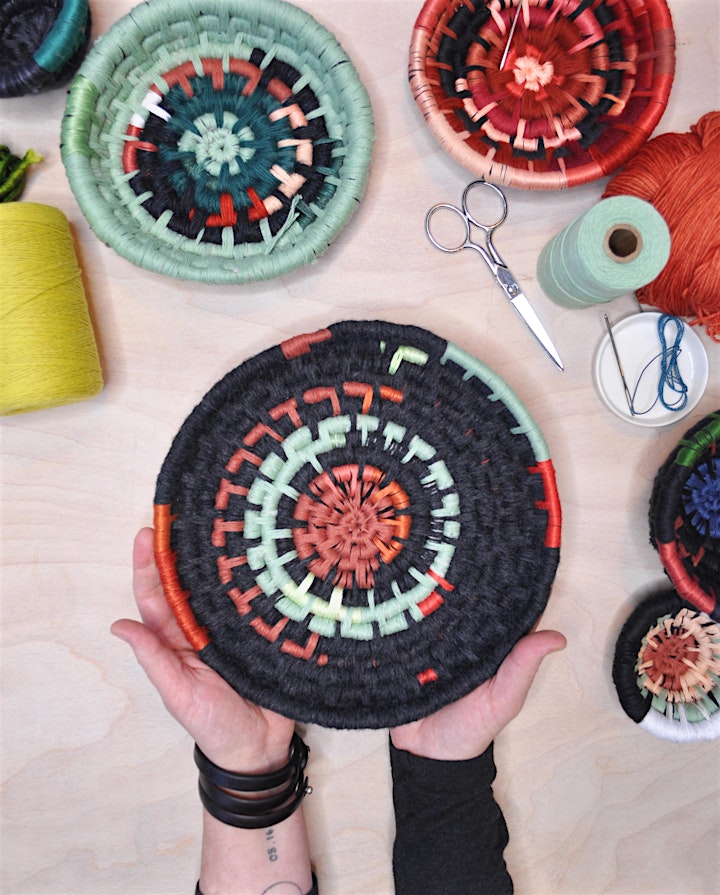 Class Date Options are :
Select: Jan 23rd, Feb 13, March 6th, April 9th or May 14th, 2022
Online Zoom Class: A classroom link will be sent to you two days before workshop
You are welcome to take the class with your own materials, too.
Materials Needed:
- a blunt metal tapestry needle, approx. 2.25". This is a good option.
-lots of reclaimed fabric, old clothes, etc, you collect from your house. Have one piece that is non-stretchy, like denim or canvas. Have pieces at least a foot long and 4" wide, but variety is fine.
-scissors
Note: I can ship International, but need to send you an invoice, once you have sent me your address and I give you a shipping quote. Please expect shipping delays and plan accordingly. Contact me here with your address to get a quote.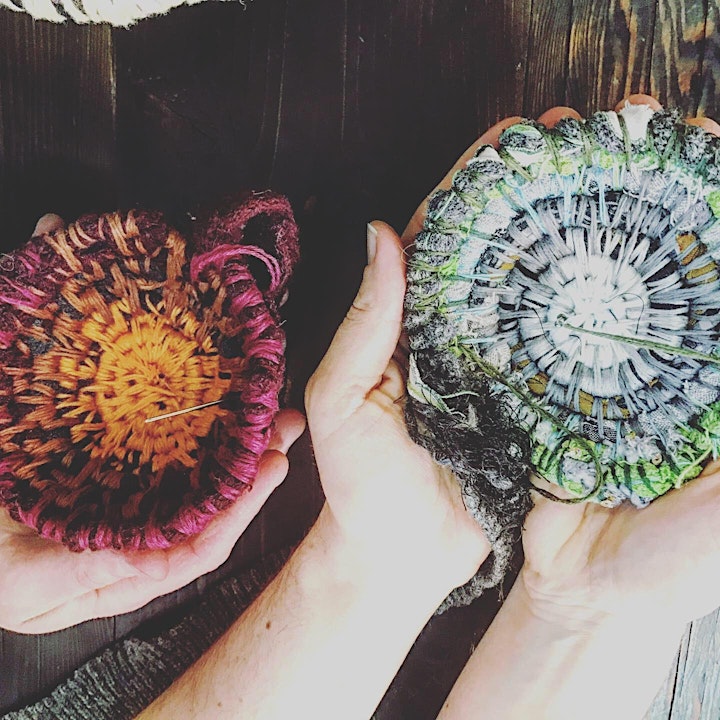 Reclaimed Fiber Baskets as Memory Holders
This live workshop is an online version of my popular in-person coiled basket making workshop.
This process is incredibly nourishing, so I wanted to make it available online, now more than ever, as we spend more days in isolation.
We can connect with our inner landscape through our hands, and come together to talk about how coiled basketry can be a container for memory.
In this workshop, I'll be sharing a private handwork practice that I use as a mediation to sooth ruminating thoughts, doubts and feelings of inadequacy and depression; sewing coiled baskets out of upcycled fabrics and strings.
In much of my practice as an artist, I am exploring craft and handwork as a form of innerwork, and conceptual exploration, rather than just a means to make a product.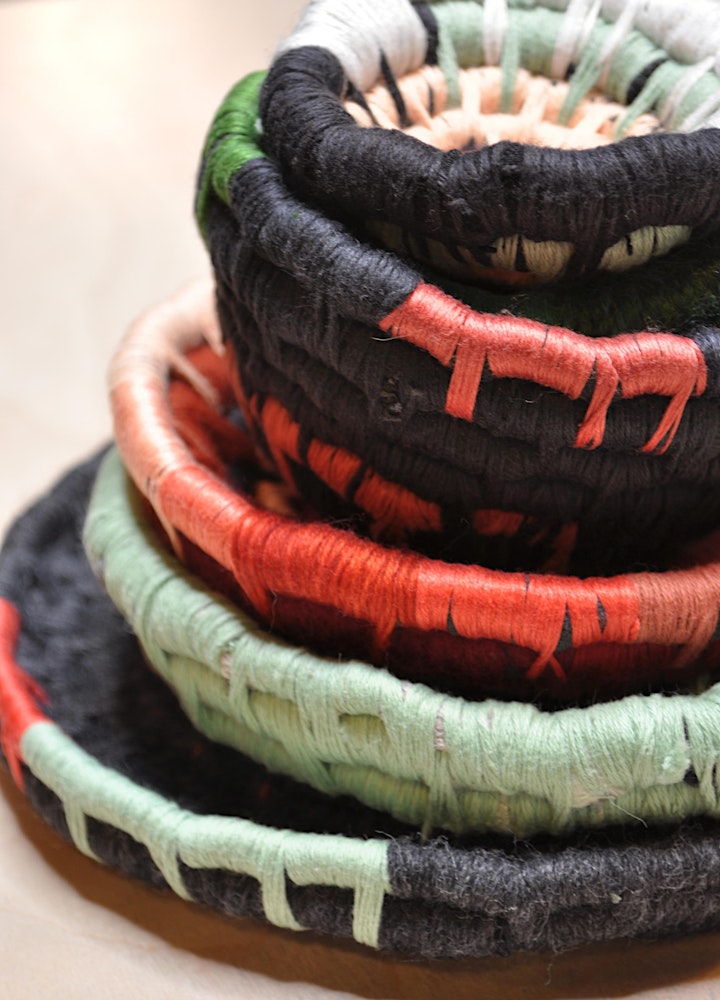 The Process :
Spiraling around and around of the basket will be like a walking meditation through a labyrinth and can tell the story of our lives through color, expressive stitching and experimentation.
Across cultures, the coiled basket has been both a humble tool for everyday survival and a rich culture-keeper of story and dreamwork, from Australian Aboriginal People, to Masai, to neolithic Celtic peoples, to Hopi and Navajo, to North Atlantic islanders, to Coast Salish peoples.
I began this meditative process by studying baskets called ciosans, made in the Scottish Highlands out of marram grass.
In our current consumer culture, materials that are plentiful is textile waste from our fast fashion addictions. These materials are abundant to the point of destroying our environment. We'll be using recycled fabrics diverted from the waste stream, considering our impact on the planet through our fast consumer choices, we'll be slowing way down to hand make a labor intensive basket.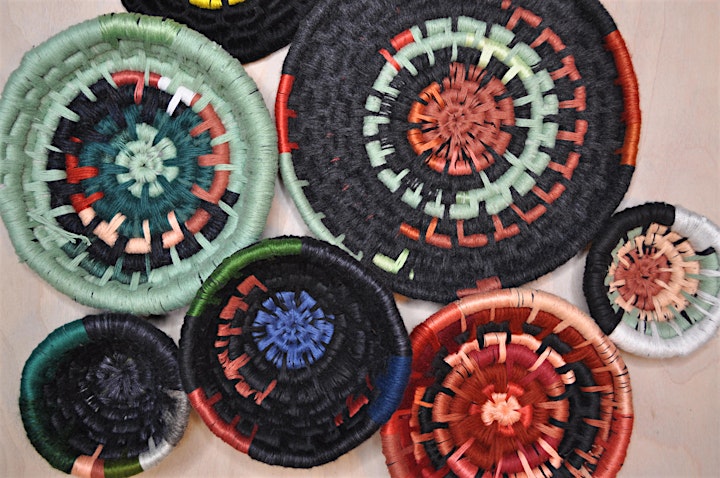 I can make you a kit!
You can use your own collected materials or I can custom-make you a kit from my huge collection of reclaimed fibers and materials.
Just select 2-3 colors and I'll put something together for you, including a contrasting color.
You'll have everything you need to do the class, and continue working.
It includes:
-reclaimed fabric pieces totaling 5 yards x 4 inches
-5 bundles of strong yarn and string, reclaimed/vintage, each one 14 yards, totaling 70 yards
-one blunt metal tapestry needle, approx. 2.25"
SHIPPING or NO-CONTACT Pick-up AVAILABLE at my Columbia City, Seattle Studio
Please allow me 3 biz days to put together your kit.
Pick-up times are Wednesdays and Saturdays, from 2pm-7pm. Include the date you are picking up when you order.
Otherwise, select First Class or Priority shipping. Two kits require Priority.
Please order with enough time for your kit to reach you by your class time.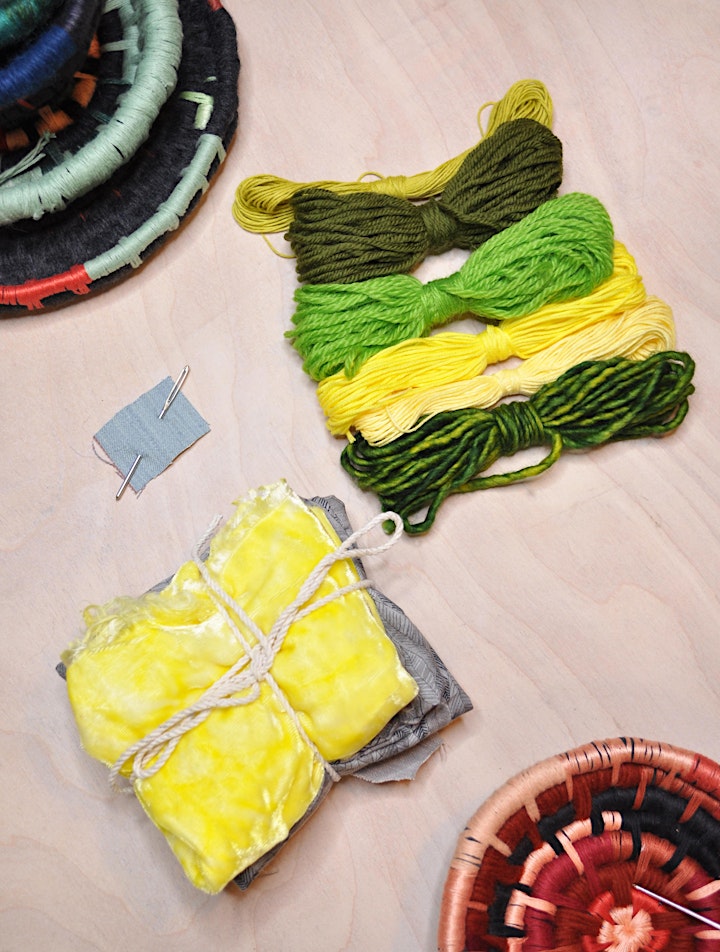 FAQs
-Classes need a 10 person minimum to run. Sharing with your friends and social sites is most appreciated, and helps the classes run!
-Please note the shipping and pick-up times for kits, and make plans to order your kit in time for class.
-Please download Zoom well ahead of class time to familiarize yourself before class time.
-A Zoom classroom link will be sent to you 48 hours before the workshop in an email. If you do not see it then, please contact me immediately. It is your responsibility to contact me no later than 24 hours before your class, so I can resend it to you. It does not work to contact me minutes before the class starts, because I am not on email three hours before our class, while I am setting up the digital classroom.
-For Zoom safety, there will be a waiting room, and only those names that match registrations will be allowed in the classroom. Please make sure your Zoom handle matches the name you registered with.
-Please log into the classroom no later than 10 minutes before the start of class.
-For Zoom safety, classroom will be sealed 10 minutes after the start of class time, and late comers cannot be let in.
-To see the detail in demos, viewing the class on a computer is advised.
-No refunds on kit or class. If you register and need to miss, a class video can be made available for you to watch on our own.
-You don't need a kit to do the class, if you want to gather your own materials. See above for Materials List.
-Get in touch with Mandy HERE with any questions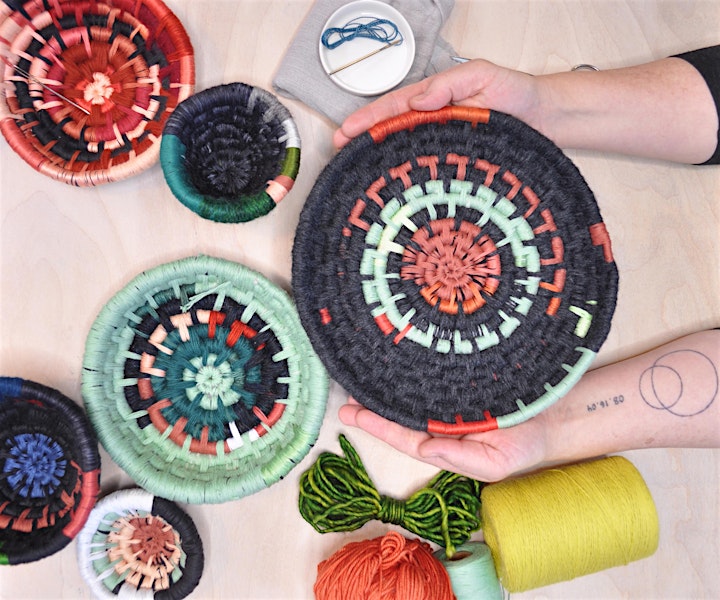 Private Parties Available!
10 person minimum and 15% off each class ticket. Your party participants can order a kit individually, or use their own materials. For a discounted bulk party pack of kits, I can offer choices of warm or cool color kits for a discount of 15% off.
Get in touch to schedule!
Date and time
Location
Refund policy
Organizer of Memory Bowls: Reclaimed Fiber Basket Online Workshop
Mandy Greer is a multi-disciplinary artist who creates heightened narrative space through fiber-based installation, photography, performance, film and community-based action.
Her work has been exhibited nationally and internationally at Centro di Cultura Contemporanea at Palazzo Strozzi, Florence, Italy; Cathedral St. John the Divine in NYC; Museum of Contemporary Craft, Portland, OR; Aqua Art Miami; Bellevue Arts Museum, Seattle Art Museum, Henry Art Gallery, and Frye Art Museum, Seattle, WA. Mandy has received numerous awards including the Arts Innovator Award from Artists Trust/The Dale and Leslie Chihuly Foundation and the prestigious Louis Comfort Tiffany Foundation Award. She has been featured and reviewed in many publications including the New York Times, Hi-Fructose Magazine, Redefine Magazine, Seattle Magazine and Art Ltd.
Mandy Greer has an MFA from the University of Washington, and has taught clay, fiber and art in a broad spectrum of settings. She has taught as an adjunct professor at The University of Washington and The University of South Florida. She has taught school-aged and adult programs at The Frye Art Museum, Bellevue Art Museum, Seattle Art Museum, The Hudson River Museum and through Seattle Public Schools and Mercer Island School district. She has lectured and taught workshops at UW, Evergreen State University, Western Washington University and Emory University, and has designed and taught clay curriculum to teachers in Bellevue Public Schools.