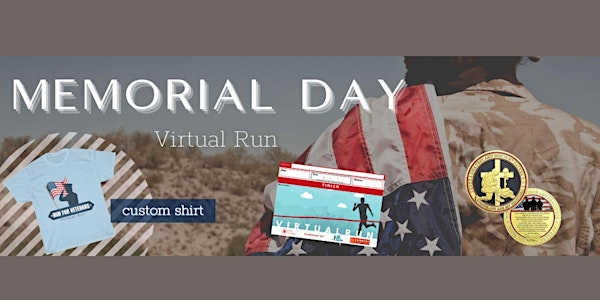 Memorial Day Virtual Run 2022
Run in loving memory of all who paid a price for the freedom of our country
Refund Policy
Contact the organizer to request a refund.
Eventbrite's fee is nonrefundable.
About this event
Run in loving memory of all who paid a price for the freedom of our country.
With this virtual run, we'll send you a virtual packet with 12 digital tools that'll help make your run awesome!
Each run will also feature a Dream to Be Contest. We'll show you how to add your own photo to any background in 3 incredibly easy steps. Every month, we'll pick out 3 winners. If we select your photo, we'll send you a large box of goodies/snacks!
For Premium entries, you can also compete in a Monthly Challenge. Submit as many times as you'd like. Participants with the most mileage for the month, will receive a gift (miles must be submitted through Strava or similar running app).
We'll also send you a complete Training plan with an optional Warrior Fit Game to help you train for your race!
Run a 5K, 10K, Half-Marathon, Marathon, or any other run distance anywhere, any place on your own time and route.
For Premium packets, you'll receive a fun item with your Shirt + Medal!
You can pick out a custom designed apparel from our Etsy shop to get one of our newest runner designed gear in lieu of our normal packets! Just email us at info@thebestraces.com for Custom Running Swag:
Earn our "In This Together" Postcard once you finish your run.
Or pick your own postcard we have of either your destination or a motivational card below:
https://www.thebestraces.com/postcard/
If you post your postcard on Social Media and tag 5 friends, we'll send you a free gift!
Virtual Run: What Is It? And 11 Reasons Why You Should Run one in 2020
https://www.thebestraces.com/virtualraces2020/
Run a 5K, 10K, Half-Marathon, or Marathon and experience a new place virtually.
The Virtual only packet (12 digital tools total) will feature a complete virtual experience sent to your inbox. You'll also be able to:
- Submit times
- Get a certificate of completion
- Get a custom backdrop photo
- Get a digital running journal
- Join our runner pen pal program
- Fun Warrior Fit Training Plans for 5K/10K/13.1
- Access to contests and page of hope!
- Get a personal digital cheer leader on the day of your run (upon request)
- Kids Passport Activity (Mini Travel Experiences for Kids at www.kid2kidbox.com)
The Medal Only packet will feature the virtual packet + Large Medal shipped to your home!
The Full packet will feature the virtual packet + Large Medal + a Running Shirt + shipped to your home!
The Finish Line Poster will feature a Full color poster of your Finish Time & Certificate of Completion with optional photo of yourself crossing the Finish Line!
Experience a new destination each time with our quarterly virtual run and travel option here: