Description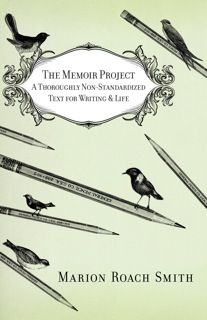 MEMOIRAMA:
A writing workshop, with Marion Roach Smith
(co-hosted by Margaret Roach, in Copake Falls, NY)
This is a writing workshop for anyone who has ever wanted – or has been told by family or friends – to write their story down. Not just for authors!
Flannery O'Connor said that anyone who survived childhood has enough material to write for the rest of his or her life. But writing about yourself or perhaps your crazy (or not-so-crazy) family can be the big vein, if you're ready, or the brick wall, if you're not. This daylong intensive, interactive course will help you dig among your stuff and get it down on paper in some interesting, funny, enlightening, compelling, readable and potentially saleable way.
After this class -- which includes morning group instruction and also a "pitch session" and practical, constructive feedback on your individual idea -- you will be able to write memoir, whether it be a college essay, a blog, a letter home, an essay for public radio, an op-ed for the newspaper, or a book-length memoir.
We'll cover everything from what memoir is not, to dialogue, characterization, the truth and consequences of memoir, and how to deal with the other versions (your sister's, for instance!) of all of your tales.
Schedule:
Morning refreshments, and i

ntroduction by Margaret

Morning how-to class by Marion

Catered lunch and readings by Margaret and Marion

Afternoon session: Your pitches -- tell your ideas to Marion, and get instant, actionable feedback on how to structure and develop your story.
Required Text: A signed copy of "The Memoir Project, A Thoroughly Non-Standardized Text for Writing and Life" (June, 2011, Grand Central Publishing) is included with your registration fee. She blogs at
Marion Roach [dot] com
.
Marion Roach Smith is author of four mass-market books, a former New York Times staffer, and commentator on National Public Radio's "All Things Considered." She has taught memoir writing for nearly 15 years to sold-out classes.
Margaret Roach is the author of the corporate-dropout memoir "And I Shall Have Some Peace There," and publisher of the nationally acclaimed garden website A Way to Garden [dot] com.