Meme IDE Webinar with the Appmonk

Weekly Event - Every Thursday
Event Details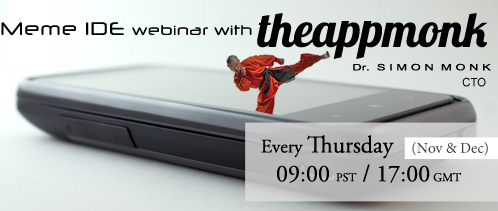 Simon Monk our CTO (aka theappmonk) will host an open discussion around any issues you want raised involving Meme IDE™, its use and  the future development plans.
Webinars every Thursday, 09:00 PST/17:00 GMT

Pick from a list of dates above.

These webinars will be continuing through November and December 2011.

DISCOVER HOW TO…
BUILD using our effortless development environment, Meme IDE™. Through its user friendly drag and drop editor for both WM and Android.
DEVELOP complex functions using the unique MemeScript™. A language created to make elements simple and cohesive on any platform.
This is your chance to benefit from a full demo of the soft and speak to  Meme IDE CTO Simon Monk. We are fully open to any questions, bugs/fixes you want highlighted, any future platform targets and features you want discussed. This is your opportunity to have input into the development.
We would appreciate your questions prior to the event so we can prepare for them, post here.
If you just want to drop in, feel free to sit back and view the webinar as it happens; learning about Meme IDE™, the thinking behind it, the specific technical details and where we are planning on heading. But please let us know so we can send you the link.
You can find Simon on twitter or @memestreams for more information
As we have said this is a community based beta and we want to here what you have to say!
we have a range of dates so choose the one best for you

If you plan to attend the webinar just drop your email to webinar@memeapps.com or register through eventbrite/linkedin so that we can send you out the Adobe Connect link.
email webinar@memeapps.com to join free
Organiser
Meme IDE
In person presentation hosted by our CTO Simon  Monk