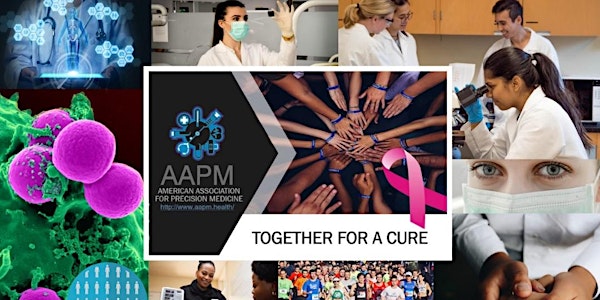 Membership: American Association for Precision Medicine (AAPM)
Health is Wealth! Join AAPM Today and Lay the Foundations of a Healthier World
About this event

AAPM is a nonprofit organization on a mission to reduce adverse drug events by accelerating the field of Precision Medicine through research, education, communication, and collaboration to foster new medical breakthroughs.
Through its programs and services, AAPM accelerates the dissemination of new research findings among scientists and others dedicated to finding the right drugs, for the right patients, at the right dose, through the right route, and at the right time.
AAPM promotes science education and training to facilitate precision medical care, based on an individual's genomic, environmental, and lifestyle differences enabling more precise methods to prevent and treat diseases.
AAPM also facilitates a dialogue between the 4-P' of precision medicine: Patients, providers, public health planners (Government), and payers to work together to achieve the goal of delivering improved outcomes at reduced costs.
AAPM has three types of memberships:
Active Annual Membership ($350): Open to scientists, investigators, Industry leaders, physicians, academic faculty, and professors.
Associate Annual Membership (Free): Open to predoctoral, postdoctoral, or clinical fellows.
AAPM Affiliate Annual Membership ($315): Open to health professionals, advocates, patients, survivors, and educators.
To become a member please send your CV to info@aapm.health, for review and approval by the AAPM Membership Committee. Also, please pay the membership dues by clicking the 'Tickets' section and donating the respective amount.
Note: The fee will be refunded if your membership application is not approved by the Membership Committee.