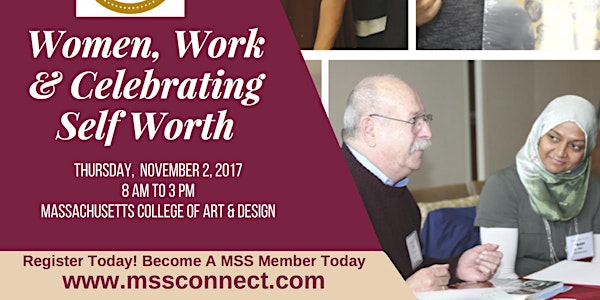 Membership: 2017-2018 Multicultural Symposium Series with Nov 2, 2017 Conference
When and where
Location
Massachusetts College of Art and Design 621 Huntington Avenue Boston, MA 02115
Description
Join The Multicultural Symposium Series
Includes Your Admission To The November 2, 2017 Conference
And Also Discount Pricing To The March 2018 Black History Breakfast
Become an Individual Member of the 2017 Multicultural Symposium Series and participate in the hottest multicultural movement of our time. Now you can stay connected to the latest developments in the field of multiculturalism, global diversity, and inclusion.
No Meetings To Attend
No Committees To Join
Just Pure Value For You Anytime...Anywhere

You are personally invited to join the Multicultural Symposium Series.

When you join the Multicultural Symposium Series (MSS) you become a member of a growing group of business professionals, community advocates, educators, entrepreneurs, students, and citizens of the world who care about the advancement of multiculturalism and global diversity.

Founded in 2008, MSS is the group to join. And it's so easy.
Our Conference Series, Webinar Series, E-Newsletters, and
Members Only Website Section provide the type of resources you need both on and off your job.

Your Membership Includes:
--Members Only Webinars Archived In the Members Only Section
--E-Newsletters
--Members Only Section of The MSS Website
--Membership Networking Opportunities
--Membership Is Transferrable
--Membership is OPEN to ANYONE ...No Matter Where You Live In The World!
--AND you'll receive a custom BIRTHDAY GREETING on your special day!

A 12 Month Membership is only $299. That's less than 82 cents a day.
JOIN BY SEPTEMBER 30th AND PAY ONLY $199. YOU SAVE $100.

Payment is Easy and Affordable. We take MasterCard, Visa, & American Express.

Why not give a membership to someone who would benefit from this connection???
A Colleague
A Friend
A Staff Member
A Student
An Educator
An Unemployed Person
A Community Advocate
A Faith Base Leader
A Relative
A Person Who Really Cares About These Issues

Call me at (508) 947-5755 and I will be happy to answer any of your questions on the phone.


We hope you will Join Today!

Warmly,
Carole Copeland Thomas
Celebrating Her 30th Year In Business
1987-2017
• • • • •
The Multicultural Symposium Series was created by Carole Copeland Thomas.

======================================================
For more information call (508) 947-5755.
Email: Carole@mssconnect.com

website:www.mssconnect.com
======================================================