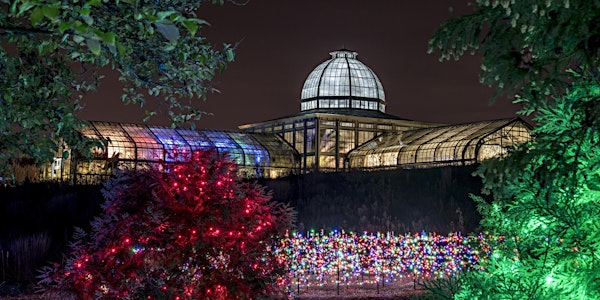 Multiple dates
MEMBER TICKETS | Nov. 21-Dec. 15: Dominion Energy GardenFest of Lights
One of the region's most popular events! Tickets available online ONLY with timed arrivals. FLEX ticket options.
By Lewis Ginter Botanical Garden
Date and time
Starts on Monday, November 21, 2022 · 4pm EST
Location
Lewis Ginter Botanical Garden 1800 Lakeside Avenue Henrico, VA 23228
Refund Policy
Contact the organizer to request a refund.
About this event
These are MEMBER TICKETS for Nov. 21-Dec. 15, 2022.
$10 Member Adult
$7 Member Youth
$20 FLEX Member Adult (see FLEX details below*)
$17 FLEX Member Youth (see FLEX details below*)
Children under age 3 do not need a ticket.
You can also purchase NON MEMBER TICKETS for guests above what your membership level allows.
$17 Non Member Adult
$8 Non Member Youth
$27 Non Member FLEX Adult (see FLEX details below*)
$18 Non Member FLEX Youth (see FLEX details below*)
For MEMBER TICKETS for Dec. 16, 2022-Jan. 1, 2023, visit THIS LINK.
Looking for FREE MEMBER NIGHTS for Jan 2. - Jan. 8, 2023? Visit FREE MEMBER NIGHTS
Museums for All guests, please visit Museums for All (Nov. 21-Dec. 15) or Museums for All (Dec. 16-Jan. 8).
Dominion Energy GardenFest of Lights, Nov. 21, 2022-Jan. 8, 2023. Closed Thanksgiving and Dec. 24-25.
This is a rain or shine event. No refunds. Proceeds benefit the Garden.
JUST FOR MEMBERS
Garden members must be prepared to show a member ID card or membership confirmation email upon arrival.
We're delighted to offer members discounted admission Nov. 21-Jan. 1
FREE Member Nights are Jan. 2-8.
Members must reserve all tickets in advance.
The member admission is for members only; no discounted or free guests on these evenings and no "Member for a Day" passes.
Members, you can reserve the same number of member tickets as corresponds to your membership type. For example, an individual member can reserve one ticket. A dual member can reserve two. A family member can reserve 2 adults and up to 6 kids' tickets. Friends members can reserve up to 4 adult and 8 kids' tickets. Children under 3 are free and do not need a ticket.
Not a member yet? Learn more about the benefits of Garden Membership.
TICKETS
Tickets are available online ONLY (no walk-ups). Each half-hour has a limited number of tickets available.
*FLEX Tickets allow a one-time transfer of your ticket to another date and/or time. Rebooking is subject to availability. FLEX tickets cannot be used to reschedule on nights that are already sold out. Certain restrictions apply**.
If you have a FLEX ticket, you can contact the Garden at flex@lewisginter.org for ticket transfers. Non-FLEX Tickets cannot be transferred and are non-refundable.
ARRIVAL
Arrive at the time on your ticket or up to 30 minutes after that time. Example: if your ticket says 4 p.m., arrival time is between 4-4:30 p.m.
Please have your tickets with QR code showing (either on your smartphone or printed) and ready for scanning.
Garden members must be prepared to show a member ID card or membership confirmation email upon arrival.
Please carpool if you can. We do not have an indoor space for meet-ups and parking is limited.
LIGHTS, DISPLAYS & MORE
This year's theme is "Seeds of Light."
Part of the magic of winter nights is how a twinkle of light can transform the darkness. In the natural world, seeds hold a similar mystical power. So tiny, yet so mighty, seeds are the "spark of life" containing the secrets of a never-ending creation. Through the sparkle of more than a half-million lights, imaginative displays, and memorable experiences, GardenFest takes inspiration from seeds and fruits to reveal an interconnected world of incredible diversity, amazing strategies, and enduring beauty.
Millions of lights line garden paths and twinkle in trees under the night sky. This is a walk-through experience designed so you and your loved ones and friends can relax, have fun and make special memories in a magical outdoor setting.
A 20-foot-tall, cut, live tree in the Conservatory. Decked out in a botanical theme, this tree promises to be a favorite photo opportunity.
Model trains return to the Kelly Education Center
Trees decorated by Henrico County Public Schools students brighten the Lora Robins Library; botanical decorations also grace the cozy Library Reading Room.
The Kelleher Warming Fire in the Children's Garden is a great spot to warm up, drink hot chocolate, and roast s'mores (available for purchase at the nearby Carriage House).
The Garden Shop is known as one of the best gift shops around and is full of great holiday gift ideas. Treat yourself or shop for presents for the special people on your list.
SPECIAL NIGHTS
Free Member Nights: Jan. 2-8, 2023: Admission is free for members on these evenings.
GardenFest for Fidos Nights: Leashed dogs allowed on Monday, Nov. 21, 2022; Monday, Dec. 5, 2022; and Monday, Jan. 2, 2023
Live Music on select Thursday nights; visit bit.ly/GardenFEST to learn more.
FOOD & DRINK
The Restaurant at Lewis Ginter (Garden Cafe) has sit-down dining; the Jingle Bar and Grill (Tea House) has "grab and go" casual fare and a bar.
The Restaurant at Lewis Ginter* (location: Garden Cafe)
Nov. 25-Dec. 18: Thursdays-Sundays only
Dec. 19-Jan. 1: Nightly
Open 5-8:30 p.m.; last reservation at 8:30 p.m.
Festive holiday dinners. Reservations highly recommended and are online only through OpenTable.
*When making a reservation, please make sure that you book your GardenFest ticket before choosing a time for dining.
Jingle Bar & Grill (location: Tea House)
Nov. 21-Jan. 8; 4:30-9 p.m.
Grab and go items such sandwiches, soups, salads and snacks. Drinks include sodas and water, plus adult beverages. The space includes tables for first-come, first-served seating, and items are packaged so that you may enjoy them as you walk through the lights.
Espresso-A-Go-Go: hot drinks, s'mores kits, and snacks available for purchase in the Children's Garden Carriage House (near the Kelleher Warming Fire).
Jingle Bar (location: Cochrane Rose Garden; subject to weather)
Dec. 16, 17, 21-23, 26-31; 5-9 p.m.
Adult beverages and non-alcoholic drinks and snacks for purchase in the Cochrane Rose Garden.
**FLEX TICKET TRANSFER POLICY
Guests MUST have purchased a FLEX ticket in order to transfer their tickets
Same day ticket transfers will only be completed up to 4 p.m. All other ticket transfers will be completed within 48 hours.
Guests will not be refunded the difference if they select a lower-priced ticket
Guests switching from a VALUE/BONUS night to a PEAK night will be required to pay the difference for upgrading to a FLEX PEAK ticket. (ie: Guests cannot switch from a FLEX VALUE/BONUS NIGHT ADULT ticket to a PEAK GENERAL ADULT ticket.)
ANSWERS TO FREQUENTLY ASKED QUESTIONS
Garden members must be prepared to show a member ID card or membership confirmation email upon arrival.
GardenFest and Lewis Ginter Botanical Garden will be closed on Thanksgiving, December 24 & 25.
The attractions are all outdoors and it is a walk-through show. Please dress accordingly.
The event is rain or shine and is canceled only in cases of extreme inclement weather. Any closure notices will be posted to the Garden's homepage and on social media.
Proceeds benefit Lewis Ginter Botanical Garden. There are no refunds. This is a rain-or-shine event. Garden member tickets are non-transferable to non-members.
Those purchasing "General Admission" tickets through the "Museums for All" initiative must be prepared to show SNAP or WIC card.
Parking is free, but it is limited.
Busiest nights tend to be weekends and the week prior to Dec. 25.
Outside food and other items may not be brought into the event.
For questions about the event, please call (804) 262-9887 or email contactus@lewisginter.org
During the ticket purchase process, anyone using an email address that is not recognized by the Eventbrite system will be asked to set a password the first time. If you have previously purchased tickets on Eventbrite you will not need to do this. You can access your GardenFest tickets from your email confirmation and either print them or show them on your smartphone when you arrive. There is no need to login to Eventbrite or use the Eventbrite App unless you would like to do so, or for some reason are unable to retrieve your email tickets.
On many phones, the tickets are attached as a pdf at the bottom of the confirmation email.
About the organizer
Lewis Ginter Botanical Garden connects people through plants to improve communities. Recognized as one of the nation's best public gardens, Lewis Ginter Botanical Garden in Richmond, VA, invites you to explore more than 50 acres of themed gardens, including a Conservatory and Children's Garden; enjoy exciting events, and experience great shopping and dining.