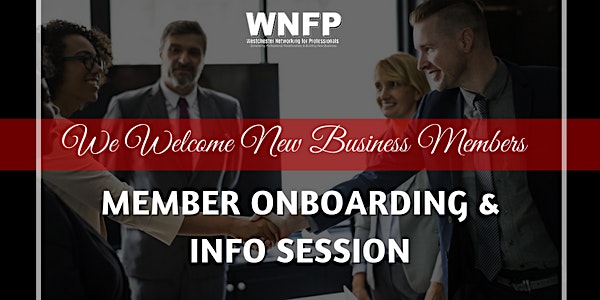 Member Onboarding & Information Session (Business Organization)
Discover how Westchester Networking for Professionals can provide support to help grow your small business.
About this event
Westchester Networking for Professionals invites business professionals to learn about the many benefits of a WNFP membership and how it can help grow your business!
Sign up to attend our Member Onboarding & Information Session to discover what you need to know about our organization, exclusive member benefits and find out if it's a good fit for your business.
We encourage current members and future members to attend the Member Onboarding & Info Session to get the most value out of their membership experience.
These topics will be covered:
How to grow your network of connections
How to increase your visibility with our community
How to enhance company brand-awareness.
and much more…
The meeting is open to new members and future members.
This event is FREE, but you must RSVP to acquire connection information to join in the meeting.
P.S. Feel free to send this invite to those who you think may be interested! Get a $25 Gift eCard for every new member.
👉Not a WNFP Member? Get started with a 14 Day Membership Pass! Sign up here!
EVENT SPONSOR:
Sponsorship opportunities are available for this event! For more information, send email to ads@wnfp.org.
QUESTIONS?
Contact the Marketing Committee at ads@wnfp.org or (914) 266-0347.
FAQ
Can I join the Zoom meeting via mobile phone, tablet or computer?
Absolutely! Simply ensure that the camera and microphone is turned on.
Can I join without video/camera turned on?
We advise all attendees to turn their video on so that others can meet you face-to-face, just as an in-person event.
----------------------------------------------------------------------------------