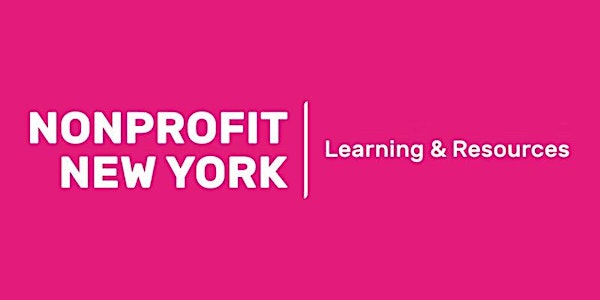 Member Office Hours: Financial Management
Talk with an expert in the Field of Financial Management about your greatest areas of concern in the post-pandemic world.
Date and time
Thursday, June 8 · 8 - 9am PDT
About this event
Join Nonprofit New York the second and fourth Thursday of each month from 11:00 AM - 12:00 PM to chat with experts in the field.
During Member Office Hours, you will have the opportunity to stop in virtually and ask questions to professionals in the field of financial management. After the hour, our experts will follow up with you on any outstanding issues or questions you might have.
Focus Areas:
Integrating financial management, fundraising, and organizational strategy to inform short and long-term decision making
Fundraising and development
This session we will be joined by Financial Management expert Joshua Borenstein
Josh Borenstein founded Odyssey Associates in 2019 and since that time, he has worked on cultural projects with a wide variety of organizations such as producing theatres, presenting organizations, orchestras, municipalities, neighborhood associations, historical societies, community schools for the arts, and foundations. Josh is also a Lecturer in Theater Management at the David Geffen School of Drama at Yale. Prior to Odyssey Associates, Josh served at Long Wharf Theatre for 13 years, including 8 as its Managing Director, and as a project manager at AMS Planning & Research, where he led or supported over 50 consulting projects
This workshop is also being presented in collaboration with the Association of Nonprofit Specialists, with special thanks to their sponsor: Nonprofit Solutions Network.
Key Area of Excellence: Financial Management
Not sure if your organization is a member? Check out our member directory. If your organization is not a current member of Nonprofit New York, visit our website for more information on joining.
Please Note: This is open to staff and board members of current Nonprofit New York member organizations. Organizations may send more than one individual to participate, HOWEVER if the event sells out registration may be limited to ONE person per organization due to space constraints.
If your organization is not a current member of Nonprofit New York, visit our website for more information on joining.
_____________________________________________________________________________________
Registration is required. Please be advised that by registering for this event, unless we hear from you otherwise, we will include you as part of our regular mailing list. Please also be advised that the event will be recorded by Nonprofit New York. By enrolling for this event, you hereby: (1) give consent for Nonprofit New York or any third parties to use your photograph or image in its print, online and video publications; (2) release Nonprofit New York, its employees and any outside third parties from all liabilities or claims that you might assert in connection with the above-described uses; and (3) waive any right to inspect, approve or receive compensation for any materials or communications, including photographs, videotapes, website images or written materials, incorporating photos/images of you. To revoke this waiver, please email Programs Manager, Darby Masland, dmasland@nonprofitnewyork.org.
About the organizer
Nonprofit New York champions and strengthens nonprofits through capacity building and advocacy to cultivate a unified, just, and powerful nonprofit sector. We're building a thriving community of extraordinary nonprofits — a relentless, collective force for good. With nearly 1,200 member organizations, we've been building a powerful nonprofit community in New York for over 38 years, driven by the belief that when one nonprofit is stronger, all of us are stronger. Nonprofit New York is a 501(c)3 nonprofit membership organization based in Manhattan. Visit www.nonprofitnewyork.org for more information.