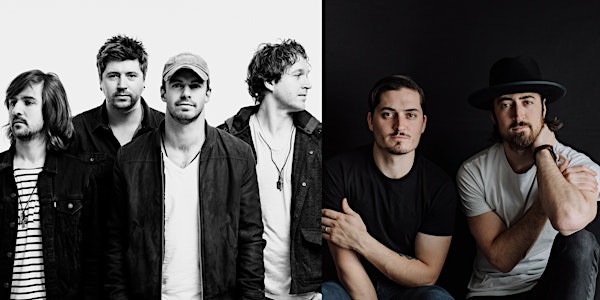 Melodime + The Talbott Brothers
ALL AGES
Presented by Heroes Live Entertainment
Join us before setting sail on The Rock Boat XX as we welcome Melodime and The Talbott Brothers for an exclusive South Florida performance .
When and where
Location
The Ground at Club Space 34 NE 11th St Miami, FL 33132
Performers
Headliners
More Performers
About this event
Heroes Live Entertainment presents
Melodime with special guests The Talbott Brothers
New album "Kings of a Self-Made Dream" out now.
Tickets: https://melodimemiami.eventbrite.com
Info: http://HeroesLiveEnt.com
-
Melodime
Melodime is a Virginia-based band with influences in both country and rock that features emotionally charged anthems, piano driven hooks, and energetic guitar solos for a dynamic, organic sound.
Melodime, featuring Brad Rhodes (lead vocals, guitar), Sammy Duis (piano, organ, bass), Tyler Duis (drums), and Jon Wiley (guitar, mandolin, dobro), has performed over 100+ shows annually throughout the continental United States, sharing the stage with such well-known acts as Sam Hunt, Eli Young Band, A Thousand Horses, and Sister Hazel.
The band has also left its mark internationally with performances in Mexico, Canada, and Europe, all while founding and running a charity, 'Now I Play Along Too,' which provides musical instruments and lessons to underprivileged children in the DC area, Florida, Nepal, Kenya, and Haiti.
The band is quickly becoming a fan-favorite in the festival scene, playing five consecutive Rock Boat cruises, as well as Musikfest, Herndon Festival, Mile of Music, and other events. In their hometown of Northern Virginia, the group has performed at popular venues such as The State Theatre, 9:30 Club, The Hamilton, and Baltimore Soundstage.
Support:
The Talbott Brothers
The Talbott Brothers are a product of America's heartland. Though currently based in Portland, Oregon, the duo grew up in Imperial, Nebraska, with a population just eking over 2,000. As indie-folk-rock musicians, Nick and Tyler Talbott, are somewhat of an anomaly, originating from a place where farming or ranching are the more typical career paths. Their honest songwriting is not only a breath of fresh air, but collections of down-to-earth messages that prove to be prevalent in today's world.
Ghost Talker is the second full-length studio album from the sibling duo. Blood harmonies and sibling rivalry are evident in their songwriting with lyrics pulling from the trials of everyday life and the questions we all face. "Everyone has ghosts, whether they talk about them or not. We wanted to take off the mask and be honest with this record, hoping that what we needed to say is what people needed to hear."
At its core, the album is transformative in nature, prompting the listener to question motives, face realities, and go to war with their own ghosts. Spiritual apprehension and seeking answers are common themes. "Shadowboxing" is a hard look in the mirror, realizing that what you have been fighting all along is your own fear. "It takes one good fight to turn things around."
Lead single, "Run No More" forces a look at the past while offering a soul shaking guitar solo that feels like a rally cry. "We tried running for a long time but it doesn't do a heart any good. Sometimes in a wake-up call you realize what's most important to you. "Run No More" is about when your legs give out and you gotta turn around and fight."
Drawing influence from John Mayer, Kaleo and Mumford & Sons, Ghost Talker will challenge your built-in world view and push you to embrace the unknown. No strangers to the road, The Talbott Brothers will be touring across the US, supporting the album release this fall 2019.