Description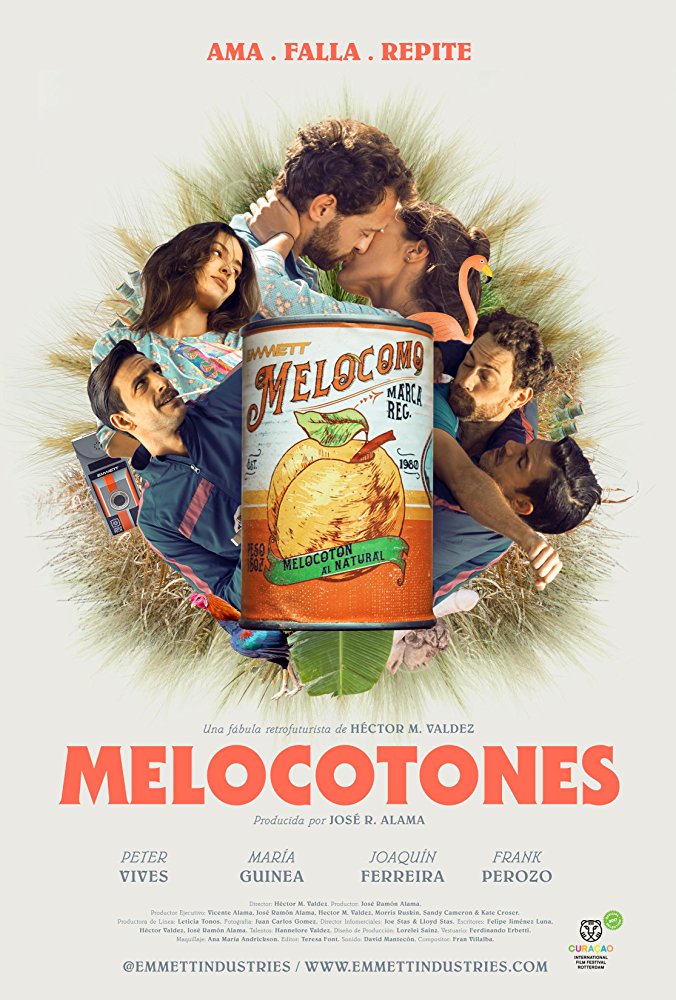 MELOCOTONES
USA PREMIERE
This deliciously made, romantic, science-fiction comedy takes place in the Caribbean, in a future that never took place. In a desperate, final attempt to save his relationship with the beautiful Laura, Diego whisks her off on a romantic weekend. He has planned everything meticulously, down to the minute: it all has to go exactly the way it did the very first time. He has also brought some futuristic sex toys with him. When these fail to impress Laura, Diego turns to his last resort. They are the first people ever to travel back in time to undo the mistakes they made. Time may be a great healer, but things are a lot faster with a time machine! Unfortunately, Diego forgot to take his opponents into account. Laura's macho ex-boyfriend makes an appearance and is determined not to leave without her. But Diego himself proves to be perhaps his own most dogged adversary when Diego's from the past, present and future start getting involved.
Esta comedia romántica de ciencia ficción, tiene lugar en el Caribe, en un futuro que nunca tuvo lugar. En un intento desesperado por salvar su relación con la bella Laura, Diego la invita a un fin de semana romántico. Diego ha planeado todo minuciosamente, minuto por minuto: todo tiene que suceder exactamente como la primera vez. También ha llevado algunos juguetes sexuales futuristas. Cuando estos no logran impresionar a Laura, Diego recurre a su último recurso. Ellos son las primeras personas que viajan en el tiempo para deshacer los errores que cometieron. El tiempo puede curar todo, pero las cosas suceden mucho más rápido con una máquina del tiempo! Desafortunadamente, Diego olvida tener en cuenta a sus rivales. El ex-novio macho de Laura aparece y está decidido a no irse sin ella. Pero el propio Diego es quizás su adversario más obstinado cuando el Diego del pasado, del presente y del futuro comienzan a involucrarse.
Director / Director:
Héctor M Valdez
Country / País:
Dominican Republic, UK
Producer / Productor:
José Ramón Alamá,
Screenwriter / Guión:
José Ramón Alamá, Felipe Giménez, Hugh Sullivan, , Héctor M Valdez
Director of Photography / Director de Fotografía:
Juan Carlos Gómez
Editor / Editor:
Teresa Font
Genre / Genero:
Drama/Experimental
Cast / Intérpretes:
Peter Vives, María Guinea, Joaquín Ferreira, Frank Perozo, Ramón Langa
Language / Idioma:
Spanish with English Subtitles
Year / Año:
2017
Running Time / Duracción:
80 min.
VIEW TRAILER: https://www.youtube.com/watch?v=Q30ZCKR6_3U
Director's Biography
Héctor M. VALDEZ (1989, Dominican Republic) made his first short film in 2009. After studying at McGill University in Montreal, Canada, he returned to the Dominican Republic to direct his first feature film. Al sur de la inocencia (2014) was screened at many festivals including Curaçao IFFR. Valdez was also a co-founder of the production company Bou Group. His filmography El fallo (2009, short), #729 (2011, short), Canned Peaches (2012, short), Al sur de la inocencia (2014), República del color (2015, doc), Melocotones/Mr. Emmett & The Canned Peaches (2017)