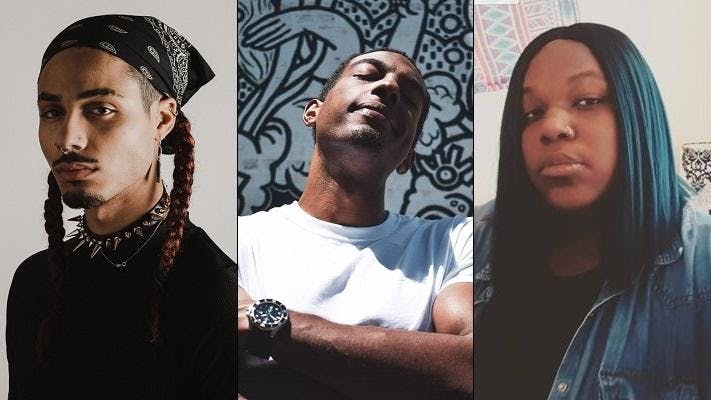 About this Event
$5 (advance), $8 // 21+
----------------
The dynamic lyricism of South Side Chicago Rapper, MELO MAKES MUSIC (Carmelo Cianflone), seeks to empower. MELO's music, which draws influence from R&B, alt rock, and the icon André 3000, captivates with its exuberant energy while tackling personal mental strife, homelessness and the urban stories of chicago's marginalized communities. MELO's debut album, Hold Your Tongue mediates on personal and communal traumas to cultivate growth and healing. "This is a project about mental wellness within the artist community but, also the black community, [...] illustrating a different narrative for the South Side of Chicago where trauma lives around every corner," MELO said in an interview with Fader. Grow in sound with this South Side history maker tonight.
Versatility defines BARDO's irresistible flavor. On his new album, Gringo, BARDO's galvanizing flow effortlessly synchronizes with stirring horns on "Rabbithole" and effervescent beats on "Kung Fu Love." The nuanced craftsmanship of BARDO and James Treichler (his drummer, engineer, and co-producer) will have you listening to the album on repeat. BARDO's intricate arrangements stems, in part, from BARDO's parents who gifted him with artists like A Tribe Called Quest, Rick James, and Lauryn Hill while they lived in various geographic soundscapes. "At the time, this music was too slow and mellow for my taste, but for my parents it represented comfort and familiarity in Japan's seemingly homogenous society where we were obvious outsiders," BARDO said in an interview with Rolling Out. "I didn't know it at the time, but those songs would cement themselves deep into my memory and subconscious."
J BAMBII from the southside teaches us fresh lessons of self-acceptance, community and what it means to be black in America. A self-described "spiritual boom bap" artist, J exposes her daily heartbreaks while simultaneously exhibiting how to seize the day with every calculated and compassionate bar.