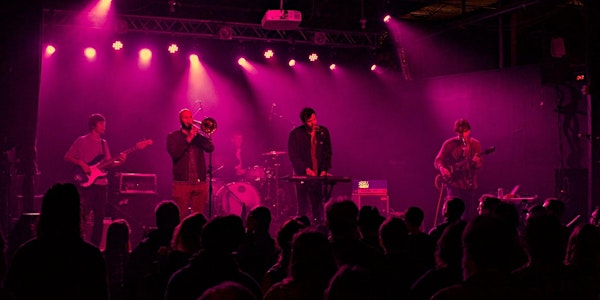 Mellow Swells w/ New Specialist
The Pour House Music Hall & Record Shop
Event Information
Location
The Pour House Music Hall & Record Shop
224 S Blount St
Raleigh, NC 27601
CBDB is a progressive rock, jam-band from Alabama and their music is spreading from the southeast across the nation like wildfire.
About this event
DOORS OPEN: 8pm, SHOW TIME: 9pm.
MELLOW SWELLS:
"Jazz rock" doesn't do nearly enough justice to describe the local powerhouse ensemble known as Mellow Swells. Featuring Jones Bell (Ravary, Crazy Chester) with Charlie Garnett and Kurt Stracener (The Halo Trio) as the core members, their ever rotating lineup and special guests never cease to impress, amaze or entertain those who see these guys perform live.
New Specialist :
Mariah Powers [Vocals], Sam Thompson [Guitar, Vocals], Connor Overbey [Bass, Vocals], Trey Howie [Drums, Keyboards], Brian Castro [Keyboards, Vocals] — fluidly blend genres with mind bending hooks, a larger than life sound, and technical acuity only possible among long-time friends.Initially formed as a Hard Rock trio, Thompson, Overbey, and Howie's songwriting and vision quickly expanded — the group needed a strong lead vocalist. At a small party, Mariah Powers — long-time friend of Howie — displayed an unexpected prowess for pop singing. Being exactly what the band needed, the trio was quick to recruit Powers and New Specialist was formed.
With a penchant for improvisation and a powerful live act, the band quickly gained notoriety and a dedicated following in Raleigh, NC through a series of performances in late 2019. Unfortunately, as COVID-19 took its grip on 2020 and live performance no longer an option, the band saw itself retreat to the studio where they recorded a series of singles — released on independent label Pillow Talk Records — that saw modest success. Blending 60s and 70s Psychedelia, 90s Alternative, and modern Electronic influences, the band had solidified their sound and were eager to get back on the road.
As 2021 saw a welcomed return to live performance, the band sought to expand their live sound. In search of a keyboard player, the band promptly inducted Brian Castro into the group after meeting at a performance in Raleigh. With a new found richness and depth to their live sound, and the proverbial parting of the clouds of COVID-19, New Specialist booked a series of ambitious live performances throughout North Carolina that has resulted in a seemingly unstoppable upward momentum.
Date and time
Location
The Pour House Music Hall & Record Shop
224 S Blount St
Raleigh, NC 27601
Refund policy