Location
Grand Performances
350 South Grand Avenue
Los Angeles, CA 90071
We're proud to present Melissa Polinar with guest performances by her singer songwriter friends Nieman, Surrija (Jane Lui) & Drea Rose
About this event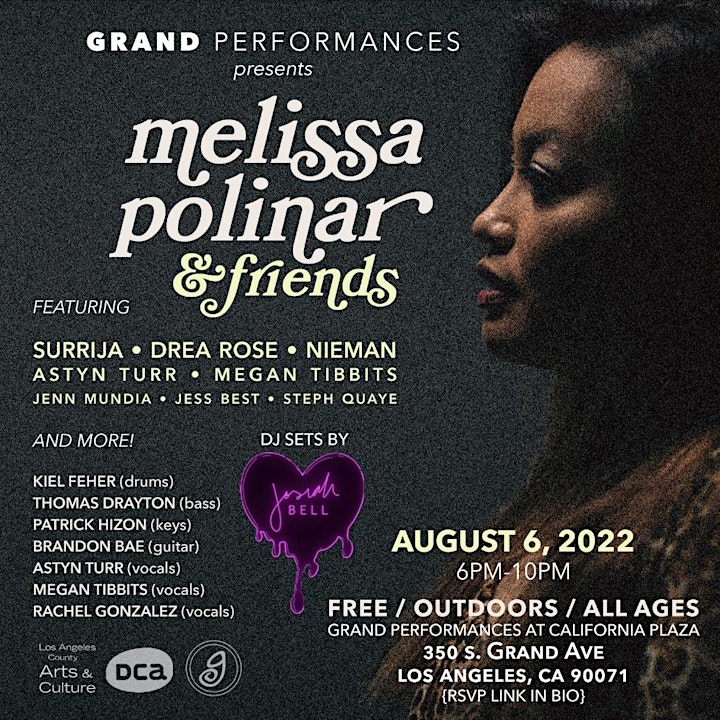 Set Times:
6:00pm - DJ Josiah Bell
7:00pm - Melissa Polinar & Friends (Nieman, Surrija & Drea Rose)
For Location, Parking & FAQ, click here.
Melissa Polinar is a singer, songwriter, multi-instrumentalist, and artist.
"Polinar is one of those independent artists whose trajectory captured the evolution of YouTube. She first began uploading videos to the platform in 2008. "It was literally like, 'Open your laptop and hit record,'" she says, remembering a simpler time when the objective was only to share her music with the world. Since then, she's successfully released two full albums and several singles that perfectly round out her transformation from internet musician to touring singer-songwriter who has collaborated with artists like India.Arie, Jesse Barrera and Josiah Bell." ~Renuka Vasu
Polinar opened for India.Arie's "The Worthy Tour" spring of 2019 and has worked with the likes of David Ryan Harris, Tony Lucca, Ernie Halter, Adam Levy, and many more. In the fall of 2019, she released a joint EP with longtime friends (and tourmates) Jeremy Passion and Gabe Bondoc called Thankful.