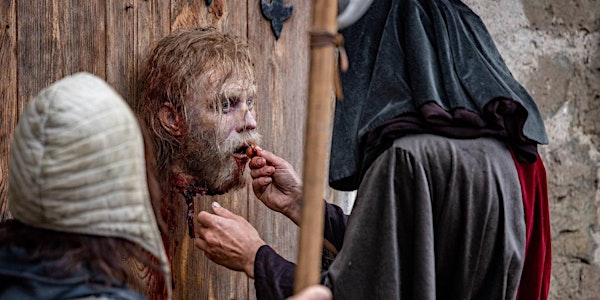 Melchior the Apothecary
Plays with the short film KIN
When and where
Location
TCL Chinese 6 Theatres 6801 Hollywood Boulevard Los Angeles, CA 90028
About this event
In medieval Tallinn, the famous knight of the Order who freed the Baltic Sea from pirates is murdered. The hero's head is chopped off and his mouth is stuffed with coins. The gold chain he bought the same day is missing. The Sheriff orders Melchior the Apothecary, who can talk to the dead, to investigate the crime. The clever young man discovers that the murdered knight was looking for a mysterious "Prisoner of Tallinn" and clues lead to the Dominican monastery. A terrible series of crimes is unleashed -anyone who comes into contact with this secret is in danger. At the same time, the apothecary has doubts about his apprentice, who seems to be hiding something...
The feature film Melchior the Apothecary is based on a popular novel known from the top of book sales charts. Screenwriters Indrek Hargla, Elmo Nüganen and Olle Mirme intertwined the characters and events known from the book "Apothecary Melchior and the Mystery of St Olaf's Church" with completely new and exciting twists and turns created for the film.
North American Premiere
Runtime: 1h 38m
Country: Estonia
Directed by Elmo Nüganen
Produced by Taska Film, Nafta Films, Apollo Film Productions, HansaFilm
Written by Indrek Hargla, Elmo Nüganen, Olle Mirme
Main Cast: Märten Metsaviir, Maarja Johanna Mägi, Alo Kõrve, Henessi Schmidt, Franz Malmsten, Andero Ermel, Ken Rüütel, Mait Malmsten, Hendrik Toompere, Marko Matvere
_____________________________________________________________
$3 VALIDATED PARKING
Additional Screening Info:
Tickets are not refundable
Seating is general admission - first come first served.
Please bring your Eventbrite email confirmation with ticket pdf via your phone or printed to the TCL Chinese 6 Theaters located on the 3rd floor of the Ovation shopping center (formally Hollywood & Highland.) Check in at the Screamfest Will Call table located in the lobby beginning thirty minutes prior to the screening, where you will show us your email confirmation e-ticket or printed e-ticket and we will check you in. If you cannot find your email confirmation just enter your email address at http://eventbrite.com/gettickets.
Don't forget to get your parking ticket validated at the Box Office.