Event Information
Location
St. Mary's Episcopal Church
521 West 126th Street
New York, NY 10027
Description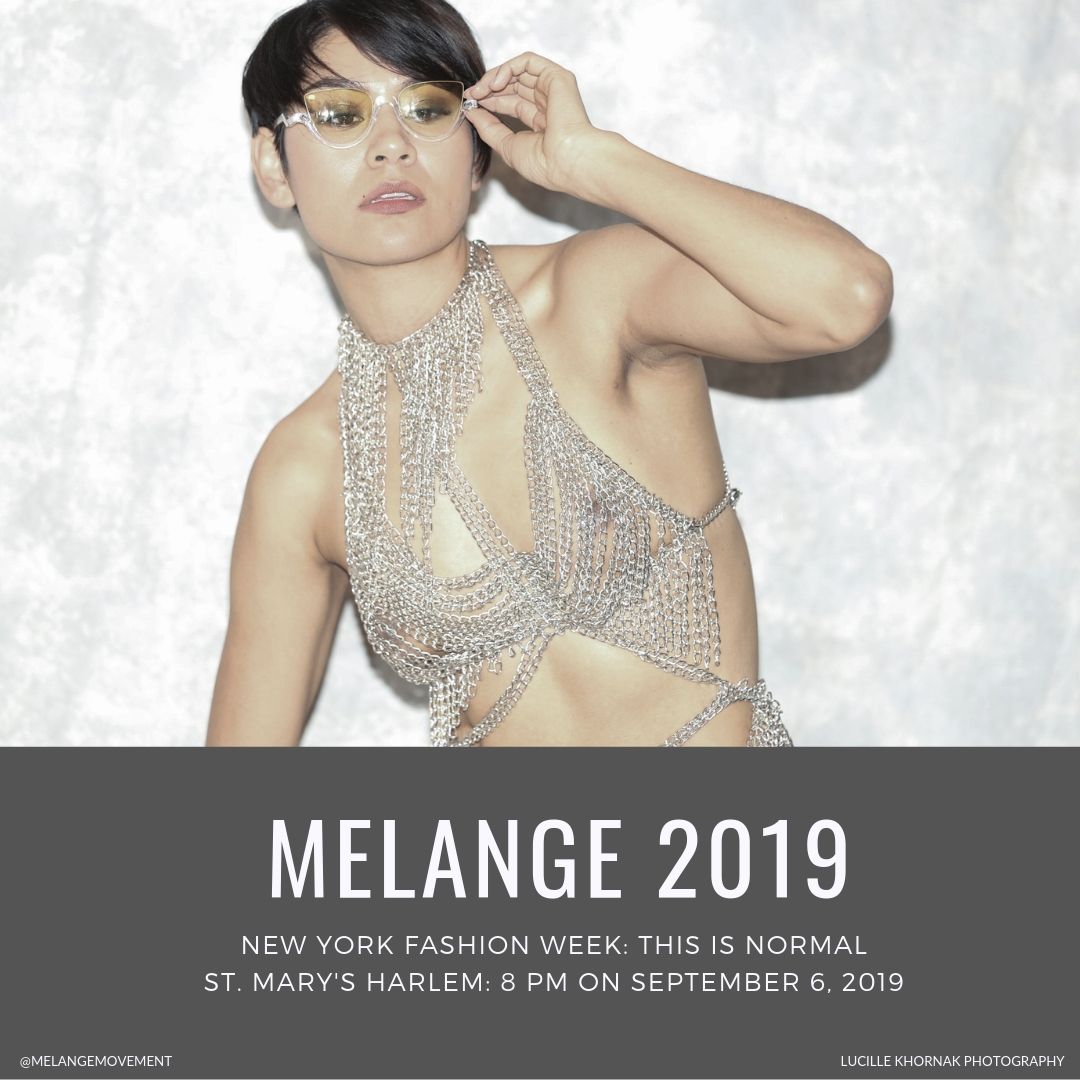 MELANGE 2019: PROMOTING DIVERSITY & SELF-LOVE
LEADERS CHALLENGE NORMS AT NEW YORK FASHION WEEK
Founded in 2011, Melange will be hosting its inaugural fashion show for New York Fashion Week at the historic St. Mary's Episcopal Church in Harlem on Friday, September 6, 2019, at 8:00 PM. Guests are traveling from China, Australia, Los Angeles, and more, including Madeline Stuart, the recipient of the Melange 2015 Model of the Year Award. Madeline will be walking in the show for many notable designers, including YEROC by Corey Woods; Corey's designs have been featured on Beyonce, Cardi B, Kim Kardashian, and more. Madeline has 850,000+ social media followers, and she has been featured in prominent, international publications including Vogue, Teen Vogue, Forbes, and Marie Claire.
Double Oscar-winning dramatic and documentary film writer-producer-director, Bill Guttentag, is also traveling to New York City to attend this event and support diversity in the arts, as well as Katiti Kironde, the first woman of color on a major legacy fashion magazine in the world (Glamour, 1968). This year's show is a charity fundraiser with all proceeds benefiting the Kironde Education and Health Fund, a nonprofit dedicated to the sustainable economic and social environment where orphaned and vulnerable children can grow and develop into healthy, productive citizens. Additional celebrity guests include fashion technologist, Anina Net, CEO of 360Fashion Network, who will close with the hottest tech segment on the runway with three designers using the 360Fash Tech Kits to create ROBOTIC DRESSES. The Melange 2019 runway will also feature a special LED light art installation created by designer Harry Umen of Southern New Hampshire University.
Melange 2019, is titled "This is Normal," and is presented by co-creative directors, Miguel Ceron and KIRU. Acknowledging the myriad of troubles we face in today's society, the show's theme is set to explore how the social turbulence surrounding how immigration, gun violence, women's rights, Black Lives Matter, and LGBTQ+ equality can be redeemed with the power of love. This progressive movement will take place at St. Mary's Harlem, the oldest continuous site of worship in all its surrounding area for almost 200 years, serving the West Harlem Community since 1823. Dremon Kovah Cooper, known for his leadership in the queer community for his anti-bullying character, "Super B*tch," is also traveling to perform and receive the Rising Star Award at Melange 2019. Dremon has been featured in BET and the Huffington Post. The show's Headlining Sponsor is BW Sandals. The CEO of BW Sandals, Jade Luong, is a serial entrepreneur committed to diversity and the arts. Jade will be traveling from California to attend Melange 2019. BW Sandals has been a supplier of quality footwear in Russia, Europe, and Asia for more than 10 years.
The Melange community has a rich history of supporting emerging artists, such as Mexican American, Yazmin Guerrero, who was featured in Teen Vogue this past year. The Melange models include all sizes, ethnicities, and orientations; the 2019 cast ranges from 4 to 50 years old. 6 year-old community activist, King Fights Cancer will be modeling in the kid's segment of the show. King and other models will be debuting the world premiere of Corey Wood's children's eyewear collection. Additional special guests for Melange 2019, include Elliot Carlyle (published author and speaker -- executive director for the office of Fern Mallis).
In the past, Melange has worked with Sephora, Nicole Miller, and other top brands and has produced shows in Rio de Janeiro, Boston, San Francisco, and more. The overall uniting force of the Melange community of designers, models, activists, and guests is the belief in the urgent need of promoting more self-love and diversity in the fashion and arts world as a catalyst for peace, harmony, and social impact.
HEADLINING SPONSOR
BW Sandals
CHARITY BENEFICIARY AND PARTNER
Kironde Education and Health Fund
DESIGNERS

360Fashion Network x Anina Net Accessories

360Fashion Network x Azrael Yang

360Fashion Network x Clare Tattersall

360Fashion Network x Michal Starost

BW Sandals

Culture Trees, Judith Gaffney

Gatito Sucio, Lorenzo Pena

Isla Jewels, Brooklyn Fierro

Kid's Dream, Chewy Jang
KROMAGNON by Kristen Luong

Larry Underwood

Marise Oliveira

Quantum Style Lab (Dee Eo)

Ryan Berkeley

Sanguine Style

VéNice's Full Figured Boutique

YEROC by Corey Woods
BOARD OF ADVISORS
Corey Woods, Celebrity Eyewear Designer

Madeline Stuart & Rosanne Stuart, Fashion Visionaries and Pioneers

Guila Clara Kessous, UNESCO Artist for Peace

Katiti Kironde, First Black Woman on the Cover of a Legacy Fashion Magazine (Glamour, 1968)
PARTNERS & SPONSORS
360Fashion Network

CAC Dance Company

Empanada Mama

KIRUNIVERSE

Lenox Saphire Harlem

Ponty Bistro

St. Mary's Episcopal Church, Harlem

Whole Foods Market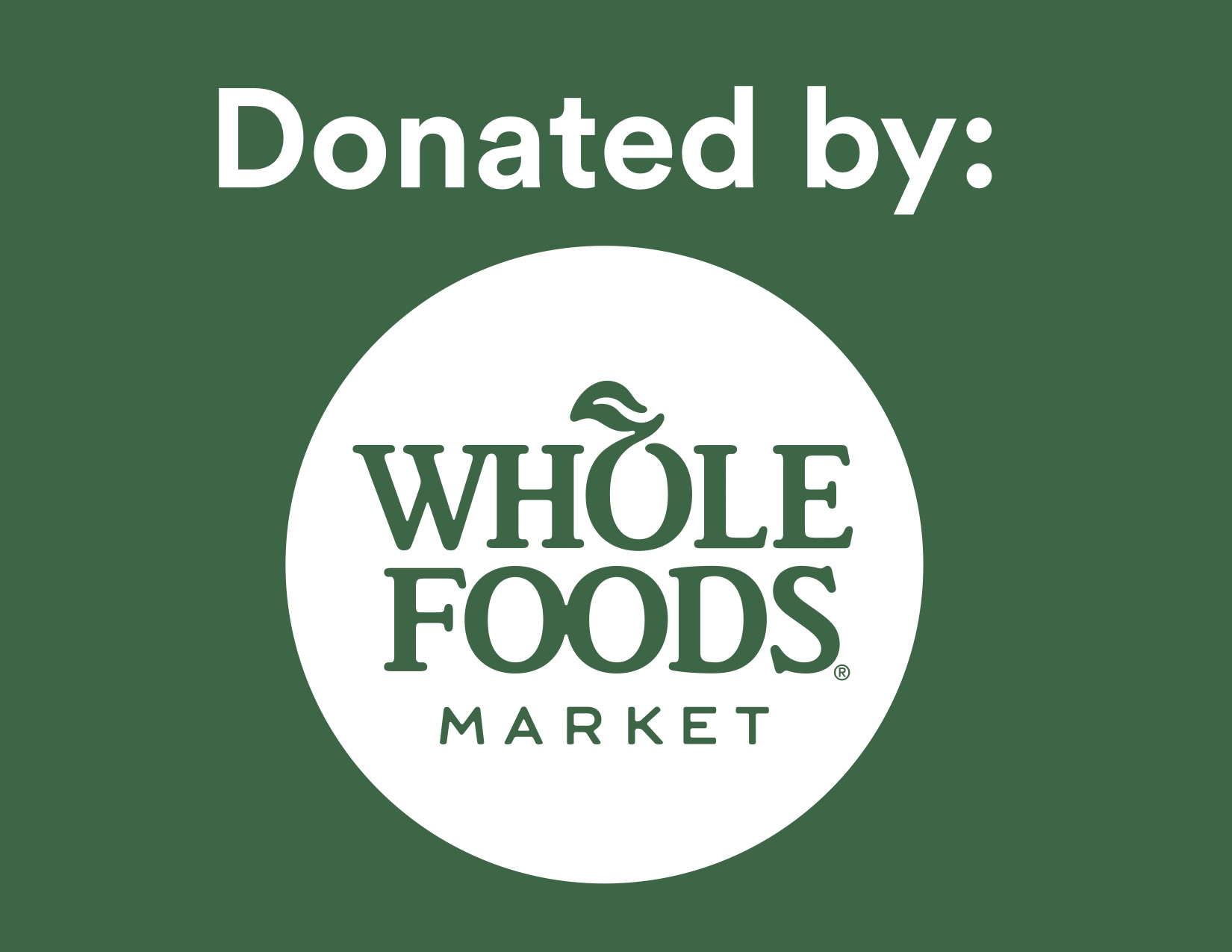 EXECUTIVE PRODUCERS
Nick Navarro, Development Lead

Miguel Ceron, Creative Director (Arts)

KIRU, Creative Director (Fashion)

Andrew Ailoje, Hospitality Lead

Cristina Ribeiro, Executive Producer & President of Melange Brazil

Gina Lynn Pearson, Partnerships Lead

Mara De Los Santos, Media Lead

Yazmin Guerrero, Model Coach Lead

Harry Umen, Lighting and Set Design Lead
ADDITIONAL LEADERSHIP
Anina Net, Fashion Technology Partner

Sierra King, Associate Producer

Cassandra Borgella, Associate Producer

Brady Cudmore, Associate Producer

Chantal Montilla, Director of Dance

Daniella Perez, Director of Hair

Michael Shelton, Director of Makeup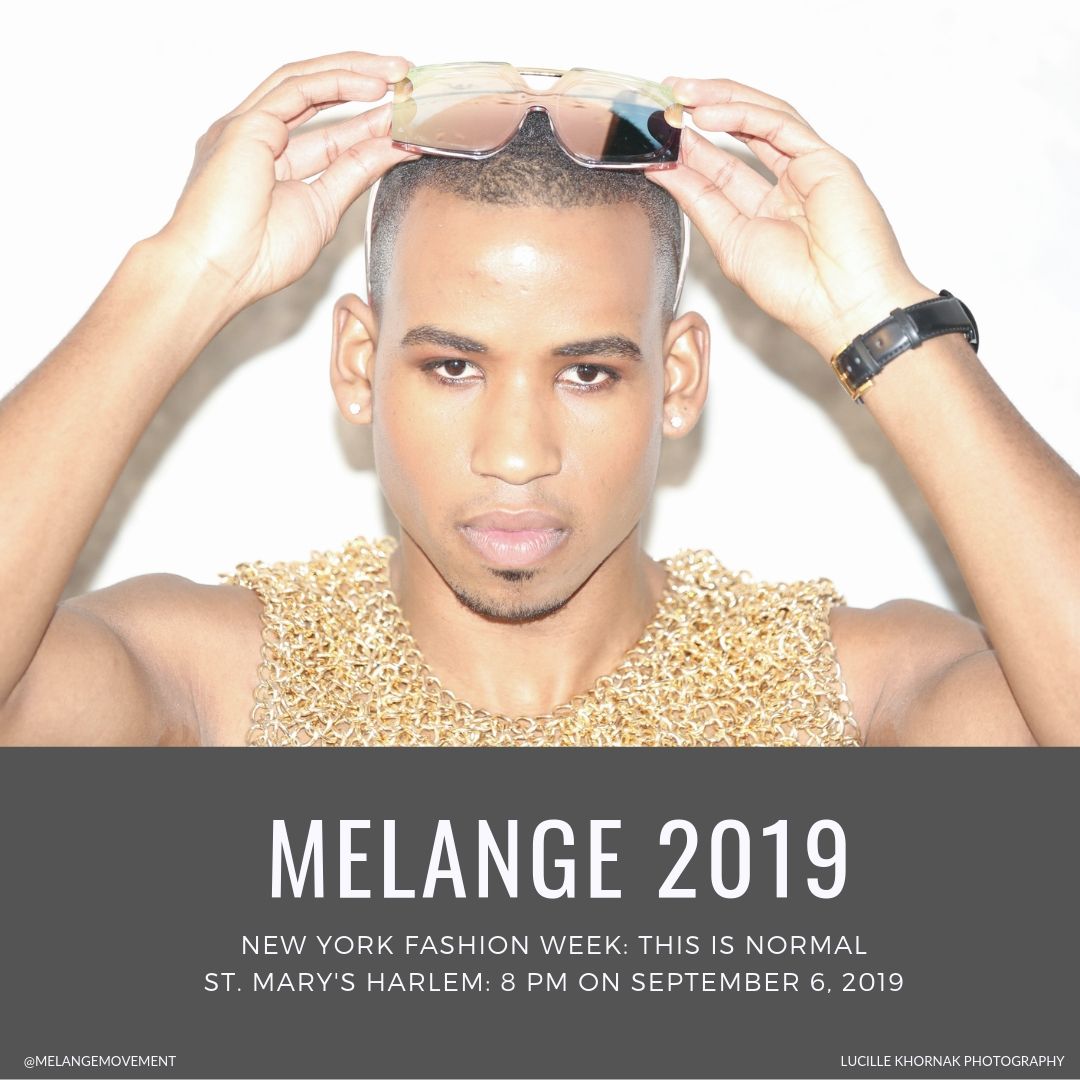 INVITATION
You are invited to join us during New York Fashion Week for our annual celebration, Melange 2019, on September 6 at St. Mary's in Harlem.
Melange is a love movement in the worlds of fashion, art, and culture. At the core, our community exists as a global catalyst for radical self-love that revolutionizes the way we see and interact with each other as individuals and as a community. For years, the origins of Parisian aristocracy and haute couture houses have dictated and imperialized what is considered "beautiful," contributing to negative forces, such as racism and self-hatred.
Our ecosystem of leaders in the arts communities are pioneers in the liberation from the historically oppressive standard definitions of beauty.
OUR COMMUNITY
The core of Melange is love. We look at a model's heart, not just their runway walk. We look at designer's vision for impact, not just the construction. We look at business partners' intention for social impact, not just profits from diverse communities. As a result, we have been able to cultivate an authentic and global community of like-minded business people and artists. The most value of Melange is extracted from building new friendships and collaborations; we are a platform for launching and supporting the dreams of underrepresented communities. Some of our past advisors include: Bill Guttentag (Oscar-winning film writer-producer-director), Guila Clara Kessous (United Nations Educational Scientific and Cultural Organization Artist for Peace). Past designers and models have been featured in Vogue, Vanity Fair, Elle, and more.
OUR IMPACT
For Melange 2019, we will be partnering with Katiti Kironde, the first African American woman on the cover of any fashion publication (Glamour in 1968). Katiti has been on the Board of Advisors of Melange since 2011. The KIRONDE Education + Health Fund, Inc (KEHF), a 501(C)3 non-profit corporation is dedicated to promoting education, healthcare and nurture for orphaned and vulnerable children in Uganda, East Africa, one village at a time. KEHF was founded by William Winder and Katiti Kironde, with help from Kalibala Kironde and other family members, in 2008 to commemorate the lives of Katiti's father, the late U.N. Ambassador, teacher and Diplomat, Apollo Kadumakasa Kironde and her great grandfather, Sir Apollo Kagwa, The fund is our way of giving back, fulfilling the vision of a vibrant Ugandan society that propelled the public service of Kironde ancestors.
MELANGE 2019
For the first time in Melange history, we will be producing our debut show during New York Fashion Week on September 6, 2019. Melange 2019 will take place at the historic St Mary's Episcopal Church in Harlem. Founded in 1823, The "We Are Not Afraid!" Episcopal Church, has been a leader in inclusion and community support, including by providing HIV and refugee services. St. Mary's is a united as a community of faith in West Harlem to pursue justice and peace for the poor and oppressed, to pray and care for the sick, lonely and at risk and to put into practice the message of the Gospel by the power of the Holy Spirit. "Do not be afraid" Luke 1:30
Melange 2019 is proud to be partnering with 360Fashion Network to explore the intersection of diversity meets technology. Anina is the CEO and founder of 360Fashion Network, a network of fashion professionals using the web 2.0 and mobile technologies. Anina evolved from a model to a fashion industry pioneer and developed Intel Curie-powered shape-shifting robot dresses showcased on ABC7News. She is listed as #7 in Top 100 Women in Wearable and Consumer Tech. We are excited to be joining forces with 360Fashion Network for Melange 2019.
For this year's celebration, we are aiming to raise enough for KHEF to cover the tuition costs for a nursing student in Uganda. Her name is Patricia Tusuubira. She is 22 years old, and she is in her 2nd year of a nursing program at Mengo Hospital in Kampala, Uganda. Any remaining funds from Melange 2019 will go to support the school fees of a 14 year old deaf orphan, Ivan Sseckulima, who is in the 3rd grade at the Julina Memorial School for the Deaf, boarding school. In our experience, it only takes changing the life of one nurse, or one orphan, to change the trajectory of an entire village, a country, or the world. We are proud to support the mission of KHEF for Melange 2019.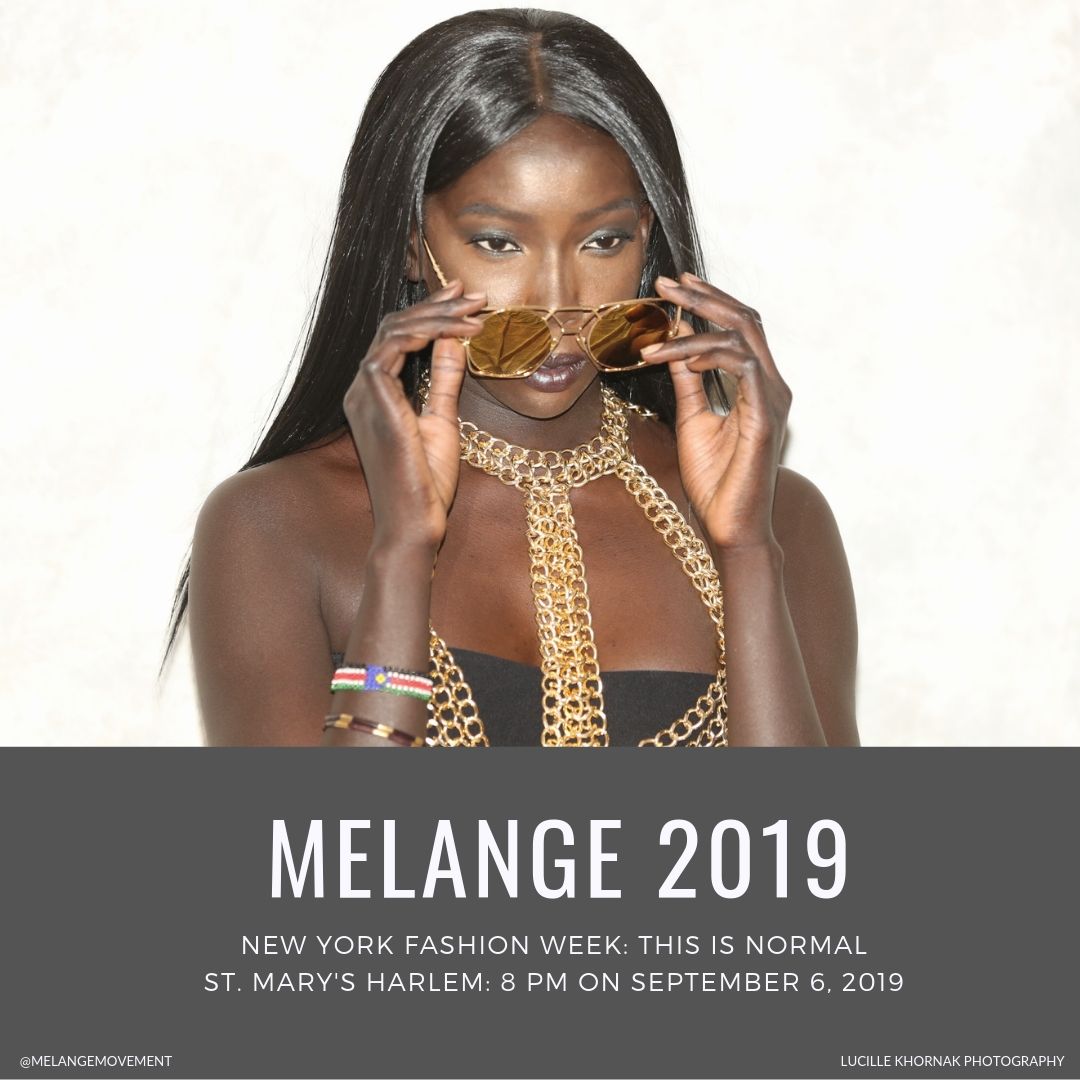 MELANGE 2019: SPECIAL GUESTS
BILL GUTTENTAG (AWARD-WINNING PRODUCER-DIRECTOR): Bill Guttentag is a double Oscar-winning dramatic and documentary film writer-producer-director. His films have premiered at the Sundance, Cannes, Telluride and Tribeca film festivals. He directed the theatrical documentaries Nanking which premiered at Sundance, and Soundtrack for a Revolution which premiered at Cannes. He also wrote and directed the dramatic features Knife Fight starring Rob Lowe, Carrie-Ann Moss, and Jamie Chung; and LIVE! starring Eva Mendes and Andre Braugher, and both premiered at Tribeca. He won an Academy Award for the documentary, Twin Towers. He has also received a second Oscar, three additional Oscar nominations, a Peabody Award, three Emmy Awards, two Writers Guild Award nominations, a Producers Guild Award nomination, and a Robert Kennedy Journalism Award. His films have won awards at numerous American and international film festivals and have received a number of special screenings, including at the Museum of Modern Art, The Council on Foreign Relations, the Harvard Kennedy School, and the White House. He has directed commercials and/or other projects for a number of Silicon Valley companies including Google, Yahoo, and MasterClass. His novel, Boulevard was published by Pegasus Books/W.W. Norton in 2011. The French edition was published by Éditions Gallimard (2013), where it was finalist for the Grand Prix de Littérature Policière. He co-wrote Masters of Disaster – The Ten Commandments of Damage Control (Palgrave/Macmillan, 2012). He has been on a number of film festival juries, including the Shanghai International Film Festival, The Odessa International Film Festival, and the Morelia Film Festival. He has directed multiple films for HBO, most recently Only the Dead See the End of War, which premiered at Telluride and was nominated for an Emmy Award. He also co-created and executive-produced the NBC series Law & Order: Crime & Punishment, which ran for three seasons. He has been a lecturer at the Stanford University Graduate School of Business since 2001, and also teaches at the Hasso Plattner Institute of Design (Stanford d.school).
COREY WOODS (CELEBRITY DESIGNER): Corey's designs have been featured on Beyonce, Lady Gaga, Kim Kardashian, Nicki Minaj, and more. He is the King of Shades, and he also serves on the Melange Board of Advisors. He will be attending the show and featuring eyewear at the event.
DREMON KOVAH COOPER (CELEBRITY PERFORMER): Born and raised in Washington D.C., Dremon has proven himself to be an intriguing young man who is gifted in fashion design, sewing, canvas painting
and culinary arts. He unselfishly dedicates his time providing dance lessons at CasaRuby's nonprofit organization for LGBTQ youth. Dremon has always desired to be a famous actor. From live interactive engagements to positive words of encouragement and reinforcement on his social media platforms, Dremon has continuously been adamant about being an active source for young adults and kids worldwide to be able to express themselves freely with recourse and no judgement. It's because of his unwavering belief of being a vehicle to bridge the gap between the LGBTQ youth and society he's made his mark on several social media platforms such as
Instagram, Facebook. Dremon would continue to use his social media platform to keep his followers captivated with his lighthearted slap stick themed "Super Bitch" videos, as the comedic super hero character "Super Bitch"- where Dremon delivers amazing acrobats and gravity defying stunts displaying athleticism in his character's
signature Silver Top and thigh high Pink Stiletto Boots accompanied with witty lines and his catch phrase "It can give combo". Keeping his social media followers intrigued and craving to be more entertained and inspired by his high jinks and integral beliefs, it was only a matter of time before he began trending on the internet and would go on to become a Social Media Sensation and Influencer overnight!
MADELINE STUART (FAMOUS MODEL):
Madeline Stuart is a 21-year-old model from Brisbane, Australia most notably dubbed by the press as "the world's most famous super model with Down syndrome". This incredibly courageous, beautiful, and talented young woman has had astonishing success in the short time she has been modelling, and has captured media attention internationally. With three simple words – "Mum, me model" – Madeline changed not only her own life but the lives of so many people with big dreams who didn't fit the mould. It was late 2014 when Rosanne, Madeline's mum, took her to a fashion parade where Madeline's passion was born. With a wilful spirit and defined goal, Madeline continued on her fitness regime to address her weight, a struggle for most people with Downs syndrome. Inspired and undoubtedly proud, Rosanne photo-documented her daughters journey. "It will take a lot of work and dedication but if you want to commit to this journey, I'm with you," Rosanne told Madeline. After losing 20kg, a massive amount for anyone, Rosanne posted before and after shots of Madeline online not only to show the dramatic results but also to encourage others. She knew Madeline's story would resonate with people around the world. She wasn't wrong. Almost overnight, the post went viral. Madeline's social media numbers grew, the photo was viewed over 6.8 million times and she began to hit global headlines with publications in Iceland, Germany, the US, Australia, Mexico, Cuba and the UK picking up her story. Modelling offers followed soon after from big fashion labels and non-profits and it wasn't long before she received her first offer to grace the runway in New York. Since then, Madeline hasn't looked back. Madeline has modelled in countless fashion shows including 5 seasons of New York Fashion Week, Runway Dubia, Caspian Fashion Week Russia and Mercedes Benz Fashion Week China, Paris Fashion Week, London Fashion Week and many more. She has been featured in prominent, international publications including Vogue, New York Times, Forbes Marie Claire and Elle to name a few and also endorsed products including JBronze by Jennifer Hawkins, Weetbix, VP Wow and Flat Tummy Tea. It is also important to Madeline to support those that support others. As such she supports a number of charities and non-profits including Multi Cap Foundation, Endeavour Foundation Australia, Silver Linings Project, Vets Intl, The DisABILITY Museum, The Carol Galvin Foundation, Kulture City, FUB Sweden, ' Inside Outside Dance, Buddy Walk NYC, the Special Olympics of New York and Global Down Syndrome. In 2015 Madeline was awarded the prestigious Model of the Year Award at international fashion show Melange in San Francisco, nominated for Pride of Australia and Young Australian of the Year Award for 2015 and 2016, named model of the year for 2016 by World Fashion Media, was awarded the advocacy award for her work in Uganda from Kulture City and received the Quincy Jones exceptional Advocacy award from Global Down syndrome in 2017. All of this while managing her Brisbane dance school 'InsideOutside Dance', participating in Special Olympic Games and launching her 21 Reasons Why by Madeline Stuart fashion label, a fashionably chic RTW line. For the last 3 years her journey has also been captured by B-Reel Productions for a documentary to be released in late 2018. Yet to date one of her proudest moments was getting her 01 Working Visa for the USA making her the only person in history with an intellectual disability to do this. Not bad for someone only 3 years into building what has become an enviable career. Madeline has a great sense of humour and a contagious smile. Not content with simply making a career, she continues a hectic touring schedule spreading the important messages of diversity, inclusion and acceptance. She exudes confidence and her warm and friendly nature endears her to even the hardest of crowds. She shares her story with the hopes of inspiring, encouraging and educating others, proudly changing society's perception of people with disabilities one photo shoot at a time. Madeline is just about to travel to New York again and walk at her 6th Season on NYFW for multiple designers and launch her third collection of her fashion label before heading to the UK for her second season at London Fashion week. To follow Madeline's journey please support her on social media where she has over 850 000 followers, only with your support can she achieve her dreams and convince companies that people with disabilities do have a voice.
HEADLINING SPONSOR: BW SANDALS
BW Sandals footwear is a combination of fashion trends, modern attitude, and, most important, great physical comfort. Our products come in a variety of styles that can be worn for a stroll on the beach, a night out at the movies, and many other occasions in between. You can easily pair them with casual or chic dresses, jeans, or shorts. They range from the simplest flip-flops to attention-grabbing, embellished sling backs, with many designs available in several colors. BW Sandals footwear are fun, elegant, and always in style. Last but not least, they're durable, easy to take care of, and also very affordable.
BW Sandals has been a strong, successful supplier of quality footwear in Russia, Europe, and Asia for more than 10 years. We've now brought our products to North America and started to introduce selected styles and sizes to buyers, in a phased approach. First are women's sandals, soon to be followed by men's and kids' fashions. We welcome inquiries by chain retailers and wholesalers, as well as individual retail businesses. Customer satisfaction is our number one goal, whether it's from a consumer or a business partner, and we will achieve that by paying close attention to feedback from everyone, and by providing fast turn-around service to all of our clients and partners.
In addition to providing the best sales and support service to our customers, BW Sandals also strives to be an environmentally and socially conscious company. Our manufacturing operations adhere to the latest, most comprehensive international labor laws, and we constantly work with our suppliers to increase the amount of raw materials that come from recycled sources. As our North America business grows, so will our contributions to organizations that perform social and charitable services all over the world. We invite you, the consumers, to join us in this exciting journey, and start shopping for your next BW Sandals.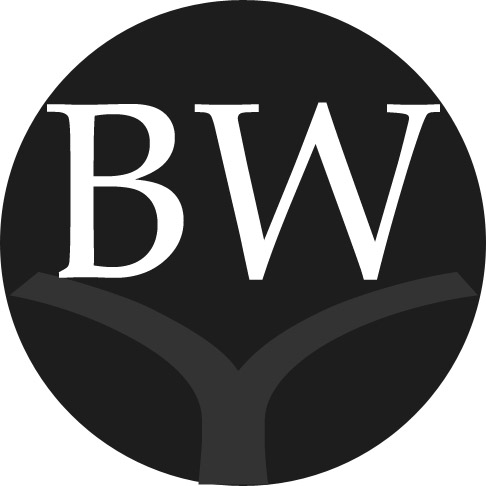 No refunds: No refunds at any time.
Date and Time
Location
St. Mary's Episcopal Church
521 West 126th Street
New York, NY 10027
Refund Policy