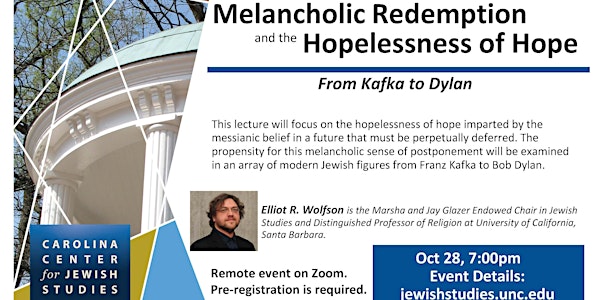 Melancholic Redemption and the Hopelessness of Hope: From Kafka to Dylan
The Morris, Ida and Alan Heilig Lectureship in Jewish Studies with Elliot Wolfson, distinguished professor at UC Santa Barbara
About this event
The Morris, Ida and Alan Heilig Lectureship in Jewish Studies with Elliot Wolfson, distinguished professor of religion at University of California, Santa Barbara.
Melancholic Redemption and the Hopelessness of Hope: From Kafka to Dylan
Since late antiquity, a connection was made between Jews and the psychological state of despondency based, in part, on the link between melancholy and Saturn, and the further association of the Hebrew name of that planet, Shabbetai, and the Jewish Sabbath. This depiction seemingly contradicts the common assumption that Judaism is a life-affirming religion that promotes the obligation to make the mundane holy, an idea enhanced by the prominence that kabbalists ascribe to the need to repair the world, to facilitate tiqqun ha-olam. Many sources could be cited to support the stereotype of the positive outlook fostered by Judaism but one should not lose sight of the fact that the melancholic predisposition of Jews to view the world as a place of hostility and dissension has had important anthropological, cosmological, and theological repercussions. In my lecture, I will focus on the hopelessness of hope imparted by the messianic belief in a future that must be perpetually deferred. Neither pessimism nor optimism seem apposite to categorize the bestowing of hope through its suspension, a pure futurity that would be compromised if the future were ever to abandon its status as that which is always to come. The propensity for this melancholic sense of postponement will be examined in an array of modern Jewish figures from Franz Kafka to Bob Dylan.