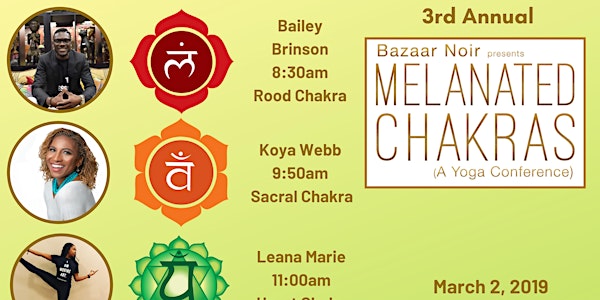 Melanated Chakras - 3nd Annual - Yoga & Wellness Conference
When and where
Location
Kipp Strive Academy 1444 Lucile Avenue Southwest Atlanta, GA 30310
Description
We can never obtain peace in the outer world until we make peace with ourselves. ~Dalai Lama
On Saturday March 2, 2019 in Atlanta, Georgia, Melanated Chakras Yoga Conference gears up to its 3rd year to serve an exhilarating life-changing experience to the multitudes. All levels are welcomed and encouraged from the first-timers and novices, who may be first getting introduced to the awesome benefits of yoga, to the yoga enthusiasts who can't live without their daily dose of invigorating indulgence.

In this beautiful time of self-empowerment, it is imperative to find fun and exciting ways to maintain mental, physical, and spiritual wellness, as striving for maximum health should be the foundation for all of our successes, as it helps in the manifestation of our most loftiest of goals.

"This is a spectacular opportunity to participate in classes with many styles of yoga all in one place. The atmosphere is one where you won't feel intimidated by what you don't know, and where one will feel completely comfortable just being among great people who are coming together to have an extraordinary time and learn freely with an open mind. Our expectations are high and the response has been phenomenal! We are really excited about the fact that yoga is spreading like wildfire in the Melanated community where chronic disease tends to be so prevalent. And, we are extremely grateful to have some of the best and most dynamic instructors that anyone can ask for. Each Teacher will be focusing in a different Chakra!

FOR MORE INFORMATION HOTELS AND MORE LOGON TO http://bazaarnoir.weebly.com/
TO REGISTER FOR TICKETS CLICK BELOW!
https://tinyurl.com/MelanatedChakras3
This years Melanated Chakras is Sponsored by Moving Art Experience
About Moving Art Experience
Founded in 2015, the Moving Art Experience was created as a platform within the minority community to connect the world of art and yoga. The event itself is a unique celebration of unity combining live body painting, the art of yoga, live performances, music, vendors, and so much more. As art & yoga is known to be a form of therapy for some & a passion for others, the goal of the show is to inspire anyone who attends to become their true self as the artist and yogis do in the freedom of life and love.
MOVING ART EXPERIENCE http://www.movingartexperience.com/
---
Morning Session Schedule
Bailey Brinson - (Root Chakra)
Yoga has been a part of Bailey's life for over 8 years, and my practice has helped me grow happier, stronger and healthier both on and off the mat. Yoga inspires me to live each moment more mindfully.
I completed my Practical Yoga Instructor Training with Aerobics and Fitness Association of America. I will always be a student of the practice and am deeply grateful for the loving wisdom my teachers have shared with me.
In my classes, I love to teach Beginners Vinyasa Yoga. Giving students a solid foundation of the practice, increasing their strength, balance and flexibility, encouraging deep breathing and a dose of inspiration to help you "Be the Blessing". I seek to help others be the best version of themselves with yoga, and my hope is that you step off the mat feeling grateful, fulfilled and present.
CONTACT ON INSTAGRAM @BAILEYINSPIRES
---
Koya Webb - (Sacral Chakra)
Koya Webb is an internationally recognized yoga teacher, personal trainer, holistic health and wellness coach, author, motivational speaker, and professional fitness model revolutionizing the holistic living landscape. She is known as a "transformational specialist" when it comes to helping people reach their goals—by encouraging sustainable positive lifestyle changes that maximize their ability to cultivate self-love, lose weight, increase energy, reverse life-threatening conditions and experience optimal health.
Koya believes the most important element in health is Self-Love; from this belief came the creation of Get Loved Up. Get Loved Up encourages clients to practice daily self-care and make healthy living a priority in a fun and accessible way. Get Loved Up aims to lower the number of people with chronic diseases associated with an unhealthy diet and sedentary lifestyle.
She is a highly regarded expert source and editorial contributor with the national media online and with appearances on NBC, CBS, the Steve Harvey Show, and recently as a main character on the reality show 'Yoga Girls', as well as a roster of celebrity clients. Her holistic health, detox and lifestyle tips have been featured in Essence, LA Yoga, Oxygen, Vegan Health & Fitness, Max Sport & Fitness, and Muscle & Performance among others. She currently holds partnerships with ALO Yoga, Sunwarrior and ToeSox.
With over a decade of holistic studies at her command – RYT 500, with certifications in Ashtanga, Rayoka, SUP, AcroVinyasa and AYfit, as well as NASM and IIN – Koya is dedicated to making a positive impact in the world of healthy living. This former competitive track and field athlete combines the work ethic and dedication of an athlete with simple practical holistic health practices that anyone can follow to live a healthy and active lifestyle.
Koya Webb
CEO of Get Loved Up
| Instagram | |Facebook | |Twitter | |Youtube
---
11:10am - 12:10pm Class
Leana Marshall - (Heart Chakra)
Leana Marie (E-RYT & YACEP) was born and raised in South Mississippi. She has a BS Degree in Health Informatics and Information Management from the University of Mississippi Medical Center. She is currently pursuing a master's degree in Health Administration. She completed her 200 yoga teacher training at CorePower Yoga in Honolulu, HI. Leana has completed power yoga vinyasa training, yoga sculpt, hot power fusion, restorative yoga and yin yoga training. Leana was introduced to yoga as a therapeutic practice after she was injured in a car accident and diagnosed with chronic neck and back pain.
Leana's goal is to provide healing and relaxation to others. She also wants to help people learn something new about what their body is capable of doing. Leana enjoys bringing a new flare to yoga and her personal practice. She's definitely not your average yogi!

CONTACT ON INSTAGRAM @Lmarie_yoga
---
Afternoon Session Schedule
XpJ Seven - (Crown Chakra)
XpJ Seven has been practicing yoga on and off since 2000. I completed a 200 hrs teacher training at Atlanta Hot Yoga in 2006 under the meticulous eye on the incredible Avril James Hunt. I've grown pretty consistent with my practice in the last five years. I practice primarily a form of self-care.
I teach to share alternative methods of self-empowerment and self-help. My teaching style is direct, challenging with lots of smiles and laughter (if you're not having fun you're doing it wrong! Ha) I'm inspired by seeing people grow into stronger, more authentic versions of themselves and I hope I can assist in that in some fashion. My interests are poetry, martial arts.
1:20pm - 2:20pm Class
Evan "Eazy" Hall - (Solar Chakra)
Evan "Eazy" Hall found yoga as many of us do, when he needed it the most. Over indulgence of a sedentary lifestyle led to constant back pain and crippling respiratory issues. It was in the ER where his girlfriend suggested that he do some research into the world of yoga. Shortly after being introduced to yoga he knew that one day he had to share the practice that not only healed his body, but changed his perception of himself and the world around him.
He has been sharing his ever evolving practice for over 4 years now with classes ranging from Hatha Yoga to Rocket Yoga and even specialty handstand and mobility classes. A fun and charismatic individual you can expect plenty of laughter, a good work out, lots of inversions, and a welcoming atmosphere in all of Eazy's classes.
CONTACT ON INSTAGRAM @YOGAPLAYGROUND
---
2:30pm - 3:30pm Class
Yirser Ra Hotep Lawrence - Third Eye
Master Yirser Ra Hotep is the leader of the global Kemetic Yoga Movement and founder of the YogaSkills School of Kemetic Yoga. Yirser has practiced and taught Kemetic Yoga for the past 43 years and has trained and certified over 2,000 instructors around the world. Yirser is a Social Worker and Therapist, and holds a Masters degree in Social Service Administration from the University of Chicago.
Yirser is a professor at DePaul University in Chicago where he teaches courses in the Science of Yoga, Stress Management and Wellness, and Ancient Religious and Philosophical Systems. Currently Yirser is involved in a research project measuring the effect of Mindful Meditation on incarcerated men and programs designed to reduce violence in Chicago through the practice of Yoga. Yirser organizes the free Soul Yoga Fest Movement and Food Festival in Chicago, Las Vegas, Atlanta and Jamaica annually.
---
3:40pm - 4:40pm Class
Kymmi Cordovez - (Throat Chakra)
Kymmi is a small-town Jersey-bred fitness nerd who geeks out on fascial release methods, green juices and inversions. After graduating from Rutgers University, Kymmi started her career post-grad as a digital marketing specialist in the music + media + entertainment world. Working underneath the likes of Sean "Diddy" Combs and Russell Simmons, Kymmi is no stranger to the beautiful chaos that comes with life and its triumphs.
In 2014 a devastating knee injury robbed Kymmi of her mobility. What began as turmoil and confusion ended in enlightenment and blessings beyond imagination. In search of movement and mobility, this injury led her back to an old flame: yoga. And this go around was different, like an old coat that she never realized she had loved so much. Kymmi fell in love. The practice was able to bring her the same challenges and satisfaction that any workout could while both stimulating and nourishing her mind. The relationship, like any worthwhile union, is still blossoming, transforming and growing.
Kymmi's mission is help people maximize their performance and their lives by gaining increased body + mind awareness and flexibility. Kymmi is certified in Fascial Stretch Therapy™ Level 2, Yoga, Cupping, and Cycling.
Kymmi offers a wide array of practice methods that have been tailored to desk warriors, fitness professionals and athletes in the NFL, NBA, CLF, MLB and MLS. When Kymmi's not posing inverted, she loves reading, traveling, running and, of course, handstands.
CONTACT ON INSTAGRAM @kymmicordovez