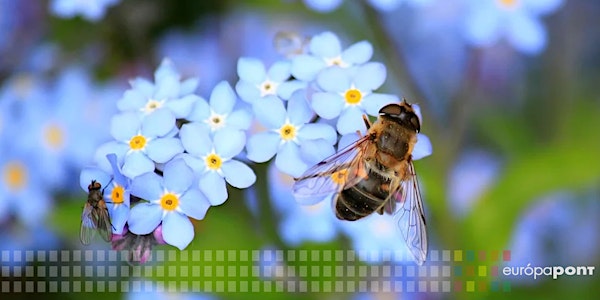 Méhek bálja (A Banquet for Bees)
Rendhagyó színházi előadás
When and where
Location
Európa Pont Lövőház utca 35. 1024 Budapest Hungary
About this event
Hallottad valaha a méhek zümmögését igazán, de tényleg igazán közelről? Kerestél már a szabadban hihetetlenül vonzó illatokat? Próbáltál akár egyszer is egy rovar szemével látni? Mikor érintetted meg utoljára a fákat, a növényeket, vagy kóstoltál virágport és lépes mézet? Válaszod valószínűleg "egyszer", vagy "régen", esetleg "egyáltalán nem". Persze az emberek élete nem ilyesmikről szól, de talán éppen ezért fontos néha megállni egy pillanatra, kiszakadni a mindennapok forgatagából, és megtapasztalni mindazt, ami körülvesz minket, mégis sokszor láthatatlan.
A Banquet for Bees // Méhek című előadással arra vállalkozunk, hogy interaktív és játékos módon bemutassuk a méhek életét, megismertessük mindennapi szokásaikat a résztvevőkkel, közelebb hozzuk világukat a miénkhez. Séta, tánc, bizalom, illatok, ízek, hangok - mesék, tudomány és természet találkozik a másfél órás részvételi színházi előadásban, melynek végén, egy meghitt lakomán megkóstolhatjátok e szorgos állatok áldásos munkájának gyümölcseit. Bon appétit!
Az előadás magyar nyelven zajlik. // The performance will be in Hungarian.
Rendező és módszertani tanácsadó: Christine Fentz
A magyar nyelvű előadás segédrendezője: Makra Viktória
Alkotó előadók: Makra Viktória, Lukács Gergő, Pap Dávid Tamás
Méhészeti tanácsadó: Trimmel Ákos
Asszisztens: Pallag Sára
Arculat: Salgó Viktória
Kommunikációs menedzser: Kókai-Nagy Tímea
Turnémenedzser: Péter Judit
Projektmenedzser: Pallag Sára
Az előadás a Pro Progressione, a Secret Hotel és Triage Live Art Collective koprodukciójából született.
A projekt a Nemzeti Kulturális Alap és az Emberi Erőforrás Támogatáskezelő támogatásával valósul meg.
Az előadást kerekasztalbeszélgetés követi, mely során a művészeti, a kulturális menedzsment és a tudományos oldal szakértői beszélgetnek a művészet és a tudomány fúziójáról, a művészeti ismeretterjesztés lehetőségeiről és fontosságáról.
Az esemény moderátora Széplaki Márk
A nagy érdeklődésre tekintettel ugyanaznap délután 15 órakor plusz előadást is tartunk, amelyre itt lehet regisztrálni: https://mehekbaljaraadas.eventbrite.com