Description
*UPDATE* - WEDNESDAY IS A GO! One small caveat, for special reasons, we need to limit the number of spectators to just 20, so act fast because this will sell out!
Take a half-day on humpday. You've earned it! Watch the undisputed superheavyweight robot combat champion of the world, Eagle Prime, wield its powerful CLAWS, and CHAINSAW to obliterate a car!
A production company will be shooting footage for a TV show so come out and share the spotlight with us! We know you all want to know, but we're not allowed to say what TV show or what network.

Note: You will have to sign an appearance release. YOU MAY BE ON TV.

The film budget wasn't enough to cover our expenses for the show, so we're selling tickets to help pay for the robot's operating costs. You'll get to see something epic, we'll get our robot's maintenance paid for. Win-win.

Tickets for this behind the scenes look are limited and we will have 5 tickets available for rides/destruction post-production. This is a rare opportunity to see our pride and joy in action, meet the CEO, and enjoy some good ol' fashion car smashing. We hope to see you out there MegaBots fans!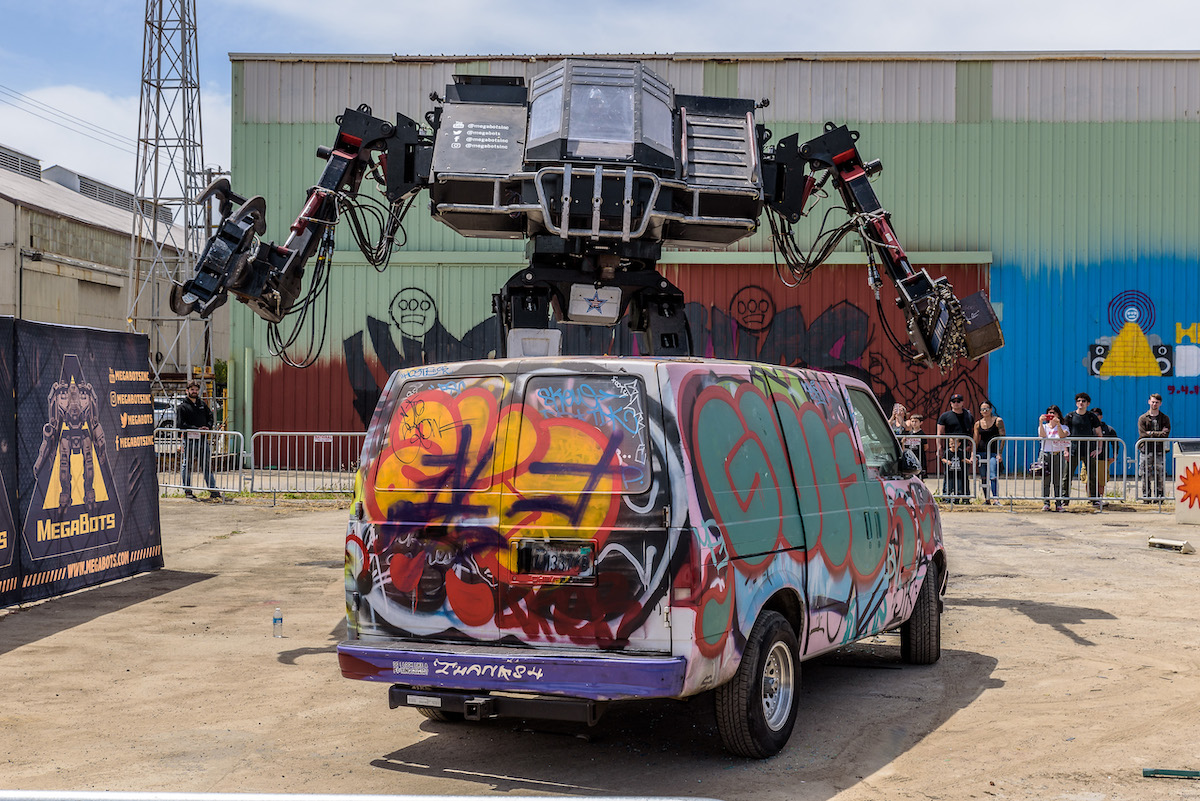 ___________

Schedule: (NOTE THAT THIS IS SUBJECT TO CHANGE, but for the most part, the good stuff will happen after lunch or later. If it gets modified, everything will probably get pushed an hour or two later. Please don't get mad at us if that happens.)

8:00am - 10:45am - We'll be filming an interview, this is the boring part of the day no one wants to see.

10:45 am - 11:15 am - Doors open as film crew grabs a few last close-up shots of the robot. Ticket holders can start showing up at this point, but we recommend most people wait until 12:45 pm to show up unless you are super curious about the boring behind-the-scenes stuff (just being honest).

11:15 am - 12:15 am - MegaBots crew will be giving a pilot lesson to the talent of the show. The robot will get powered up, but will not be attacking anything at this point.

12:15 pm - 1:00 pm - Lunch Break - BRING YOUR OWN FOOD. We are doing this a little down and dirty and won't have food for spectators that come early.

12:45 pm - This is when we recommend most people to show up.

1:00 pm - 1:45 pm - Talent will chainsaw a car.

1:45 pm - 2:05 pm - Film crew will be getting a few last shots of the destruction and interview stuff

2:05 pm - 2:35 pm - Three things happen here: 1) Film crew will be wrapping up, packing up their stuff and going home. 2) the MegaBots crew will be bringing out a bunch of washing machines and setting up another set of cameras. 3) The MegaBots crew will be setting up their cameras.

2:35 pm - 2:55 pm - Washing Machine Stack Take 1. We're going to see how hard it is for two pilots in a gigantic chainsaw-wielding robot to stack 6 or so washing machines on top of each other without the tower toppling over. For science.

2:55 pm - 3:20 pm - Washing Machine Stack Take 2. Sometimes things don't always go as planned so we will try again if it doesn't work great the first time. Also for science.

3:20 pm - 3:45 pm - Anyone who purchased a ride will get a chance to strap in, take a ride, and control Eagle Prime's arms. We'll probably have some leftover washing machines they can throw around a little bit.

3:45 pm - 4:00 pm - We'll be packing up and sending everyone home. Feel free to mull around a bit and ask questions!

4:00 pm - Get outta here!

_________

MegaBots, Inc.
MegaBots is the world-famous company that brought you The USA vs JAPAN Giant Robot Duel is launching their Live events series. MegaBots are 15-ton, 17-foot tall, 430 horsepower robots equipped with 6-foot long chainsaws, claws, and cannons. They're piloted by two people and can shred and crush nearly anything you put in their path.

FAQs
Are there ID or minimum age requirements to enter the event?
Yes. This event is restricted to 18+ ONLY because of legal issues related to having minors sign appearance releases.

What are my transportation/parking options for getting to and from the event?
Park on the street! You might have to park up to a block or two away, but parking should generally be available in the neighborhood.

What can I bring into the event?
Food and drink fine (as long as you are not in front of the cameras), but we probably won't have an abundance of trash cans, so be prepared to take trash home with you. No alcohol. Sunscreen/sunglasses would be smart!

How can I contact the organizer with any questions?
Send us an email at events@megabots.com

What's the refund policy?
No refunds within 24 hours of the event.

Do I have to bring my printed ticket to the event?
We need to scan you in. Scanning a printed ticket instead of a smartphone screen is easier to do in the bright California sun. We can probably still work with you bringing the barcode up on your smartphone, but everyone in line behind you will give you dirty looks, so weigh your options.

Can I update my registration information?
Yes

Is my registration fee or ticket transferrable?
Yes

Is it ok if the name on my ticket or registration doesn't match the person who attends?
Yes