Mega Menus and More - Customized Branding Solutions for SharePoint 2007/201...
Event Information
Location
Live, Online from
New York, NY
Description
Access to the recorded sessions
This workshop series has ended, but you can still purchase access to the recordings and resources for all three sessions. Use the discount code 'EUSP' to receive $100.00 off the series price. These are the recorded sessions of Dustin and Heather providing CSS and XSL solutions that can be immediately used on your site.
---
Live Online Workshop Series: Mega Menus and More
Customized Branding Solutions for SharePoint 2007/2010/2013
Maybe you've read the NothingButBranding blog posts on how Dustin Miller and Heather Solomon create Mega Menus for SharePoint and you just want to peek behind the curtain to see how they came up with the idea; Perhaps you want someone to walk you through the process, step by step; You may even be wondering: how can I best use XSL and CSS to create my own dynamic, custom UI components for SharePoint?
Get ready to peek behind that curtain. Prepare to be guided. Wonder no more: Heather and Dustin will show you how to use XSL and CSS to create amazing things
December 3, 2012 - XSL for Custom Views
December 10, 2012 - CSS for Custom Views
December 17, 2012 - Advanced XSL: Grouping Content
---
Please Note: At this time, we are selling all three workshops as a series package. When registering above, use the promotional code EUSP to receive an instant discount of $100 off the published price.
---
Each live online workshop is fully hands-on, including your own SharePoint test area for implementing the solutions, all of the resources and materials needed to implement the solutions, and access to an on-demand recording of the entire session when you need review.
Purchasing the entire series of three workshops saves you $100.00 and guarantees you a seat in each of the sessions. All workshops are delivered live, online through your computer where you will be able to see Dustin or Heather's desktop as well as hear the session through your computer speakers or headphones.
Detailed descriptions of each of the workshops are shown below. If you like what you see, register immediately because seats are extremely limited for our customized, online sessions.. How limited? 20 seats per session.
Don't miss your chance to work with two of the world's foremost experts in SharePoint branding. Register today and become your company's SharePoint Superstar!
Mark Miller, Senior Storyteller
EndUserSharePoint | NothingButSharePoint | NothingButBranding
Session 1: XSL for Custom Views
December 3, 2012 - 1:00pm to 2:30pm EST
Presented by Dustin Miller with Host Mark Miller
Starting with basic HTML and moving to more advanced markup, learn how to use XSL to create your own custom views without using SharePoint Designer. You'll see how to exert total and complete control over the markup that SharePoint creates for your list and library content.
What will you get out of this session?
Crash course in rational, maintainable XSL for custom views
How to create custom views using only your browser
Ready-to-use and fully-commented custom views for:

List-based navigation (a lightweight "Mega Menu" based on list content)

FAQ-style content

Image / Content rotator or "slider"
This is the first workshop in the three part series 'Mega Menus and More'. You do not have to take the other workshops in order to take this one... they are all stand-alone solutions.
Testimonial
"Dustin has a wonderful way of using word pictures to hit home points and doesn't talk down to you but rather encourages and inspires your learning."
Session 2: CSS for Custom Views
December 10, 2012 - 1:00pm to 3:30pm EST
Presented by Heather Solomon with Host Mark Miller
Once you wield the power of creating custom views in SharePoint it is time to make them look great and match your corporate branding. The best and most efficient way to brand anything in SharePoint is with CSS. Now that you have the markup you want, it is easy to extend that to the CSS that you want.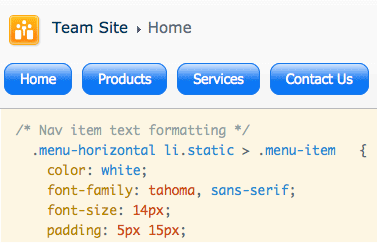 What will you get out of this session?
Crash course in CSS for custom views
How to write CSS in a DRY (Don't Repeat Yourself) way
Ready-to-use and fully-commented custom CSS for the views created in Part 1

CSS for common navigation components
Rational typography for structured text
UI component positioning and layout with CSS
This is the second workshop in the three part series 'Mega Menus and More'. You do not have to take the other workshops in order to take this one... they are all stand-alone solutions.
Testimonial
"Heather Solomon was a fantastic instructor! She was obviously extremely knowledgeable but still came off as a human being with great personality and was very approachable."
Session 3: Advanced XSL - Grouping Content
December 17, 2012 - 1:00pm to 2:30pm EST
Presented by Dustin Miller with Host Mark Miller
If you've ever written CSS for SharePoint list views using a group-by header — and completed your efforts without walking away in frustration — you'll appreciate this session. Learn how to create nested, hierarchical markup from any "grouped" SharePoint list data the right way. It'll make your designers happy!
What will you get out of this session?
All about using XSL Keys for grouping
Calling XSL templates multiple times with different output (handy for TOC-style output)
Ready-to-use and fully-commented XSL and CSS for an enhanced Mega Menu for SharePoint

Go beyond the blog post - a sexy Mega Menu can be yours
Rational and reusable XSL templates for any kind grouped or indexed content
Fully commented examples of advanced XSL techniques
This is the third workshop in the three part series 'Mega Menus and More'. You do not have to take the other workshops in order to take this one... they are all stand-alone solutions.
Testimonial
"Both Dustin and Heather are very intelligent, eager, approachable, and affable instructors that create a comfortable learning environment."
Who should attend the workshop series?
This series of workshops is aimed at Site Administrators, Power Users and SharePoint Branders looking for techniques to add additional functionality to their SharePoint pages without requiring administrative permissions to the SharePoint server. All solutions can be implemented with Site Manager level permissions in SharePoint 2007/2010/2013 environments.
About the Presenters
Mark Miller, Heather Solomon, Dustin Miller
The Mega Menus and More Live Online Workshop Series is hosted by Mark Miller, Founder and Editor of EndUserSharePoint.com with Heather Solomon and Dustin Miller from The The SharePoint Experience, presenting in their fun, approachable style.
When not working with his children unraveling convoluted math strategies, Mark Miller helps companies gain global visibility for their products and services through the use of social media, online community building and relationship development. He travels internationally from his home in New York City, speaking on the building of digital communities, methods for using social media to engage an online audience, the uses of SharePoint for enterprise level collaboration, and the future of productivity.
Heather Solomon is a web designer first and a SharePoint geek second. With over 14 years of experience working with online applications and sites, she knows how to get under the hood with SharePoint. Considered by many to be THE industry expert in SharePoint branding, Heather enjoys sharing her knowledge in a laid-back atmosphere. She knows how to make SharePoint look like anything but SharePoint!
Dustin Miller is just as comfortable training his dog as he is writing custom web parts. His style and demeanor makes training fun and entertaining. He's been doing nothing but SharePoint since Office XP and SharePoint Team Services, and loves to share those crazy and creative things that you never knew you could do with SharePoint.
Pricing Notes
Pricing of Workshops
We have structured our pricing schedule so that individuals can benefit from some of the finest instructors in the world without having to break the bank on their company's training budget or spend days away from their work environment.
Our intention is to keep prices low enough so that everyone, not just large corporations, can benefit through hands on experience with solutions that will generate immediate value when implemented.
Series vs Individual Pricing
At this time, only full series tickets are available for the "Mega Menus and More" workshops. A series ticket reserves a seat in each of the three sessions, offering a total discount of $100.00 for the series. We will make individual seats available starting on November 26, 2012 at the full price of $199.00 each.
Unsolicited Testimonial
"I signed up on my own dime, but once the boss saw the results he offered to reimburse me. Now there's a testimony to the value!" -- Joyce
The EUSP Live Online Workshop Guarantee
EndUserSharePoint's Promise to You
I realize it is hard to purchase a workshop online without knowing me or having experience with how live online training works, so here's my guarantee:
If, after taking the workshop, you decide the solutions are not what you are looking for, I will personally refund your entire registration fee and you get to keep all the resources from the project.
If you're not happy, I'm not happy. I want you to be completely satisfied with the workshops and the resources. My main form of marketing is word of mouth, with workshop participants as my evangelists. I want you as one of those evangelists, and I'll do what's necessary to make things right.
I appreciate your trust and support and look forward to seeing you at the sessions.
Mark Miller
Founder and Editor
EndUserSharePoint | NothingButSharePoint | NothingButBranding
More Testimonials
from Previous EUSP Workshop Participants
"How you and Christophe got the KPI-like features into WSS is amazing. Definitely something we want to implement." -- Joan [Case Studies in SharePoint Dashboards]
"This is an excellent workshop. Mark answered every question and moderated with humor and patience through the usual communication hiccups with an audience that is international (Argentina, Ireland, all over the US)." -- Betsy [SharePoint Dashboards, Online]
"I provide functional support for SharePoint at my company. You provided tips and how-tos that I can apply NOW. Many of the things you demonstrated are simple enough to provide big returns with little time/cost investment." -- Kenlee [Case Studies in SharePoint Dashboards]
"I liked a lot your focus on what is available out-of-the-box in SharePoint and how do you leverage it in very creative ways. Please go on!" -- Claudio [Case Studies in SharePoint Dashboards]
"Instead of another tour of the kitchen, we get to see somebody cook !!!" -- George [Case Studies in SharePoint Dashboards]
"This was one of the best training sessions I have attended. It delivered a lot of powerful information yet was simple to follow and participate in. I can't wait for the next class!" -- Heidi [The Fundamentals of SharePoint Lists and Libraries, Online]
"......very professional work. The workshop format with the hands-on lab made the 3 hour web conferencing event a valuable experience for me." -- Urs [The Fundamentals of SharePoint Lists and Libraries, Online]
"What I got out of it the most was by far the use of Task Lists, that was exceptional ! I had no idea that they could be that useful. I'm planning on importing many of my spreadsheets into the site, including our business plan." -- Erik [The Fundamentals of SharePoint Lists and Libraries, Online]
Location
Live, Online from
New York, NY