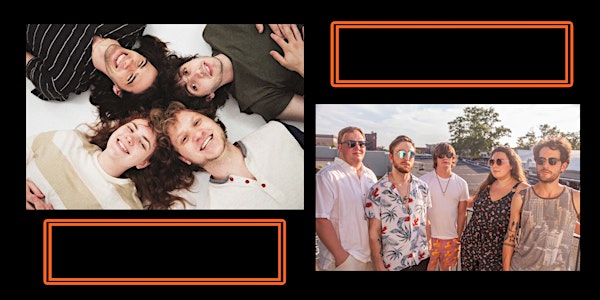 Mega Mango with CYAN - NEW TIME - SHOW 9PM; DOORS 8:30PM
Mega Mango with CYAN
When and where
Location
The Evening Muse 3227 N. Davidson Street Charlotte, NC 28205
Performers
Headliners
More Performers
About this event
Mega Mango is a four piece alternative indie group based out of Philadelphia, PA.
Originally formed in 2018, the group performed heavily in the house show scene of West Philadelphia up until pausing their project due to the pandemic in 2019. Finally after two years of hiatus, the band has returned to the live scene stronger and louder than ever, garnering a cult following over social media, the bands revival is attributed to a different kind of sound, one they call "Phruitcore".
Fronted by Crow Costello (Vocals, Rhythm) and joined by Alex Spagnolia (lead guitar), Niko Jones (bass), and Sam Poll (drums), the quartet blends the genres of bedroom pop and alternative rock into an electric wall of sound, uniquely reinforced by Costello's self aware lyrics and brain scratching melodies.
***********
CYAN was formed in 2016 by Joseph Levi and Matthew Johnston while attending college together in Rock Hill. Matthew was finishing his degree in Music Performance, while Joseph was working full time and composing/arranging in his spare time. Their first single "Bored" was released in 2018 with instant praise and showcased their musicality. In the wake of recording their EP, Joseph met Brittany Winans through a mutual friend. After some time, Brittany joined the group permanently as a singer/keyboardist. After finishing their EP at Ginger Cat Studios in Fort Mill, they took the road to play venues across the Carolinas. In 2021 they completed their first album, "Tidal". Also, their latest single "Poolside" was released in 2022. The group has gone on to rack up thousands of listens on streaming services since 2018 and are looking to tour in 2022. They enjoy playing at parties and weddings and provide a diverse experience with their choice in music. You can expect to hear anything from straight ahead jazz to modern rock, pop, and indie music.