2021 Mega Extravaganza Military Hiring Event Meet Face to Face with HR Directors, Recruiters Ready to Hire You Bring Plenty Resumes
About this event
Mega Extravaganza is for transitioning and former/retired military members and military spouses. Open to all branches (Army, Navy, Air Force, Marine Corps, Coast Guard), all ranks (Enlisted Personnel and Officers), and all occupational specialties.
Meet dozens of military-friendly employers face-to-face at one of the most professional military career events in Texas.
Our Military-Friendly Job Fairs typically include dozens of employers – Defense Contractors, Large Fortune 500 firms, Small Businesses, Non-Profits, and Federal, State, and Local Government Agencies.
Business attire. Free parking. Bring plenty of resumes. Pre-registration is highly recommended:
YOU DO NOT WANT TO MISS THIS EVENT! 2021 Will be a great year, now is the time to meet with an HR Director or Recruiter and see where your next adventure will be!
God Bless and thank you for all you !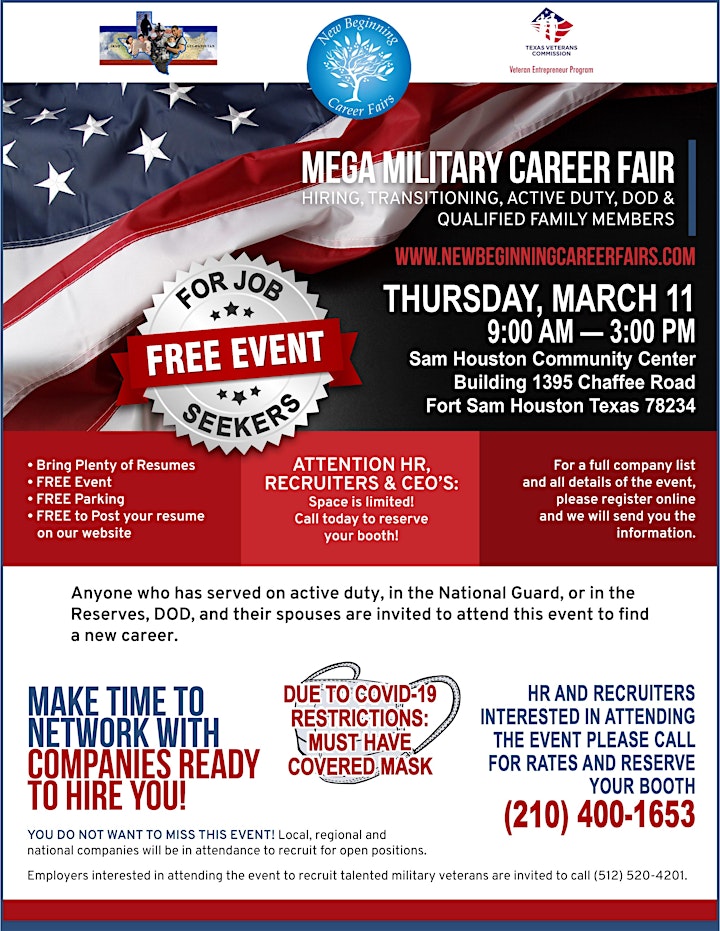 Organizer of Mega Extravaganza Military Career Fair
 "In many ways veterans are the backbone of America, and I am thrilled to serve that community by connecting them with outstanding post-military employment opportunities," said Sheri Kosmas, Accounts Manager for New Beginnings Career Fairs. "We will be hosting representatives from Texas's top employers and business leaders to see firsthand the remarkably talented workforce we have here in Texas. Plus companies in the US.
HR, Recruiters, and CEO's  please contact us to set up a booth. (512)520-4201
For more information please email: sheri.kosmas@nbcfairs.com