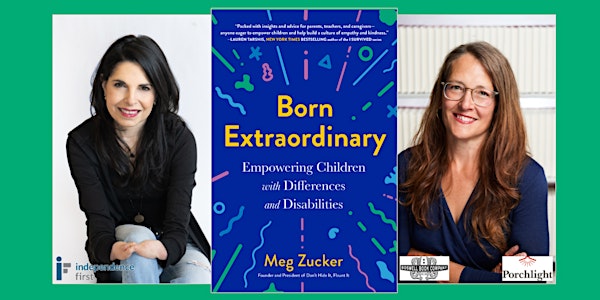 Meg Zucker, author of BORN EXTRAORDINARY - an in-person Boswell event
Meg Zucker, author of BORN EXTRAORDINARY - an in-person Boswell event
Date and time
Starts on Friday, April 14 · 3pm CDT
Location
Boswell Book Company 2559 North Downer Avenue Milwaukee, WI 53211
About this event
Boswell Book Company presents an evening with Meg Zucker, author of Born Extraordinary: Empowering Children with Differences and Disabilities. In conversation with Sally Haldorson of Porchlight Book Company. Cosponsored by Independent First and Porchlight Book Company.
Meg Zucker was born with one finger on each hand, shortened forearms, and one toe on each misshapen foot, caused by a genetic condition called ectrodactyly. She would eventually pass this condition on to her two sons. Born Extraordinary helps parents of children with differences and disabilities to relinquish their instinctive anxieties, embrace their new normal, and ultimately find joy in watching their children thrive. Also incorporating the stories of other families with visible and invisible differences of all kinds, the book gives parents the tools to meet their children's emotional needs while supporting the whole family unit. Parents learn how best to empower their children to confront others' assumptions, grow in confidence, and encourage dialogue - rather than silence, fear, and shame - around difference.
From Emily Ladau, author of Demystifying Disability: "Meg Zucker has written a warm-hearted, practical guide to navigating a world that can all too often lack empathy and understanding. Her honesty and wisdom, drawn from a deep well of lived experience, will not only empower kids with disabilities but their parents and caregivers too."
Meg Zucker is the founder and president of Don't Hide It, Flaunt It, a 501(c)(3) nonprofit with the mission of advancing understanding and mutual respect for people's differences. A graduate of the University of Wisconsin-Madison and New York University School of Law, she is also the U.S. Head of Anti-Money Laundering and Financial Crime at the Royal Bank of Canada.
Click here to order your copy of Born Extraordinary from Boswell. Signed copies and personalization available on pre-orders. Please note that signed copies will not be shipped until after the event.