See the all new paintings by Meg Ryan Flanigan and even take some home!
About this Event
Shezmu Cellars' monthly artist spotlight returns with an exciting new exhibit and gallery! The exhibit is on display at Shezmu Cellars now and will conclude with this gallery event where you can meet the artist, Meg Ryan Flanigan, and purchase your favorites. Come view the exhibit during Shezmu's regular business hours and make plans to attend the gallery!
Meg Ryan Flanigan is an artist and graphic designer from Buffalo, NY. She attended SCAD in Savannah, GA, and after traveling for a bit, settled in Atlanta working at several bars and restaurants while freelancing. Her artwork spans several mediums, from painting and illustration, to graphic design and user research. Common themes in her work include high contrasting values, illustrative line work, and some sarcastic humor (when she can get away with it).
Recently, the focus has been on abstract landscapes, illustrating beer labels for local breweries, and diving back into mural painting. While she entertains the notion of settling down at a 9-5 UX design job, the chaotic bartending/freelancing life she currently leads seems to be keeping her too busy to actively pursue these notions.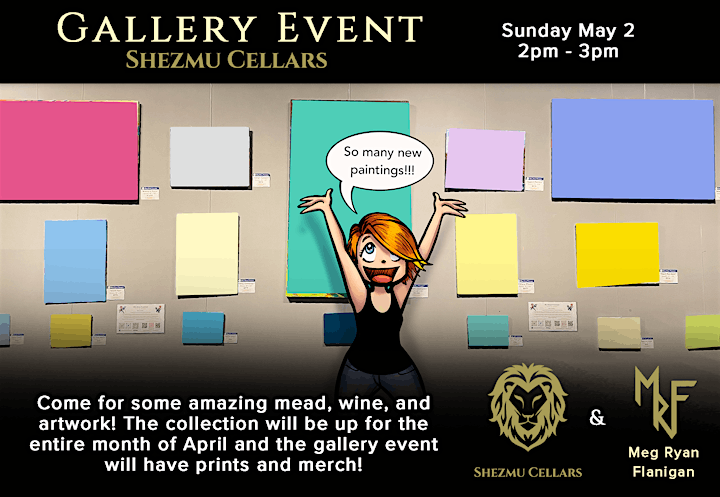 Shezmu Cellars is an urban winery producing local honey-wines (mead) while also pouring 30 taps of craft beer and over 25 wines from North Georgia wine country. Shezmu Cellars believes mead doesn't have to be a sweet dessert wine and focuses on producing exceptionally sessionable dry meads served carbonated, nitrogenated, and still. Available as a venue for private events, the Marietta winery hosts regular live music, art exhibits and comedy shows among the occasional themed party.
FREQUENTLY ASKED QUESTIONS:
What's the COVID deal?
--- Our facility is sanitized every day, professionally sanitized every month and table settings are sanitized after guests leave. For events with reserved seating, we will specify if it is distanced or community seating in order to accommodate every level of comfort. As for masks, we don't require them as it's extremely difficult to drink anything with one on, but do what makes you comfortable! Because our patrons are drinking, expect to see very few people wearing masks full time.
Is parking available?
--- Yes, there is plenty of free parking in the lot in front of the winery... but if you're planning on drinking, please plan on taking a Lyft, Uber or designate a driver!
Do I need to print my tickets?
--- No! We will be able to check you in electronically.
Is only wine available?
--- Nope! We have lots of wine, including a huge Georgia wine selection as well as Sake and other wine-based beverages. We also have 30 taps of craft beer and some domestics in bottles/cans. We do not serve liquor.
Is there a kitchen?
--- Unfortunately no. We often have food vendors at our events, but if we do not advertise them then our offerings will include charcuterie, chocolate and other bar snack options. However, we allow customer to bring in whatever food they like so feel free to use your favorite delivery service or bring in take-out!