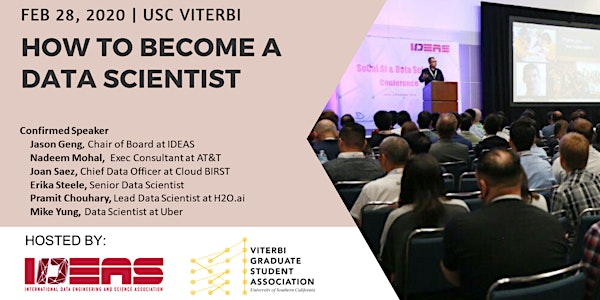 Meetup – How to Become a Data Scientist
Summary: Meet with experts in data science and career development, learn how to become a data scientist.
When and where
Location
University of Southern California | Room 159 Zumberge Hall of Science (ZHS) 3651 Trousdale Pkwy, Los Angeles, CA 90089 Los Angeles, CA 90007
About this event
Data Science has become a revolutionary technology that everyone seems to talk about. Hailed as the 'sexiest job of the 21st century'. Data scientists are the NO. 1 most promising job in America for 2020, according to a Thursday report from LinkedIn. This comes as no surprise: Data scientist topped Glassdoor's list of Best Jobs in America for the past three years, with professionals in the field reporting high demand, high salaries, and high job satisfaction.
How to be a data scientist? How to transfer from your current job to a data scientist? These are the concerns for many new graduates and young professionals.
Come and enjoy the meetup. You will get:
• The opportunity to meet with senior data scientists in different industry and experts in career development.
• The firsthand experience sharing from our keynote speaker about their career life and insight of industry trends.
• Get advises in designing your data career from the professional career mentor.
• Job opportunities of data scientists will be shared in the meetup as well.
• Drinking water, Soda, snacks and chips will be served.
Introduction of Hosts
International Data Engineering and Science Association (IDEAS)
IDEAS is a nonprofit organization which offers practical resources to help members connect and collaborate. Our members are individuals and organizations that are enthusiastic about developing Data Science skills, and also eager to exchange knowledge with other Data Science experts. We bridge the gap between academia and the industry. We build a data engineering and science hub by providing robust resources and connecting real-world expertise together from business leaders, professionals, and promising students. Our vision is to foster the data engineering and data science ecosystems and broaden the adoption of their underlying technologies, thus accelerating the innovations data can bring to society. We empower and nurture community growth by offering online resources, conferences, latest industry trends and data related job opportunities.
Viterbi Graduate Student Association (VGSA)
The engineering profession is becoming increasingly important in today's technology-driven world. As a result, the USC Viterbi School of Engineering has been constantly growing and evolving. Students may find it a challenge to become acclimated and involved in such a large engineering community. And this is where Viterbi Graduate Student Association (VGSA) plays a major role. VGSA promotes interaction among the graduate students in the Viterbi School of Engineering by hosting various academic and social activities. One of VGSA's foremost goals is to facilitate a safe open environment at events for all engineering students so that they can meet fellow students and members of industry.