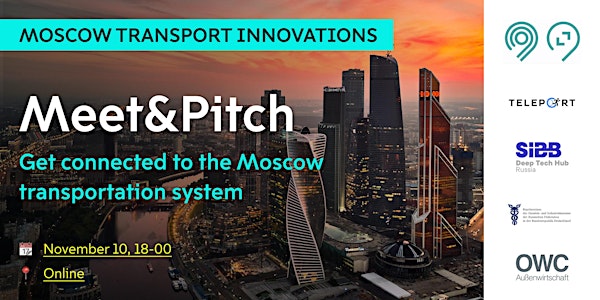 Meet&Pitch – Get connected to the Moscow transport system - online event
Networking with the top-management of Moscow transportation company and pitch sessions of German mobility startups.
About this event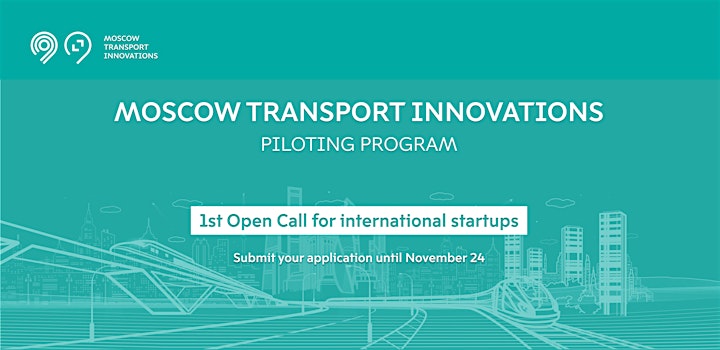 Agenda
18:00 – 18:10 Entering a zoom event
Introductory remarks by moderator Katja Wehmeyer (Communications officer of the Representative Office of the Chamber of Trade Commerce of the Russian Federation in Germany, Berlin)
18:10 – 18:20 Welcome note, Holger Hartwig (CEP GmbH, CEO; Head of the Expert Council at the Representative Office of the Chamber of Trade and Commerce, Berlin)
18:20 – 18:50 Session 1: Growth opportunities for mobility startups in Moscow
• Andrey Popov (Investment Director Moscow Transport Innovations Accelerator, Moscow): Accelerator as an instrument for innovational development of transportation system - Moscow experience
• Andrey Fazlyev (Innovation Agency TeleportLab, CEO, Moscow): Startup innovations in mobility: best cases from Moscow
18:50 – 19:00 Q&A
19:00 – 19:30 Session 2: Best cases for urban mobility in Germany and Berlins startup ecosystem
• Christian Kaden (LNC LogisticNetwork Consultants GmbH, Consultant, Berlin)
• Wladyslaw Olejnik (International Project Manager, SIBB-Digital Business Association Berlin-Brandenburg, Berlin)
19:30 – 20:30 – Mobility startup pitch session
Participants:
1. Enroute, Aviv Frenkel
2. pepper motion GmbH, Robert Reisenauer
3. PANTOhealth, Farzad Vesali
4. GreenMesh, Anatoly Zimin
5. NFleet Oy, Jouko Nieminen
6. PTX tech GmbH, Ferdinand Wiegelmann
7. staex GmbH, Dr. Alexandra Mikityuk
8. NATIX GmbH, Steven Lacitis
The Moscow Transportation Innovation provides international mobility startups a fast-track access to the dynamically growing and innovation-driven transportation market of the Сity of Moscow, ranked as Europe's No. 1 in startup ecosystem development (StartupBlink report 2021).
International startups with their products and solutions for sustainable, safe, and accessible urban mobility are invited to apply until November 24, 2021. After a pre-selection the most promising teams can roll out the pilot projects in the infrastructure areas of Moscow's transportation network. The piloting program can be done remotely without a local legal entity.
For further information and to apply for the Moscow Transportation Innovation Accelerator, visit the website – https://ftim.ru/en
Why Moscow?
· Moscow is No. 1 in the Urban Transportation Ranking 2021 (McKinsey);
· One of the 3 world leaders in urban mobility (Kantar's City Mobility index 2019);
· Europe's No. 1 in Startup Ecosystem development (StartupBlink 2021);
· Europe's biggest megacity with a diversified transportation system included public and railway transport as well as highways.