Description
MeetMyMuslimMate have partnered with UK's longest established MARRIAGE EVENT organisers, the pioneers, MUSLIMMARRIAGEEVENTS.com for hosting, and EMERALD NETWORK for promotion.
Strike Gold at the Muslim Marriage Events at the London Olympic Stadium! We are proud to be the first Muslim organisation to hold a collaborative event at one of the most prestigious iconic venues in the UK. Anticipated guest from all over the UK and beyond. We have two events - an invitation to attend either or both - one for 'Practicing' Muslims and one for 'Professional' Muslims. Admission to our events is open to ALL MUSLIMs irrespective of age, status, background be it race, level of faith, citizenship, profession - ALL WELCOME
'Practicing' event is aimed at any Muslims who observe the faith i.e. have NO issues with special needs, race, age, status, wealth, occupation, through to often cited cultural issues including siblings pecking order, language spoken by parents - essentially their parents will not be an obstacle to whoever is introduced etc. Putting Faith first.
'Professionals' event is aimed at any Muslim from diverse professional backgrounds, typically (but not necessarily restricted to) professions which require qualification or membership to an associated body/institute, eg. Medicine, Dentistry, Engineering, Accountancy, Pharmacy etc.

Family/Mahrams/Chaperones tickets available - ie. non-participants.
LAST 10 MALEs and FEMALEs SPACES LEFT - DEADLINE DATE - SUNDAY 20th August 2017@12, after which prices increase, spaces will become limited - ADVANCE BOOKINGS ONLY (NO PLACES ON THE DOOR).
Format/Event structure: www.muslimmarriageevents.com/about-us/event-structure/
BEFORE YOU BOOK PLEASE READ BELOW T's & Cs and all FAQs here: www.muslimmarriageevents.com/faqs/ - Booking purchases are based on the understanding you have read all the information as described on the Muslim Marriage Events website.
Refreshments can be purchased at the venue but not included in the ticket price!
Reasonable proportion of gender ratio will be applied to both events
REFUND POLICY: Unless the event is cancelled, there are no refunds regardless of situation i.e changed your mind not to attend or whether you found someone compatible or not.
DRESS CODE: Entrance only via smart / modest
SECURITY: Due to the high profile of the venue, only online bookings and stadium staff will administer the security entrance of the venue and event
Process:
Step 1: Carefully read through the Ts & Cs and format/structure of event on the main website at www.muslimmarriageevents.com
Step 2: Select the event of your choice and associated ticket of your choice, complete the booking/registration form with all the details required and make payment.
Step 3: You will then receive confirmation from Eventbrite. Shortly later, you will then recieve an email from Muslim Marriage Events team to create/submit your profile on our events-app [Link will be sent in email within 24hours] . Once your profile has been completed/submitted, it will confirm your badgeID and your place is all confirmed.
Step 4: A final confirmation email with final instructions, directions and all else will be sent a week before the event.
If you have any questions, either email us at info@muslimmarriageevents.com or call/tell: 07956 983 609
PLEASE NOTE - MUSLIM MARRIAGE EVENTS ARE THE EVENT HOST PARTNERS - ALL QUERIES HANDLED BY THEM, MEETMYMUSLIMMATE ARE PROUD EVENT PARTNERS.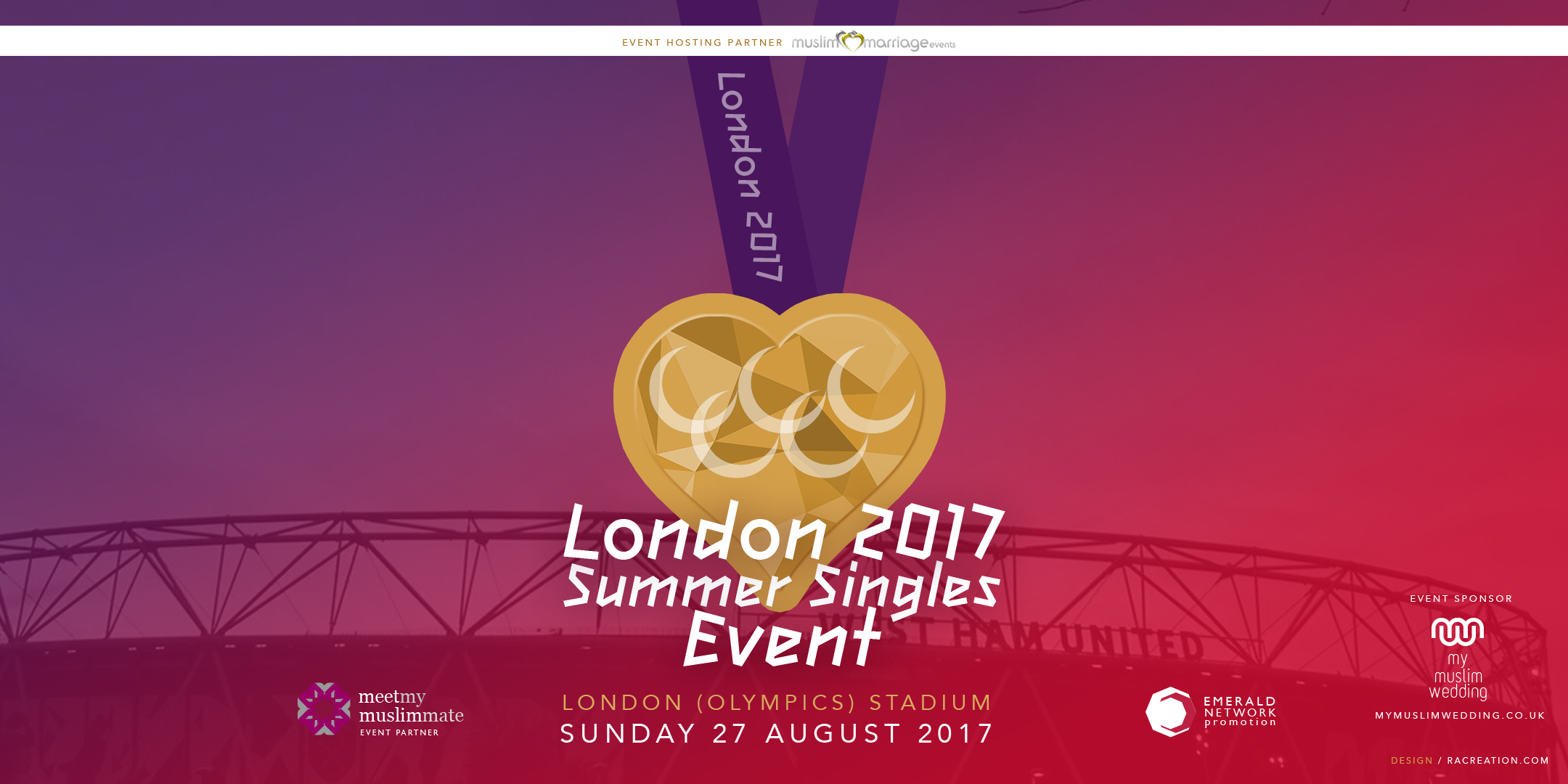 Date and Time
Location
Refund Policy