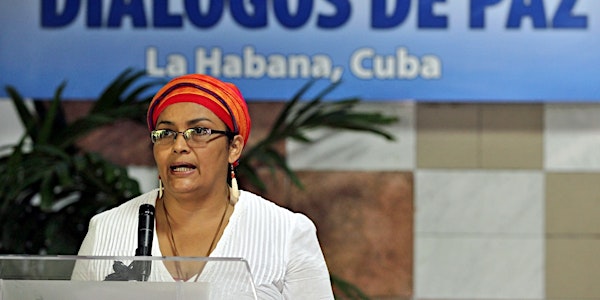 Meeting with former FARC guerrilla and peace negotiator Victoria Sandino
Former FARC guerrilla and senator Victoria Sandino and local trade unionists discuss peace and human rights in Colombia.
When and where
Location
Thompsons Solicitors 55 King Street Manchester M2 4LQ United Kingdom
About this event
What is next for peace and human rights in Colombia?
Join Justice for Colombia North West and Thompsons Solicitors for a public meeting with Victoria Sandino, a former guerrilla commander in the Revolutionary Armed Forces of Colombia (FARC). She took part in peace negotiations which led to Colombia's historic 2016 peace agreement to end decades of violent conflict. She then entered Congress as a Senator under the terms of the agreement.
The recent election of the first progressive government in Colombian history has been celebrated around the world as a victory for human rights and peace. But the country remains impacted by gaping inequality and a human rights crisis that has killed more than 1,200 social activists and 335 former FARC guerrillas since 2016.
Other speakers include North West-based trade unionists and activists who have visited Colombia with Justice for Colombia. Join us for an update on the situation in the country and to discuss how international solidarity can support the Colombian people in their efforts to build peace and social justice.
Speakers
- Victoria Sandino: former FARC guerrilla and Senator
- Nick MacWilliam: Trade Union & Programmes Officer, Justice for Colombia
- Dawn Taylor: Vice-chair of International Committee, National Education Union
- Chaired by Tracey Delaney: Chair of International Committee, UNISON North West
More speakers TBC
For more information, visit www.justiceforcolombia.org