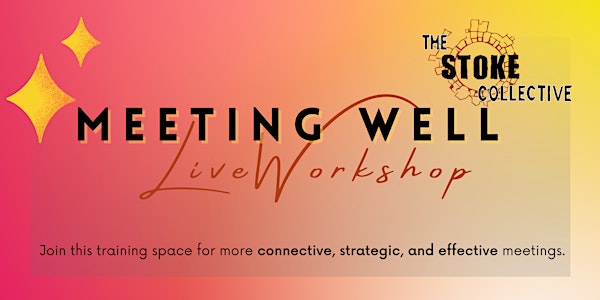 Meeting Well Training
A training space for participants to engage in harnessing the power of effective, strategic, and connective meetings.
Refund Policy
Contact the organizer to request a refund.
Eventbrite's fee is nonrefundable.
About this event
2 hours 30 minutes

Mobile eTicket
Imagine this: You are a part of a meeting where you have meaningful interactions with people around you. You feel connected to others and valued for what you contribute to the space. On top of this, you have a deep understanding of the vision of the group and feel aligned with it during your meeting. And lastly, you and the others have a collective understanding of what work needs to get done, are able to achieve your tasks, and leave with clear next steps.
Have you experienced this before?
In the STOKE Collective, we think a lot about meetings and how to make them meet those goals of a meeting above. Meetings are often what make an organization or project, as opposed to the other way around. They create our relationships, solidify our roles, determine our next steps, and influence our organizational culture. They are powerful!
Yet, due to how often we meet and the societal lack of intention behind meetings, often our meeting practices are left unexamined, counterproductive, and sometimes isolating.
We know that our fight for collective liberation is rooted in our movements, organizations, and collaborations. All of these convene and meet collectively. We believe so deeply in the importance of improving our meeting skills because we see how intertwined it is with our collective power and strength in creating the world we believe in.
We are inviting you to join us in this training as a way to shift your meeting practices and culture to ways that leave you feeling energized. Each of us has the ability to facilitate meetings that are more effective, connective, and strategic.
Through this participatory 2.5 hour webinar, you will learn key tools and skills to enhance meeting practices and engagement, as well as basic facilitation tools.
Everyone who signs up for the webinar will receive the notated slides after the session and a detailed resource guide for Meeting Well.
Who is this for?
This webinar is open to anybody who is interested in expanding their meeting practices and tools. You could have never facilitated a meeting before but are interested in doing so. Or you could have been facilitating meetings for years and are wanting a refresh on the way you do things. We know that widening our meeting facilitation skill set is a lifelong practice and welcome anybody to join us no matter where you are in it. Feel free to come as an individual or invite others in your organization or workplace to join.
What does participation look like in this?
This webinar will be held on Zoom for 2.5 hours. All participants must register beforehand and computers are preferred for participation. We will meet in a large Zoom room and will periodically enter into breakout rooms with a facilitator for discussion. We will ask participants to bring their own experiences and reflections on meetings in their lives as well as an openness to learning and trying new tools.
When is the deadline to register?
The deadline to register for this webinar is Tuesday, December 13th at 11:59PM ET.
How much is it?
Please read our sliding scale to determine an appropriate one-time contribution. Payment for this webinar allows us to cover our costs of running this space with intention and ensure that it is accessible to all those who would like to participate. No one will be turned away because of lack of funds. Please email us if you would like to attend but need support: connect@thestokecollective.org
Institutions/Solidarity Tier ($125-$150)
Individuals or institutions with access to wealth and/or financial stability are invited to contribute at the higher level of this scale. This helps ensure that all folks who want to participate in this space are able to do so without financial hardship.
At Cost Tier ($100)
$100 is the exact cost of operating this learning space and allows us to cover our expenses.
Grassroots/Equity Tier ($50-$75)
This tier is to ensure all folks and groups who want to participate can access this space without it being a financial hardship.
If you're having trouble locating yourself on this sliding scale, we have found the following tool really helpful!:
"Recently, someone shared with me the idea of sacrifice versus hardship when examining access. If paying for a class, product, or service would be difficult, but not detrimental, it qualifies as a sacrifice. You might have to cut back on other spending in your life (such as going out to dinner, buying coffee, or a new outfit), but this will not have a long term harmful impact on your life. It is a sacred sacrifice in order to pursue something you are called to do. If, however, paying for a class, product, or service would lead to a harmful impact on your life, such as not being able to put food on the table, pay rent, or pay for your transportation to get to work, then you are dealing with hardship. Folks coming from a space of hardship typically qualify for the lower end of the sliding scale. I find the idea of sacrifice versus hardship to be a very useful nuance when talking about class and access because it recognizes and respects that paying for something might still be a challenge even if it is just a short-term one, while giving appropriate space for those who are dealing with financial hardship." -Alexis J. Cunningfolk
Accessibility Information:
This webinar will have auto-generated closed captions available. We will be using Google Slides for interaction and will provide a demo of how to use them. If you would like a longer tech orientation, please join the webinar 10 minutes early and we will provide you with more instruction. We will ask for participation in small groups or through typing. This will be in English only and unfortunately will not have ASL interpretation. If you have any questions or accommodations requests please contact connect@thestokecollective.org as soon as you register.
If this particular training doesn't fit with your schedule, but you're interested in future trainings, subscribe to STOKE's newsletter to stay in the loop about our offerings.
Email connect@thestokecollective.org with any questions. Learn more about STOKE on our website.