About this Event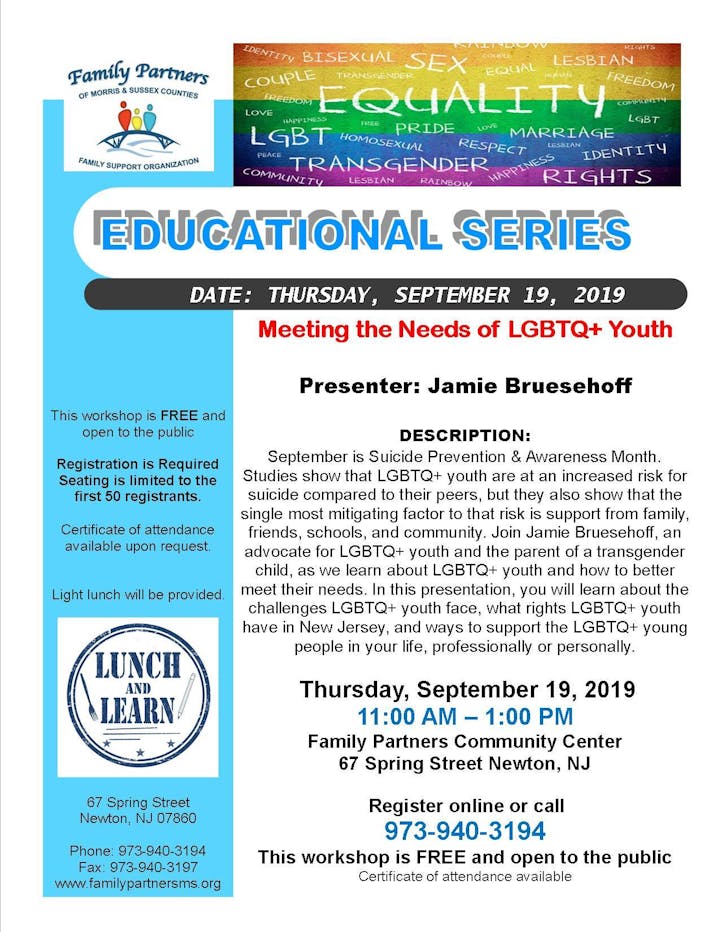 Newton, New Jersey, September 10, 2019… Jamie Bruesehoff, an award-winning writer, speaker and advocate for LGBTQ+ youth will speak at Family Partners of Morris & Sussex Counties on Thursday, September 19 at 11 a.m.-1 p.m., at 67 Spring Street in Newton. The event is free and open to the public but guests must sign-up in advance by calling 973-970-3194.
Bruesehoff, an openly queer woman married to a Lutheran pastor, is mom to three spirited children, including a twelve year-old transgender daughter. She and her daughter Rebekah have been spreading a message of hope through public addresses, television appearances and social media. Rebekah has testified before the NJ state legislature, spoken at rallies in NY and NJ and been featured by Teen Vogue, British Vogue and appeared on Good Day Philadelphia.
Bruesehoff is passionate about sharing her family's story; "I believe stories are bridges to understanding, compassion, and celebration." she shared. "Studies indicate that LGBTQ+ youth are at an increased risk for suicide compared to their peers."
September is Suicide Prevention & Awareness Month and studies show that the single most mitigating factor to that risk is support from family, friends, schools, and community.
Bruesehoff will speak to how parents, teachers and the community can better meet the needs of the LGBTQ+ population. She will address the challenges LGBTQ+ youth face, what rights LGBTQ+ youth have in New Jersey, and ways to support the LGBTQ+ young people in your life, professionally or personally.
Event sponsor, Family Partners of Morris & Sussex Counties, is a private, family led, non-profit, 501(c)(3) organization funded by the New Jersey Department of Children and Families - Children's System of Care (CSOC). Family Partners provides support, education and advocacy to families with children who have special mental, emotional, behavioral health challenges and developmental or
intellectual disabilities.