Description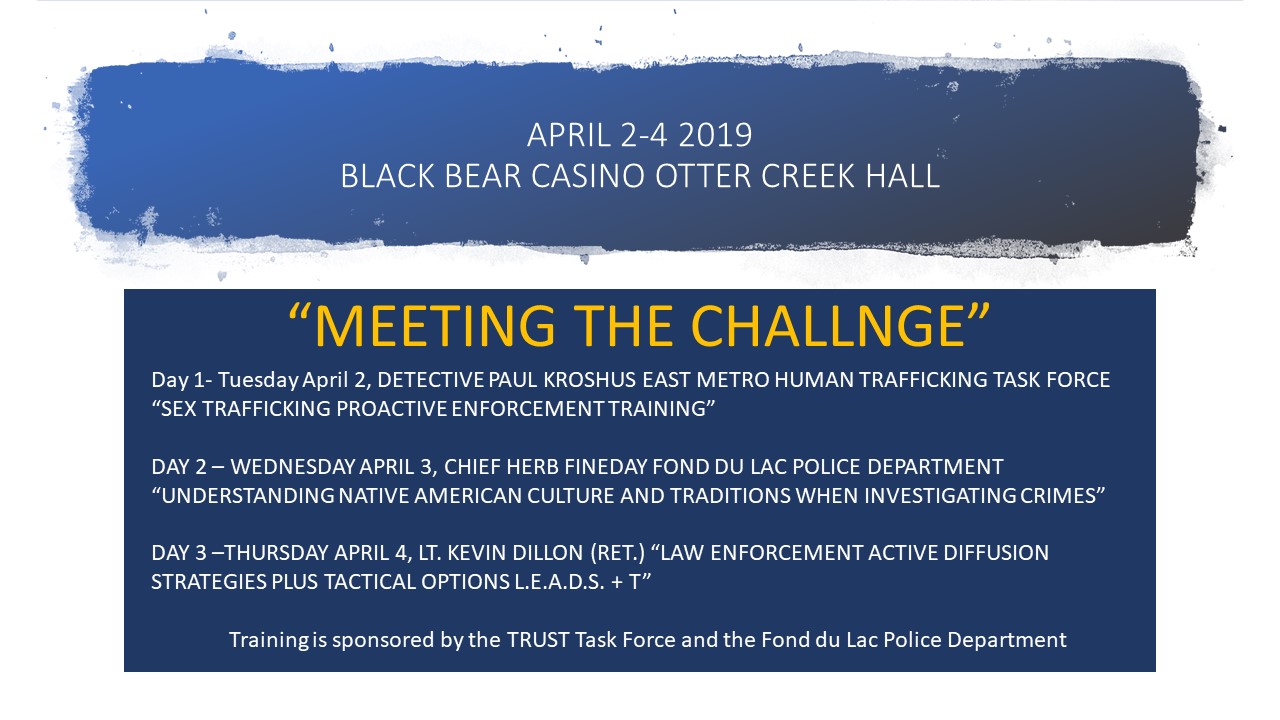 Day 1- -Sex Trafficking Proactive Enforcement Training
Course Description-
This course is designed to teach officers and investigators proactive skills and techniques for successfully investigating human/sex trafficking cases. The course will teach the understanding of a "victim oriented" approach when dealing with commercial sex workers and understanding the needs of a victim from chemical/mental health concerns to placement and shelter needs. The course will tech officers and investigators skills and techniques for conducting proactive investigations into hotel and motel as they relate to sex trafficking. The course will teach skills and techniques for officers and investigators for conducting covert operations for "victim recoveries" of commercial sex workers as well as "demand suppression" for the sex buyers.
Day 2- Understanding Native American Cultures and Traditions when Investigating Crimes Training
Course Description –
Overview of Minnesota Tribes. Upon completion, the attendee will be able to; Understand Native Culture, understand the barriers of the culture when interacting with victims, and suspects, and understand the day to day Native Traditions.

Day 3 - Law Enforcement Active Diffusion Strategies Plus Tactical Options L.E.A.D.S. + T.™
This is a classroom based combat-confrontation avoidance course. Based upon the L.O.C.K.U.P.® Police Combat system, it teaches within a classroom setting how to recognize aggression and to not stimulate aggression. Students learn Active Diffusion Strategies that can avoid or resolve interactions by employing effective de-escalation methods. The course also adds distraction techniques that promote successful tactical applications. The course also discusses tactical responses when diffusion tactics are inappropriate or ineffective. Instruction uses lectures and demonstrations. No special equipment is required.
CONFERENCE FAQ's

Post credit hours will be available for each day of the conference.

You can register for one, two or all three days, but you must register for each day you plan on attending individually.

Registration will be limited to 350 participants for each day.

Registration will be free.
Free breakfast (7:00-8:00 a.m.) and lunch buffets (noon-1:00 p.m.) each day of the conference in Otter Creek Hall.
HOTEL FAQ's
When calling the reservation line (1-888-771-0777) you must ask to book a room under:
MEETING THE CHALLENGE -LAW ENFORCEMENT TRAINING- There are a limited amount of rooms under this block. Block release date is March 1, 2019.
Check in time is 4:00 pm, early arrival requests cannot be guaranteed, but
we will do our best to accommodate each request.
Check out time is 11:00 am. Late departure requested will be accommodated
if possible. Please verify with the Front Desk during your stay.
Pets are NOT allowed in the hotel.
Cancellation policy:
Cancellations are accepted for individual room reservations up to 4 p.m. on the night of arrival, if canceling
a reservation after 4 p.m., a charge for one-night's room and tax will be
placed on credit card.
Suite and guestroom rates do not include the tax rate of 6.8%. To be honored,
any exemptions must have proper documentation presented at time of check in.
The tax rate is subject to change without notice.
As payment, we accept cash and most major credit cards.
If paying with cash, a credit card is required for a damage deposit. The
credit card will be authorized, and a hold placed on the credit card.
GUESTS ARE NOT PERMITTED TO BRING ALCOHOL ON TO THE RESORT
If you have any questions regarding your hotel stay, please contact Hotel Administrative Assistant Andrea Kolenda. Phone # 218-878-2312