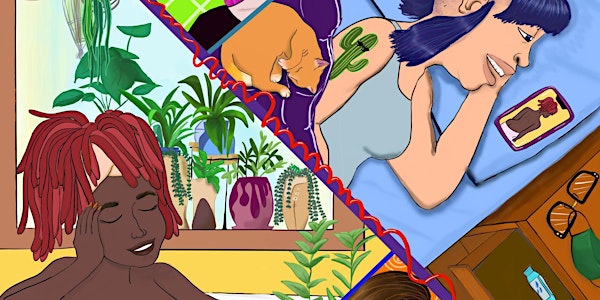 Meeting Our Desires: exploring sex and intimacy during COVID-19
Location
Walking Stick Woods
5743-5747 North Central Park Avenue
Chicago, IL 60659
Meeting Our Desires is a roaming theatre piece exploring the impact of the ongoing pandemic on people's relationship to sex and intimacy.
About this event
Meeting Our Desires is a roaming theatre piece, performed in Walking Stick Woods (that means audience will be traveling with us through the woods with us). An immersive mixture of live storytelling, physical movement, and audience invitations, Meeting Our Desires explores how the ongoing pandemic has affected our relationships to sexuality and intimacy.
Co-created by reproductive justice educators and theatre makers Alyssa Vera Ramos and Jessamyn Fitzpatrick, Meeting Our Desires is presented in partnership with Chicago's Night Out in The Parks Series.
Directed by Alyssa Vera Ramos
Associate Direction and Artwork by Dionne Addai
Devised and Performed by: Chi Achebe, Alex Alontaga, Quenna Lené Barrett, Kara Celeste*, Jessamyn Fitzpatrick, Charlie Fuller and Eliott Sagay
Stage Managed by Cedar Larson
Sound Design by Mariana Green
Intimacy Design by Kirsten Baity
** ACCESSIBILITY NOTE **
With respect to the ongoing pandemic and infectious COVID-19 variants, we will ask audience members to wear masks, and will have some handy if you forget. Actors will also rapid test for COVID-19 twice before the performances.
Walking Stick Woods is a forested area of North Park Nature Center, and our performance will feature journeys around and into the surrounding landscape - we recommend dressing in attire consistent with an outdoor hiking trip (comfy walking shoes, sun hats/sunglasses, sunscreen etc).
This piece is a moving, walking experience. Actor guides will lead participants through a series of forested paths where the audience will encounter stories and experiences. During moments of pause the audience will be invited to stand (and where possible, sit on tree logs and stumps). Unfortunately, due to the (literal) nature of our surroundings, there is not access to regular seating. That said…
1- Please feel free to BRING YOUR OWN LAWN CHAIR or BLANKET !! (*provided you are willing & able to carry it with you from location to location)
2 - There will be two options for audience paths:
following the clear path (a combination of wood chips, packed dirt that is firm in dry weather, and a small section of paved brick. This path has been accessible for wheelchairs in the past, according to Night Out in the Parks.) or
"off roading" (step over logs; walk through a field of tall grass; more foliage to duck under, yet much more a walk than a hike).
This piece contains audio excerpts played via bluetooth speaker. We recognize that the outdoor setting can make sound conditions quite variable - with possible sound bleed from passing airplanes, wildlife and general city ambience. We have done our best to position our bluetooth speakers in ways that maximize the possibility of clear sound quality, but also recognize that audience members may contend with varying levels of hearing accessibility that are exacerbated by these conditions. Our ensemble will always work to accommodate audience requests around volume/proximity whenever possible.
A content note: This play contains frank discussion of sex and sexuality, and the staging of intimate moments.
** Please feel encouraged to email MeetingOurDesires@gmail.com in advance with any additional questions about accessibility or content.