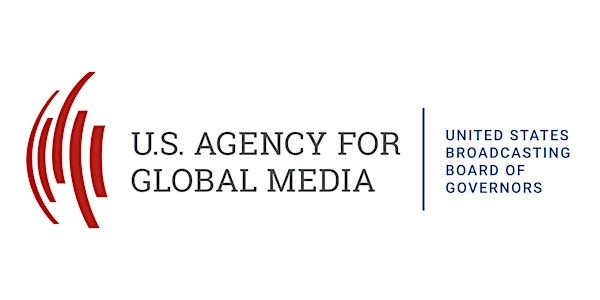 Meeting of US Agency for Global Media's (USAGM) Board of Governors: March 12, 10:30 AM
When and where
Location
U.S. Agency for Global Media Headquarters (C Street entrance) 330 Independence Avenue Southwest Washington, DC 20237
Description
An open meeting of the U.S. Agency for Global Media's (USAGM) Board of Governors will be held on March 12, 2020, at USAGM headquarters in Washington, D.C. The meeting is scheduled to begin at 10:30 AM (ET).

The public may attend the open portion of this meeting as seating allows, and there will be an opportunity for public comment. Members of the public wishing to attend in person must register (via Eventbrite) by 12:00 PM on March 11.

The meeting will also be available for public observation via streamed webcast, both live and on-demand, at usagm.gov.


Date: Thursday, March 12, 2020

Time: 10:30 AM (ET) — [Please arrive by 10:15 AM for security check-in. *PHOTO ID IS REQUIRED.]

Place: U.S. Agency for Global Media Headquarters
330 Independence Avenue, SW (please use C Street entrance)
Washington, DC 20237
[*Photo Identification is required. DHS requires a U.S. issued driver's license or a U.S./foreign passport for entry to a Federal facility]. International visitors must present a valid passport.

USAGM staff will be on hand to escort guests to/from the meeting. The Department of Homeland Security (DHS) requires that all guests be screened and escorted at all times while in the facility. Visitors found unescorted will be removed from the building.

For questions or further information, contact the USAGM's Office of Public Affairs, 202-203-4400, publicaffairs@usagm.gov