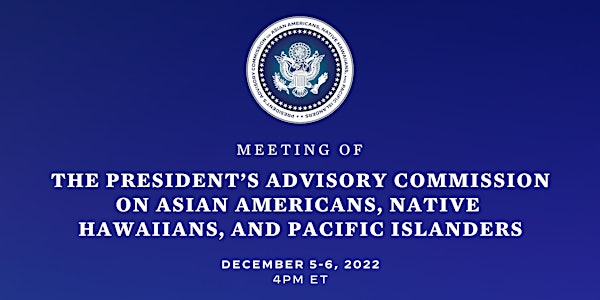 Meeting of the President's Advisory Commission on AA and NHPIs
President's Advisory Commission on Asian Americans, Native Hawaiians, and Pacific Islanders Meeting
About this event
On December 5, 2022, from 4:00-7:45pm ET and on December 6, 2022, from 4:00-7:45pm ET, the President's Advisory Commission on Asian Americans, Native Hawaiians, and Pacific Islanders, authorized under President Biden's Executive Order 14031, will meet to discuss full and draft recommendations by the Commission's subcommittees. These subcommittees are: Belonging, Inclusion, Anti-Asian Hate, Anti-Discrimination; Data Disaggregation; Language Access; Economic Equity; Health Equity; and Immigration and Citizenship Status.
The meeting is open to the public. Please register to receive the livestream link.
The Federal Register Notice can be found here: https://www.federalregister.gov/documents/2022/11/03/2022-23876/announcement-of-the-presidents-advisory-commission-on-asian-americans-native-hawaiians-and-pacific.
Written comments, in response to the questions listed in the Federal Register Notice, will be accepted via email at AANHPICommission@hhs.gov with the subject line "PACAANHPI: Response to ." To be assured consideration in the development of future recommendations, written comments must be submitted and received at the email address provided above, no later than 11:59 p.m. ET on Thursday, December 1, 2022. Submissions received after the deadline will not be reviewed.
For general questions, please email whiaanhpi@hhs.gov. The agenda can be found here: https://www.hhs.gov/about/whiaanhpi/commission/meetings/index.html