Meeting of The Minds Presents: "Suicidal Behavior & Depression in the Minority Community"

Wednesday, July 15, 2015 from 6:00 PM to 8:30 PM (EDT)
Event Details
 Catalyst Network Foundation Inc.

Present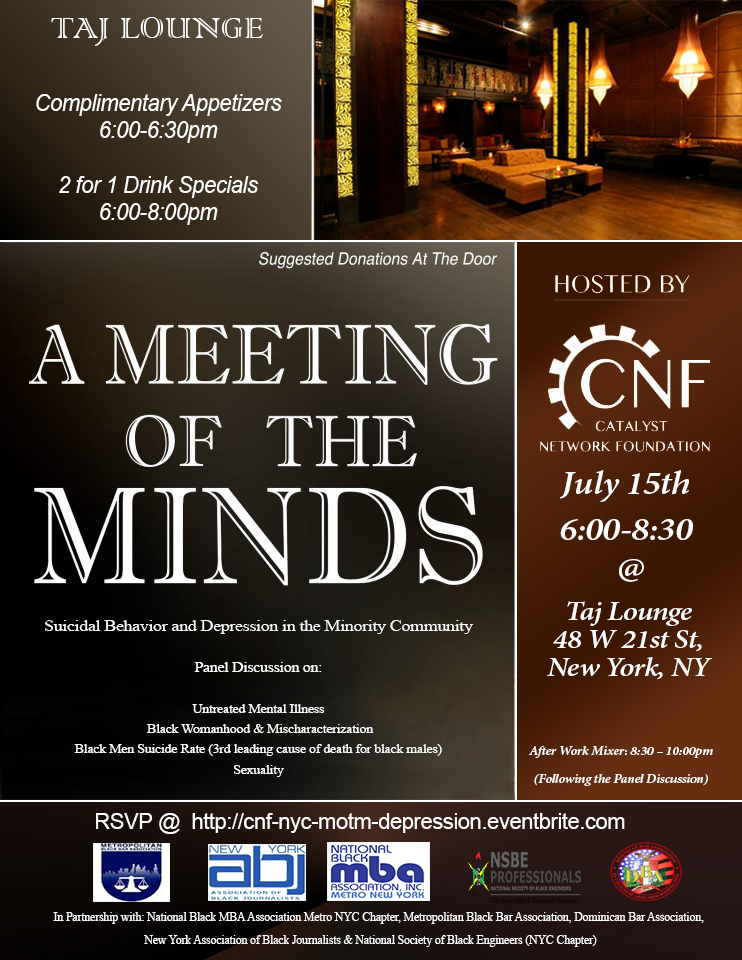 Complimentary Appetizers | Drink Specials
After Work Mixer following the Panel Discussion
In Partnership with the New York City Chapters of:
National Society of Black Engineers
Metropolitan Black Bar Association
New York Association of Black Journalists
National Black MBA Association
Panel Discussion Suicidal Behavior & Depression in the Minority Community:
Untreated Mental Illness
Black Womanhood & Mischaracterization
Black Men Suicide Rate (3rd leading cause of death for black males)
Sexuality
Panelist
Michael A. Lindsey, PhD, MSW, MPH; Associate Professor at the Silver School of Social Work, New York University. Dr. Lindsey is a child and adolescent mental health services researcher, and is particularly interested in the prohibitive factors that lead to unmet mental health need among vulnerable youth with serious psychiatric illnesses, including depression. Dr. Lindsey is the author of the blog "Nerve-us" Breakdown.
Michelle Hope MA; Sexologist: A passionate edu-tainer, she combines her love of pop-culture, entertainment, and sexuality into opportunities that educate and motivate. Holding a master's degree in Human Development and extensive post graduate training in sexuality, Michelle applies an awareness of the holistic implications of sexuality on one's life and presents information on the many different ways it intersects with various social identities: race, class, gender, sexual orientation.
Dr. Karinn A. Glover, MD; Assistant Professor Department of Psychiatry and Behavioral Sciences at the Albert Einstein College of Medicine, is former Vice President of BPGNY, and Co-Founder and Principal Partner at Thrive Mindfulness Project.
Tanya S. Odums, LCSW-R; is a Licensed Psychotherapist and Assistant Principal/Director of Wellness and Preventive at Brooklyn Generation School.  She also serves as a Mental Health Consultant for Community Counseling and Mediation and The Terrie Williams Agency.  She is a contributor to the book, "Black Pain: It just looks like we are not hurting", written by Terrie Williams. 
Dr. Dwayne Seymour, PhD, LMSW; is currently a Vice President of Behavioral Health and Business Development for a Health Provider in Upper Manhattan.  He earned a MSW from Columbia University. He possess a LMSW, MBA, and PhD.   His scholarship is focused on the empowerment and strengthening of families in crisis and, more in particular, families of African descent. 
Moderator
Bert Gervais: Founder of Success Mentor Education. He is a national best-selling author, speaker, and he is the coordinator for Project D.R.E.AM. A mentor program for the children of incarcerated parents.
 You may RSVP via Facebook as well: https://www.facebook.com/events/853782648042137/
Like CNF on Facebook    |   Follow CNF on Twitter
Join our group on LinkedIn | Follow us on Instagram
Stay up to date with CNF
Visit our blog @ CNF in the News 
 *Suggested Donations at the Door*
Make a purchase on Amazon.com by clicking this link
http://smile.amazon.com/ch/45-4513348
and Amazon will donate to Catalyst Network Foundation
Organizer
The Catalyst Network Foundation Inc. (CNF) is a non-profit education initiative 501(c)(3) organization based in New York City and Washington, D.C. The social enterprise is fundamentally grassroots, steered by a volunteer leadership team in New York City and Washington, D.C. In July of 2012, Ranking Congressman Ed Towns awarded a proclamation to the Foundation, in recognition of the organization's achievements.

CNF was conceived after its two founding members had a conversation about the future of youth and veterans in their community. After reviewing the lack of communal resources, skill development programs, and career-field opportunities for adults – the founders developed a vision. Through their combined efforts and strategic planning, the two founders recruited additional professionals to support the formation of Catalyst Network Foundation.
Founded in 2011, the nonprofit focuses on life enrichment and professional development, with a mission to engage high-potential youth (ages 14-25) and veterans (ages 21-30) by providing the proper tools, networks, skill-building projects, and development opportunities to maximize talent.
CNF holds a Summer Intensive Program for rising high school juniors and seniors in New York City and Washington, D.C. Successful applicants are enrolled at a CNF partnership high school. Each student receives individualized attention and internships in preparation for higher education and community service. The fellowship scholars are trained from day one: they tour corporate offices, pitch business ideas, and develop professional skills. 200+ students have been admitted to the Fellowship Program and are CNF Fellows, 99% have graduated high school, and 98% enrolled in higher education institutions (including prestigious colleges and universities).
Through CNF's Mentorship Program, Fellowship scholars are paired with a mentor that is a trailblazer in the profession or career field the fellows aspire to pursue. The CNF Internship Program secures CNF Fellows with internships at startups, corporations, and medical institutions.
Since 2011, the Fellows have participated in corporate tours and create or pitched presentations about inner-city school challenges to several companies, including: Google, Goldman Sachs, NIKE, LinkedIn, Morgan Stanley, HBO, Microsoft, Covington & Burling LLP, GAP, BET, Essence Magazine, NPR, Kaye Scholer LLP, Hughes Hubbard Reed LLP, Bloomberg, Peebles Corporation, Infor, Deloitte, FOX News, and NBC Studios.
The youth initiative annually holds tech symposiums at Google,career, and college preparatory workshops throughout the school year, instructing over 1,500 high school students in the aforementioned metropolitan areas.
CNF performs screening and facilitates seamless partnership arrangements with high schools, nonprofits, and corporations. I.e., City Poly Tech High School < > Infor
The organization works with American veterans (ages 21-30), connecting them with resources and information to assist them with their career and academic ambitions.
CNF has curated 25+ professional networking events and diversity career recruiting sessions. The organization host a professional mixer and panel discussion called The Meeting of the Minds (MOTM) a gathering that is held quarterly it uniquely combines networking and thoughtful policy discussion on topics affecting minority communities. The goal is to provide a forum for critical conversation on issues often ignored by mainstream media outlets.
Meeting of The Minds Presents: "Suicidal Behavior & Depression in the Minority Community"