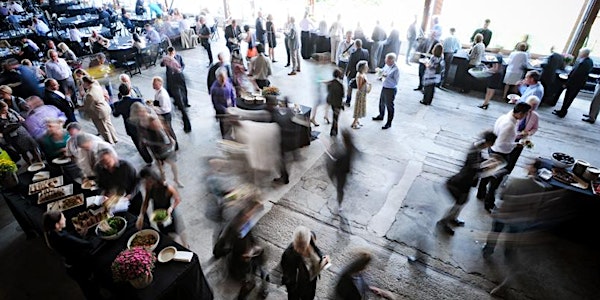 Meeting of the Minds 2015 Hackathon
When and where
Location
The Craneway Pavilion 1414 Harbor Way South Richmond, CA 94804
Description
NOTE: The location has changed to The Craneway Pavilion, 1414 Harbor Way South, Richmond, CA 94804 (look for signage on the sidewalk for the correct entrance)
This event is sold out.
The Meeting of the Minds annual summit will convene 400+ VIPs from 25+ countries in Richmond, CA to discuss the future of sustainable and smart cities. In conjunction with this year's summit, we are hosting the 2nd annual Meeting of the Minds Hackathon, sponsored by Qualcomm with support from Microsoft. The first Hackathon ever organized in Richmond, the purpose is to provide real solutions that both the Mayor's Office and citizens can use on a day-to-day basis to improve the city. The Civic Hackathon will convene teams of citizen hackers in Richmond, CA on October 17-18.
Purpose: build an application that improves the livability, sustainability and connectedness of Richmond, CA.
Civic Hackathon:
Located at The Craneway Pavilion from October 17-18, teams of 1-5 are encouraged to register and compete for a grand prize of $5,000 cash provided by Qualcomm. The top 3 teams will present their solution on stage on October 21 (9:00 am) in the plenary session at Meeting of the Minds 2015 (at the Craneway Pavilion in Richmond) in front of the entire summit and a live webcast audience. The top five teams will also create a short slide deck to be shown in the lobby of the summit on Microsoft technology.
Schedule:
Saturday, October 17:
11:00am - Check -in

11:30am - Welcome and briefing

10:00pm - Adjourn for the day
Sunday, October 18:
9:00am - Check-in and breakfast

2:00pm - Judging session

4:00pm - Top three teams announced (winner will be announced on stage on Oct 21)

4:30pm - End
Civic Hackathon Judges include:
Anthony Di Leva,

Senior Business Development Analyst, Qualcomm Technologies, Inc.

Scott Mauvais, Director, Technology & Civic Innovation, Microsoft

Commissioner Catherine Sandoval, California Public Utilities Commission

Clara Brenner, CEO, Tumml

Adam Lenz, Environmental Manager, City of Richmond
Hackathon Judging Guidelines: Click Here
More about the Hack Kits and Data: https://www.dropbox.com/sh/egtpt4kxbg55axw/AAAoPuGOw4PEoohc9PS_oxC5a?dl=0
Hack Kit from Qualcomm:
Qualcomm Technologies, Inc. will be making available a limited number of DragonBoard™ 410c development boards to teams participating in the Civic Hack to develop upon. Based on a Qualcomm® Snapdragon™ 400 series processor, the DragonBoard 410c features advanced processing power, Wi-Fi, Bluetooth connectivity, and GPS, all packed into a board the size of a credit card.
Hack Kit from Gimbal:
Gimbal is the leading location and proximity-based mobile engagement platform, helping you to deliver the most relevant and personalized engagements to a user's mobile device. Our comprehensive platform combines macro-location geofences and proximity beacons with software, hardware, analytics tools, a proximity marketplace and a management portal to get the most out of your mobile location strategy. This allows advertisers, brands, retailers, venues and Out-of-Home networks to understand a user's journey from beginning to end and deliver them relevant engagements at the proper time in the buying cycle or journey. We will be providing our SDK and a limited number of Gimbal Series 10 Proximity Beacons available for teams participating in the Civic Hack. Using our industry leading technology, the Gimbal Series 10 Proximity Beacon is our smallest battery-powered form factor to date, easily fitting in the palm of your hand while still providing powerful proximity capabilities.
Hack Kit from World Programming:
World Programming will be providing WPS software (www.teamwpc.co.uk/products/wps) and support for any SAS programmers taking part in the event who would like to create and run programs in the language of SAS. The WPS software will be available on a server provided by Cisco and also for installation onto your own workstations running Linux, OS X or Windows. Teams who use WPS software at this event will be given a license at no cost, and can use the product and all of its features for 6 months after the event. There will be data sets that can be used to create civic oriented applications and the data is categorized into Economic Development, Public Spaces, Health and Environment, Sustainability, Digital Divide and Education. So there is plenty of data available for a myriad of subject matter experts to use.
Hack Kit from OSIsoft:
OSIsoft will provide their real-time data infrastructure software, specifically, by providing a preinstalled PI System (https://www.youtube.com/playlist?list=PLMcG1Hs2JbcvidLkfMecSXH9axNe8bzch) that is collecting and archiving data from a simulated city, including data from assets like building electricity meters, air conditioning equipment, a local weather station, and solar photovoltaic arrays. That live and archived data will be made available to hackathon participants via OSIsoft's PI Web API (https://techsupport.osisoft.com/Documentation/PI-Web-API/help.html), a REST-architecture web service that will allow teams to easily make data queries to the PI System (running in the Microsoft Azure cloud), so that they can then analyze and visualize the city data in their custom applications. Additionally, OSIsoft will also be providing logins to access an installation of PI Coresight (https://www.youtube.com/watch?v=iS_eQe7AfAY&list=PL8E513C8ABCC29AF7), a streamlined, web-based tool for ad-hoc data analysis, in order to help hackathon teams investigate and explore the live city data, so that they can better plan their custom applications. To answer any questions about any of these technologies, and how they can be used by the teams, an OSIsoft representative will be present and available throughout the duration of the Civic Hackathon.
Hack Kit from SeeClickFix:
SeeClickFix is a platform that leverages a geo-polygon based tracking system to route publicly documented neighborhood requests to local governments and neighbors who can assist and support. SeeClickFix supports free and open data on its data set of 2 million issues and 10 million comments posted by neighbors and officials. Developers have used the API to infer engagement and health of communities using r, Socrata and other apps, predict future service request areas, build alternative interfaces and connect IOT sensors to report issues. API is available at: http://dev.seeclickfix.com/
Hashtag
Use hashtag #motmhack to connect with others about the upcoming event.
Facebook
Join the Facebook group to organize teams and share ideas: https://www.facebook.com/MOTMHACK